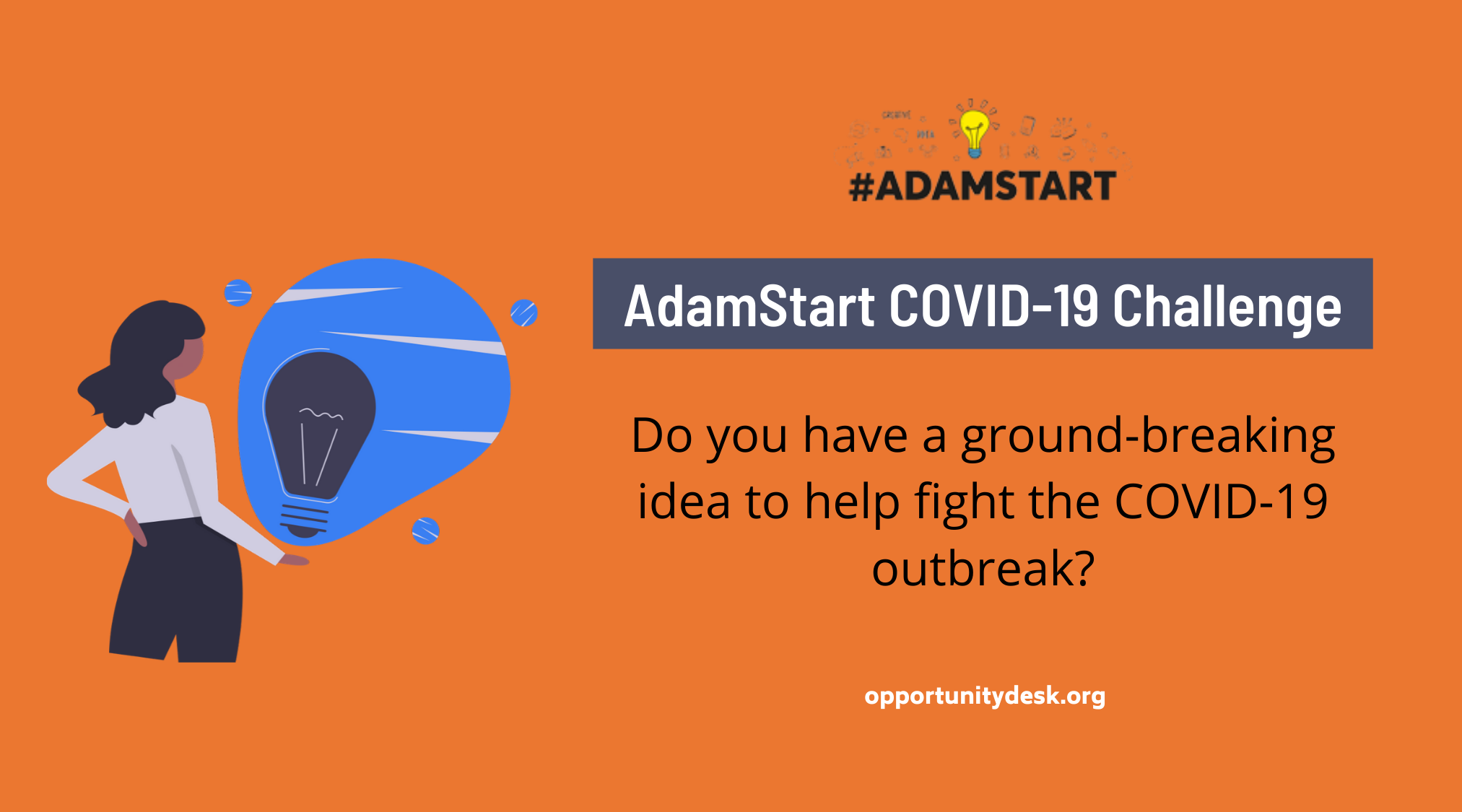 Call For Ideas: AdamStart COVID-19 Challenge 2020 for Innovators and Social Impact Leaders (Fully-funded)
Deadline: May 15, 2020
Calling all innovators and social impact leaders! The AdamStart COVID-19 Challenge is open. Submit your ideas for combating COVID-19. In response to the current pandemic spread across the globe, they are reaching out to all stakeholders in the AdamStart Global Network and beyond, we need your Ideas!
Do you have a ground-breaking idea to help fight the COVIDー19 outbreak? The world needs your solutions. CoronaVirus or COVID-19 is the infectious disease caused by the most recently discovered coronavirus.
Most people infected with the COVID-19 virus will experience mild to moderate respiratory illness and recover without requiring special treatment. Older people, and those with underlying medical problems like cardiovascular disease, diabetes, chronic respiratory disease, and cancer are more likely to develop serious illness. With the increasing number of cases and deaths globally, there is an urgent need for solutions to tackle this pandemic. This is an opportunity for you to make a real impact.
About Adamstart
#AdamStart is an international platform setup by Queens Young Leader, Board Advisor of the Queen's Commonwealth Trust and social-entrepreneur Mr. Adam Bradford. Mr. Bradford is an English social activist, entrepreneur and business adviser. He has acted as an adviser to young entrepreneurs internationally and worked to develop entrepreneurship initiatives in the United Kingdom. The AdamStart project is one of Bradford's flagship programs to help young entrepreneurs scale their ideas and provide more employment opportunities. Currently in its 10th year, the project has reached over 10,000 young persons across 130+ countries.
As at today, almost everyone around the world has been impacted either one way or the other by COVID-19. From country lockdowns to ban and cancelation of major events, world leaders are taking major steps to slow the spread of the virus and ultimately flatten the curve. We want you to be part of the solution, which is why we have assembled a taskforce to identify and support young innovators from around the world who have progressive problem solving ideas to tackle COVID-19. Apply now to the 2020 AdamStart Covid19 Challenge and submit your idea for a chance to win a support package to actualize your idea.
Benefits
Access to capital funding
1 year support and mentoring
PR and Marketing support package
Access to the AdamStart Global network of leaders
Eligibility
Be a young person as founder (Between 18-29 years)
Open youths from any part of the world
Idea must be innovative with a clear sustainability plan
Must be ambitious and highly motivated
Application
For more information, visit Adamstart.