President Obama announced at a town hall meeting in South Africa, the introduction of the Washington Fellowship for Young African Leaders, a new flagship program of the President's Young African Leaders Initiative (YALI). This program will bring over 500 young leaders to the United States each year, beginning in 2014, for leadership training and mentoring, and will create unique opportunities in Africa to put those new skills to practical use in propelling economic growth and prosperity, and strengthening democratic institutions.
This is President Obama's vision to engage the continent's next cadre of leaders and strengthen partnerships between the United States and Africa, and how you can get involved.
The Washington Fellowship will:
Invest in a new generation of young African leaders who are shaping the continent's future.
Respond to the strong demand by young African leaders for practical skills that can help them take their work to the next level in the fields of public service and business.
Deepen partnerships and connections between the United States and Africa.
Build a prestigious network of young African leaders who are at the forefront of change and innovation in their respective sectors.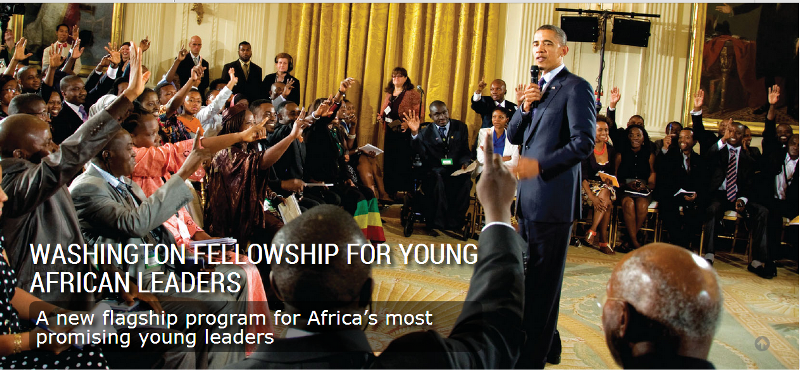 BENEFITS
The YALI is an unparalleled opportunity to…
Interact with President Obama at a Presidential Summit in Washington, D.C.;
Participate in a 6-week leadership and mentoring program at a U.S. institution;
Meet with U.S. government, civic, and business leaders;
Access exceptional internship and apprenticeship opportunities;
Expand your business or project through access to millions of dollars for small grant funding; and
Join a continent-wide and global alumni network to help you seek innovative solutions to common challenges.
CRITERIA FOR APPLICANTS:
Be a citizen of and reside in a sub-Saharan African country. Persons holding U.S. citizenship or permanent residency are ineligible.
Speak and write proficiently in English.
Be between 25-35 years of age at the time of application submission, although exceptional candidates younger than 25 will be considered.
Have a proven record of leadership and accomplishment in public service, business or entrepreneurship, or civic engagement.
Demonstrate a commitment to public or community service, volunteerism, or mentorship.
Be committed to return to Africa and contribute their skills and talents to build and serve their communities.
APPLICATIONS WILL BE ACCEPTED STARTING LATE 2013. More information about the program can be found here.
Stay connected with Opportunity Desk and be the first to know when applications are open.