"Part of the story behind Africa's growth is an emerging cohort of young people that are tapping into the global economy both as consumers, but more importantly, as job creators. That is why the United States is reaching out to young African leaders as important allies for economic and democratic progress." –Zeenat Rahman
CNN has released Special Adviser Zeenat Rahman's blog on Youth in Africa, why young people should be at the center of U.S. Africa policy. We hope you will check it out and spread the word to your networks.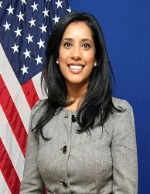 Zeenat Rahman serves as Special Adviser to the U.S Secretary of State for Global Youth Issues. Don't miss her CNN blog on U.S. Africa policy! Feel free to tweet @zeenat and @stateyouth.
Link: http://globalpublicsquare.blogs.cnn.com/2013/07/03/young-people-must-be-center-of-u-s-africa-policy/