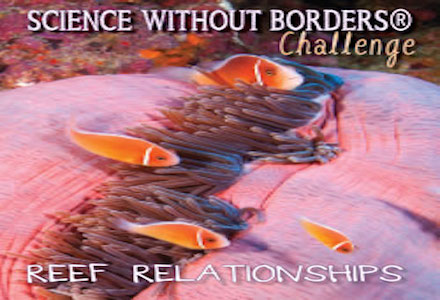 2015 Science Without Borders Challenge For Middle & High School Students
Deadline:  April 27, 2015
Khaled bin Sultan Living Oceans Foundation invited entries for 2015 Science Without Border Challenge. Khaled bin Sultan Living Oceans Foundation, founded by His Royal Highness Prince Khaled bin Sultan of the Kingdom of Saudi Arabia, is a US based, non-profit foundation dedicated to conserving and restoring oceans through applied science, education and outreach, and working with local partners and governments to promote coral reef conservation.
Science without Borders Challenge is a yearly art competition that engages students to promote the need to preserve, protect, and restore the world's oceans and aquatic resources. This yearly contest inspires students to be creative while using different types of media to promote public awareness of important ocean conservation issues.
The theme for this year's Science without Borders Challenge is 'Reef Relationships.'
Entry Requirements
The artwork must be 2D and up to 20" inches by 30"inches (50.8 cm by 76.2 cm). Acceptable media includes paint, pencil, marker, crayon, ink, and chalk
All artwork must be an original work by the contestant and shall not infringe on any copyrights or any other rights of any third parties.
All submissions must be made by an individual artist. Group submissions are not permitted.
Participants may submit 1 art piece.
Photographs of artists may be used in local publications and distributed to the media.
The Khaled bin Sultan Living Oceans Foundation reserves the right to disqualify artwork deemed as offensive.
Entries that do not comply with all of the contest rules will be disqualified.
Eligibility
This international art competition is open to all students 11-19 years old.
Middle School (11 – 14 year-olds)
High School (14 – 19 year-olds)
Prizes
1st Place: $500 scholarship
2nd Place: $350 scholarship
3rd Place: $200 scholarship
Submissions
Contestants must submit an entry form with their submission. All fields on the entry form must be filled out in order to be considered for awards.
All original artwork should be mailed to:
Khaled bin Sultan Living Oceans Foundation
SWB Challenge
8181 Professional Place, Suite 215
Landover, MD 20785
For more information, visit Living Ocean's Foundation or contact the Director of Education, Amy Heemsoth at [email protected]