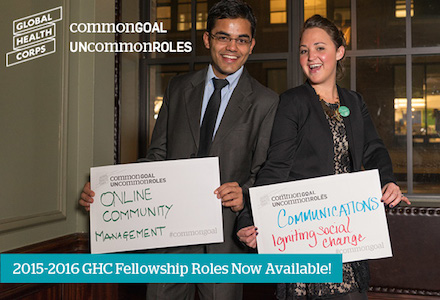 2015-16 Global Health Corps- 156 Fellowship Positions Available
Deadline: February 3, 2015
Applications are currently open for the 2015-16 Global Health Corps. Global Health Corps provides a yearlong paid fellowship for young professionals from diverse backgrounds to work on the frontlines of the fight for global health equity at existing health organizations and government agencies. Fellows are currently working in Rwanda, Burundi, Uganda, Malawi, Zambia and the United States.
The fellowship begins in July 2015 and extends through August 2016. Fellows engage in professional development training, mentorship and thoughtful community-building, and continue to draw upon their fellowship experience and the GHC alumni network as they build careers of lasting impact. Applicants can apply for up to 3 different fellowship positions. This year's GHC Placements are: Communication, direct service, fundraising, architecture, policy & advocacy, health infrastructure, health workforce,monitoring & evaluation,partnership development
GHC is also hosting a  Google+ Hangout on January 20 at 6:30 PM EDT, during which current fellows and alumni will answer questions about the application process and fellowship. To learn more, visit GHC hangout
Eligibility Requirement
Be 30 or under at the start of the fellowship
Have an undergraduate university degree by July 2015
Be proficient in English
Benefits
Training: major debates and schools of thought within global health and public service to encourage fellows to explore their ambitions and identities within this space.
Public Engagement:  GHC equips our fellows to clearly articulate their vision for a more equitable world by training them in op-ed writing and public speaking and offering them opportunities to speak at conferences, write for publications, and contribute to the larger dialogue on global health.
Professional Development: opportunities are provided for both fellows and alumni to connect with the broader global health movement, strengthen professional skills, and build networks.This is achieved through a variety of activities, including professional development funds, networking events, conferences, and the Advisor Program
How The Global Health Corps Work
Identify high-impact health organizations with gaps that need filling
Select exceptional young leaders with diverse skill sets.
Pair them up as co-fellows.
Match them to an organization that needs their skill sets
Invest in intense leadership development, skills training, and mentorship for fellows
Build a global ecosystem of fellows and alums working towards health equity.
How to Apply
Application timeline
ovember 5, 2014: Part 1 of the application opens
December 9, 2014: Part 2 of the application opens
February 3, 2015: Applications close at 11:59pm EST. Two recommendation forms and Proof of Identity and Proof of Education documents due
February – March 2015: Each application is reviewed by at least two readers
March 2015: up to 10 semi-finalists are selected for each fellowship position. All candidates are notified of their application status by email
March 2015: All semi-finalists are interviewed by Global Health Corps and 3-5 finalists per position are selected
March – April 2015: All finalists are interviewed by the placement organizations
April – May 2015: Fellowship offers extended
For more information, visit Global Health Fellowship, visit the FAQ or contact GHC