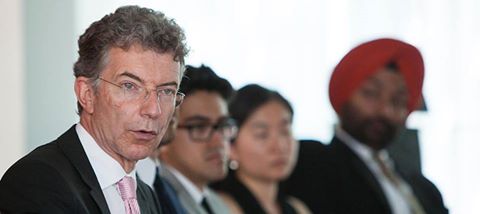 Global Challenges Fellowship Program for Scholars 2015
Deadline: March 30, 2015
Global Challenges Fellowship is now accepting applications from junior and senior fellows to conduct research at Central European University School of Public Policy (CEU SPP), the CEU Institute for Advanced Study (CEU IAS) in Budapest, and the Global Public Policy Institute (GPPi) in Berlin this year! Applications are invited from researchers from nine countries (Brazil, China, India, Indonesia, Iran, Mexico, Nigeria, South Africa, and Turkey).
The Fellowship brings together scholars to explore questions in the humanities or social sciences relevant to the most pressing public policy challenges of the 21st century. GCF fosters new forms of scientific collaboration and encourages the development of fresh perspectives on some of the world's most pressing global public policy challenges.
Fellowship Details
Beginning in September 2015, Global Challenges Fellows will spend approximately 7-8 months doing analytical, policy, and empirical work at SPP/CEU IAS in Budapest and at GPPi in Berlin where they will engage with policy practitioners. Although the precise timetable will vary depending on the fellow's research project, it is expected that fellows will spend most of the time (about 75%) in Budapest.
Fellows will conduct research for journal articles and/or policy papers and will participate in a series of small working group discussions and seminars. Researchers at SPP, CEU IAS, and GPPi will engage with fellows during and after their fellowship to build a community of professionals who share a commitment to improving policy outcomes on a range of key global challenges.
During the fellowship, the three institutions will assist fellows in developing professional networks with the academic and policy research communities in Budapest and Berlin, laying the foundation for lasting engagement and exchange. Fellows will work on a concrete project within one of five research areas that leads to a publication in the form of an academic piece (a working paper/ journal article) and/or a policy paper that builds on academic research.
Focus Areas
Junior and senior level fellowships are available in the following areas:
Peace & security
Humanitarian assistance & human rights
Development & good governance
Internet governance
Changing global institutions
Benefits
Fellows receive an allowance for accommodation in Budapest and Berlin and a monthly stipend. Senior fellows will receive a net monthly stipend of 2,500 Euros; junior fellows will receive a net monthly stipend of 1,500 Euros for the duration of the program to help support their stay in Budapest and Berlin.
In addition, all fellows and their families receive a housing allowance in Budapest and Berlin. Fellows also receive limited travel funds (up to 2,000 Euros) for travel to and from their home country and between Budapest and Berlin, as well as health insurance.
Eligibility
Applicants (in particular those working in the field of public policy) from Brazil, China, India, Indonesia, Iran, Mexico, Nigeria, South Africa, and Turkey are eligible to apply. Applicants must be resident in these countries at the time of application.
Applicants must hold an academic degree (Master's, PhD, or equivalent) in the social sciences or humanities and have at least three years of professional experience (in the case of junior fellows) and 15 years of professional experience (in the case of senior fellows) at the time of their application.
Applicants are expected to be able to communicate fluently in English (in speaking & writing) as this is the working language of the program.
Applicants must have a demonstrated record of policy engagement.
Full time CEU employees and graduates are not eligible to apply for 6 years after the ending of their studies/contract (degrees must be received and contracts must have ended by December 31, 2008 or earlier). Part time/temporary employees of CEU are not eligible for 3 years after their contract ended (their contract must have ended by December 31, 2011 or earlier).
Selection criteria
The selection is based on
Good publication record
Promising research agenda
Relevance and feasibility of the proposed project
Record of policy engagement
English language proficiency
Application Requirements
You will be required to submit the following material with your application:
The online application form.
A short description of your research/policy project (max. 1,000 words not including references).
A CV including your most important work and publications as well as a record of policy engagement (max. 2,000 words).
A writing sample (max. 8,000 words).
For junior applicants ONLY: the name and email address of a referee.
How to apply
Fellowship applications must be submitted online as detailed.
Step 1: Register at this website: https://studentinfo.ceu.hu/acad/ias/
Step 2: After registration, you will receive a password which you must use to complete the application form and upload the required documents in pdf format. You may save your work, and log back in and submit the application at a later time.
All applications must be submitted by midnight March 30, 2015 Central European Time, GMT+1.
For more information and to apply, visit Global Challenges Fellowship Program.