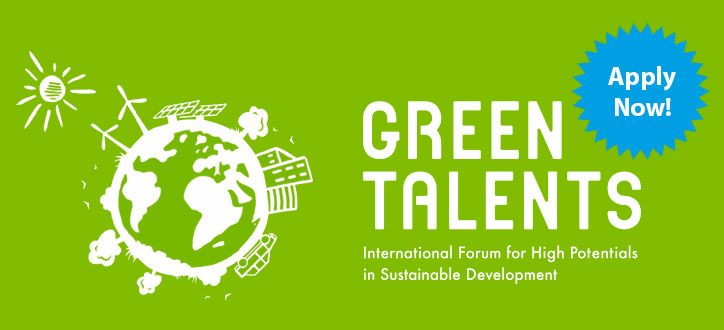 Enter the Green Talents Competition 2016 – Get a Fully Funded Research in Germany!
Deadline: May 24, 2016
Join the Green Talents Competition and gain exclusive access to the hot-spots of sustainable development. Since 2009, the German Federal Ministry of Education and Research (BMBF) has held the prestigious "Green Talents – International Forum for High Potentials in Sustainable Development" to promote the international exchange of ideas regarding green solutions.
The award, whose patron is Minister Professor Johanna Wanka, honours 25 young researchers from around the world each year. The winners come from various scientific disciplines and are recognised for their outstanding achievements in making our societies more sustainable. The Green Talents are selected by a high-ranking jury of German experts and are granted unique access to the elite of the country's sustainability research field.
Benefits
An invitation to Germany in 2016 to participate in the fully funded two-week Science Forum. While touring Germany, top locations will open their doors to the Green Talents and offer them an exclusive insight into their facilities and projects.
A chance to present themselves and their work in personal discussions held as part of individual appointments with experts of their choice (during the two-week Science Forum).
A second invitation to Germany in 2017 for a fully funded research stay of up to three months. At an inspiring location of their choice, the Green Talents will gain new experiences and advance their professional careers while establishing long-lasting partnerships.
Exclusive access to the "Green Talents Network" of currently 157 high potentials in sustainable development from over 46 countries.
Eligibility
Candidates should not hold a German passport or live in Germany.
Candidates must be enrolled in a Masters or a PhD programme in any field related to sustainable development or must have completed their degree with significantly above-average grades in a similar programme no more than three years before the end of the application process.
Application Process
New applicants should first create an account.
During the application process you will be asked to upload a current letter of recommendation or expert opinion focusing on your career as a scientist and activities to date (letter must be in English and should not be more than 6 months old).
You will furthermore be requested to provide your latest academic qualification transcripts as well as proof of your English language skills.
For matters relating to the application process: [email protected]
For more information, read FAQs or visit Green Talents 2016.