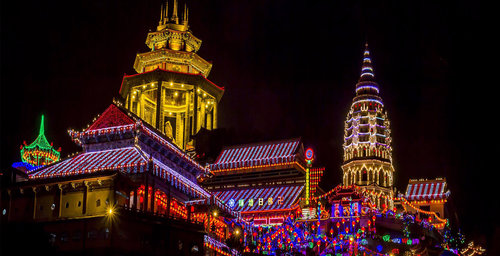 2016 Yayasan Kek Lok Si Financial Aid for Malaysian Undergraduate Students
Deadline: May 31, 2016
Yayasan Kek Lok Si Foundation has announced their inaugural Yayasan Kek Lok Si Financial Aid for Malaysian Undergraduate Students. Malaysian students who are searching for scholarships to pursue undergraduate programs in Malaysia can apply for the Yayasan Kek Lok Si Financial Aid.
Yayasan Kek Lok Si is a non-profit charitable organization affiliated to Kek Lok Si Temple. Kek Lok Si Temple, "The Temple of Supreme Bliss" is one of the most popular tourist attractions in Penang. Kek Lok Si Temple is also known as the Jewel in the Crown of heritage Temple in Malaysia and has been identified as the largest and finest Mahayana Traditional Buddhist Temple Complexes in South East Asia.
Financial Aid
The Foundation has set aside a total of RM500,000 in scholarships for needy students.
Each successful applicant will receive a minimum of RM1,000 in aid depending on their application.
Eligibility
Open to all Malaysian students applying to enter undergraduate programs locally in 2016.
Application Process
Download the application form from their website.
Or please click here to download the application form.
Complete the application form in hard copy.
Attach relevant documents.
Mail your application to Yayasan Kek Lok Si, Kek Lok Si Temple, 11500 Ayer Itam, Pulau Pinang with the words "REF: YKLS2016" clearly written on the top left corner of the envelope.
Note: Incomplete applications or applications received after the deadline will not be considered. Applicants will be notified of the status of their application in July 2016.
For more information, please visit Yayasan Kek Lok Si Financial Aid for Malaysian Undergraduate Students.