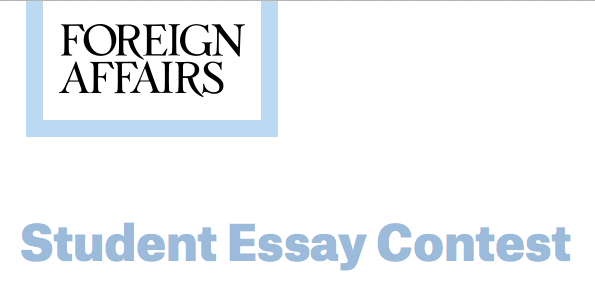 Foreign Affairs Student Essay Competition 2016
Deadline: October 15, 2016
Foreign Affairs and the Lee Kuan Yew School of Public Policy want to give tomorrow's leaders the opportunity to demonstrate innovative thinking on the issues that shape their world. In the 2016 Student Essay Competition, a panel from the Foreign Affairs editorial staff and the Lee Kuan Yew School of Public Policy will select one undergraduate's essay to be published on the Foreign Affairs Website.
Essay Topic
What global issue should world leaders be paying more attention to? In your essay, please propose a solution to the problem you address.
Eligibility
Open to all undergraduate students graduating no earlier than December 2016;
Entries must be original, unpublished work written by the contestant;
Only one essay is allowed per participant.
Application Process
Submit your essay here;
Submissions should be between 1,200 and 1,500 words. All quotations or uncommon facts should be appropriately cited.
Submissions sent by mail will not be accepted. No purchase necessary to enter.
Completed entries must be submitted by 11:59 PM EST on October 15, 2016.
For more information, visit Student Essay Competition 2016.