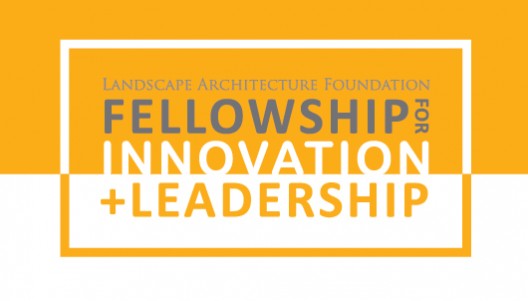 LAF Fellowship for Innovation and Leadership 2017-18
Deadline: December 1, 2016
The Landscape Architecture Foundation Fellowship for Innovation and Leadership was established to foster transformational leadership capacity and innovation to advance the field of landscape architecture. The fellowship is an opportunity for mid-career or senior-level professionals to dedicate the equivalent of 3 months' time over the course of one year to nurture emerging ideas and to think deeply. It is designed as a time to reflect, research, explore, create, test, and develop ideas into action.
Projects proposed for the LAF Fellowship in Innovation and Leadership may be abstract or concrete in nature. They may be grounded in theoretical or historical investigations; product, program or business plan development; new practice or service models; built work; or any activity that creates knowledge and empowers landscape architecture. Projects may engage multiple disciplines if the outcome expands the impact of landscape architecture.
Fellowship
Each year, LAF will award 3-5 Fellowships, based upon the merit of the applicant pool and available funding.
Each selected Fellow will receive one $25,000 award;
The award will be paid out in (3) three payments of $8,333.33 upon successful completion of each Residency. Attendance at residencies is mandatory for payment of funds. (See Fellowship Structure)
LAF will also provide travel stipends for the Fellow to attend the three residencies.
Teams may apply for the Fellowship and share the $25,000 award. The Fellowship Team Lead is required to attend the three residences and will receive a travel stipend. Additional team members are welcome, but are not required to attend the residencies and are responsible for their own expenses.
Fellowship Expectations
The Fellowship project should equate to approximately three months (12 weeks) of work to be completed within the Fellowship year. As a result, project work time will require a 12-week break from employment, to be taken and distributed at the discretion of the Fellow, over the course of the year;
Fellows must attend and complete each of the 3 three-day Residencies that will take place throughout the fellowship year;
Fellows must participate in regular conference calls with the Fellowship cohort and facilitator to check in, report progress, and discuss any relevant issues. Participation in discussions and ongoing dialogue through the Fellowship year is encouraged to enrich mentorship, collaboration, and the overall Fellowship experience;
Fellows are required to mentor the participating Olmsted Scholars throughout the year-long Fellowship.
Eligibility
Applicants must have a bachelor's or master's degree in landscape architecture. For those with degrees from colleges/universities in the U.S. and Canada, the landscape architecture program must be LAAB- or LAAC-accredited. For those outside of the U.S. and Canada, in locations where landscape architecture is not a recognized degree, a degree in a related discipline is acceptable, provided that the applicant works as a landscape architect;
Applicants must have a minimum of 6 years of professional experience in landscape architecture. This experience can include all types of practice — private, public, academic, non-profit, service, multi-disciplinary, and other;
Applicants must be able to communicate in written and spoken English at an advanced/professional level and provide evidence of proficiency;
Applicants must be able to dedicate time to the fellowship and proposed project. They will be required to obtain a letter of support from their employers for time-off from their regular employment;
Current LAF staff and members of the LAF Board of Directors are not eligible. Former staff and former members of the LAF Board of Directors who meet the above requirements are eligible.
Application Process
Applications are accepted through the online application platform, SlideRoom. The deadline to submit all application materials, including reference letters, is December 1, 2016.
An application fee of $50 (USD) must be paid through SlideRoom when the application is submitted.
For more information, visit LAF Fellowship for Innovation and Leadership.