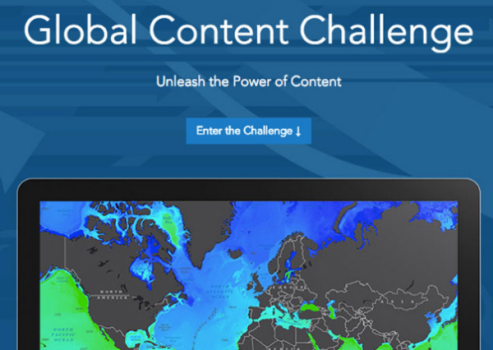 Esri's Global Content Challenge 2016
Deadline: November 11, 2016
The Esri Global Content Challenge invites students all over the world to unleash the power of Esri content by way of their own geographic analyses, visualizations, predictive models and more to tell a compelling scientific story. The story must be presented using the Esri Story Map Journal app. Esri will point you to the best of their data and Map Journal tips and tricks. You do the rest!
Judges will select the best map journals to be awarded prizes. Esri will also share the winning map journals on their Collaborative Resource Portal and feature them at Esri's Federal GIS and Education User Conferences, and Young Professionals Network events.
Themes to Consider
Studies of ecological diversity, rarity, and evolutionary isolation, including where the most diverse landscapes/seascapes are in proximity to protected areas;
Design and networking of protected areas both terrestrial and marine to guide conservation, refugia and preservation planning;
Assessment of ecosystem services such as carbon storage, soil formation;
Analysis of climate change impacts to ecosystems (and other impacts such as fire, invasive species, land use, etc.);
Implementations of fisheries management or ecosystem based management in territorial seas;
Assessment of risks, such as the impacts of environmental degradation on species habitats or on vulnerable human populations;
Impacts of extreme heat and severe weather;
Consequences of wildfires and floods;
Increases in vector-borne or water-borne diseases;
Tailoring education and/or risk communication to targeted populations;
Theme of your choice! Themes are not limited to choices above.
Prizes
First-, second-, and third-place prizes will be awarded in each of the following categories:
Land: Best map journal that analyzes the LAND and related premium content libraries
Ocean: Best map journal that analyzes the OCEAN and related premium content libraries
Population: Best map journal that analyzes the POPULATION and related premium content libraries
First Prize: $10,000.00USD or equivalent retail value in Esri Software;
Second Prize: $5,000.00USD or equivalent retail value in Esri Software;
Third Prize: $2,000.00USD or equivalent retail value in Esri Software.
Eligibility
Open to undergraduate or graduate students at colleges or universities, as well as high school students enrolled in an Advanced Placement Human Geography or Environmental Science course except for individuals who are residents of Cuba; Iran; North Korea; Sudan; Crimea; Syria; province of Quebec, Canada; and where prohibited by national, state, provincial, or any other governmental laws or regulations;
Employees of Sponsor, Sponsor's international distributors, its affiliates or sister companies, and its respective employees, including those individuals who were former employees within the last six (6) months prior to the announcement date of the Contest, and the immediate family (spouse, parents, siblings, and children) as well as household members of each such employee or person are not eligible to enter.
Application Process
Register for the challenge using the form below;
Sign up for a free ArcGIS Developer account if you don't already have one at your school;
Join GeoNet, the Esri Community, for help and ideas on how to incorporate Esri technology into your work.
Competition Closes at 5:00 p.m. PST on November 11, 2016.
For more information, visit Esri's Global Content Challenge 2016.