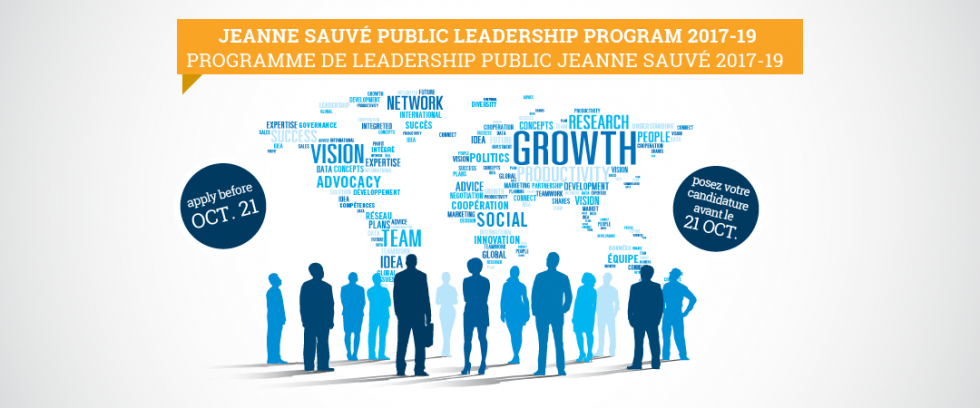 Jeanne Sauvé Public Leadership Program 2017-19 – Montreal, Canada
Deadline: October 21, 2016
Application is ongoing for the Jeanne Sauvé Public Leadership Program 2017-19. The Program is a unique two-year opportunity. It begins with a full-time residential leadership experience in Montreal with a dozen select Public Leadership Fellows. This is followed by a field phase, in which Fellows return to their respective communities and countries in order to apply the skills and new ideas developed during the residential phase.
Fellows benefit from intensive leadership development training and support during the residential year and some ongoing support from one another and the Foundation during the field year. The Jeanne Sauvé Fellowship is the beginning of a lifelong personal and professional leadership development journey as part of a global community of courageous, connected change-makers.
Eligibility
Candidates with backgrounds in advocacy, the arts, communications, journalism, education, engineering, governance, law, politics, security, social innovation and other fields related to public leadership are invited to apply to this program.
They should be between 25 and 30 years of age (inclusive);
Have completed at least one university degree;
Possess high oral and written proficiency in English (French language skills are an asset);
Have at least 3 years of full-time professional experience;
Have a strong record of leadership benefitting a particular community or cause in the public interest.
Application Process
To be complete, an application package must include all the following elements:
Application documents: Submitted by the applicant and uploaded to the Review Platform:

Complete Application Form;
Scanned passport photo page;
Scanned academic transcripts;

Three recommendation forms: Submitted directly by the applicant's three recommenders:

Professional Recommendation;
Academic Recommendation;
Personal Recommendation.
For more information, see FAQ or visit Jeanne Sauvé Public Leadership Program.