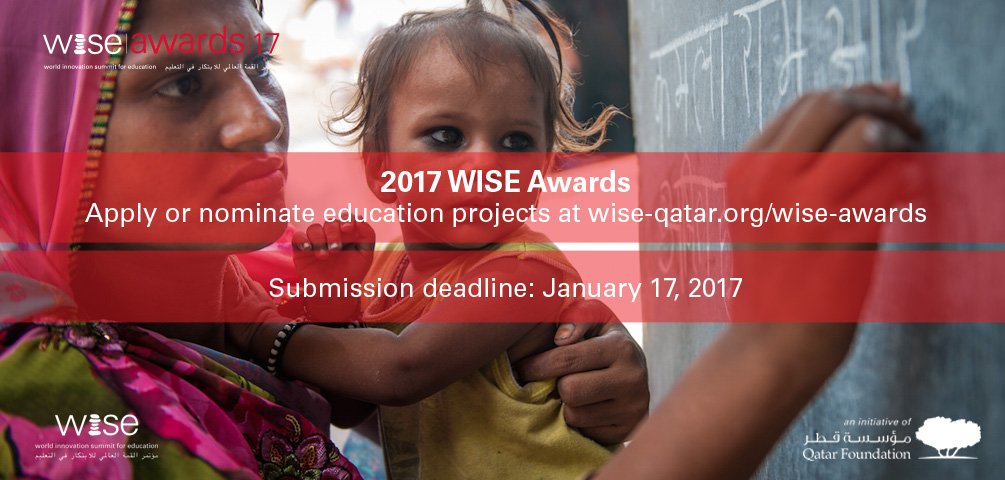 World Innovation Summit for Education (WISE) Awards 2017
Deadline: January 17, 2017
Applications are now open for the World Innovation Summit for Education (WISE) Awards 2017. Each year, the WISE Awards identify, celebrate, and promote six innovative projects for their positive contribution to education and society. The Awards highlight initiatives found to be most creative and effective in finding solutions to education challenges at any level and in all environments. They are models of excellence and practice that inspire others through innovation and creative action in education.
Each WISE Award winning project will receive $20,000 (US), and will benefit from increased public awareness through media exposure and other opportunities. The WISE Awards are not a grant aimed at supporting projects, nor are they intended to be a source of funding for new and untried ideas. Any such applications or nominations will not be considered.
Eligibility
Representatives of projects are invited to submit applications to demonstrate the nature and reach of their activities. Nominations of projects are also invited.
Individuals who are not directly running the project can submit nominations
Applications can only be for original works and original projects, and must be submitted by a project representative working within the project.
Anyone who has submitted a previous application to the WISE Awards can submit a new application for the same – or for a different– project.
Previous recipients of the WISE Awards are not eligible to apply for the 2017 WISE Awards. Moreover, others involved in the projects and/or activities that have received previous WISE Awards are not eligible to apply on behalf of the same project or activity.
Several nominations from different individuals may be submitted for the same project, although this has no bearing on the judging process. A single nominator may submit several nominations for different projects.
All submissions must be completed in English.
Requirements
The WISE Awards recognize successful, innovative educational projects that have already demonstrated a transformative impact on individuals, communities, and society. These projects are models of excellence and practice that serve as an inspiration for others to improve education through innovation and creative action.
The ideal project would be an on-going, innovative and successful education initiative that:
Has an excellent record of proven success
Is financially sustainable
Has a clear plan for the project's future objectives and development
Is scalable and replicable in other contexts and regions of the world
Has a clear understanding and knowledge of:

Its innovation;
Its distinctiveness within its sphere of action, and;
The type and depth of its impact on its beneficiaries.
Application
It is possible to apply on behalf of your own project, or to nominate another project for the WISE Awards.
In order for the application/nomination form to be considered, your submission must:
Be completed via the official online form (curriculum vita or other forms of documents will not be considered).
Be complete and accurate
Be submitted in English
Tips for Applying
Complete the application/nomination form in English as clearly as possible
Be precise in your responses; provide evidence and concrete examples
Numbers and data should be up-to-date and supported by verifiable evidence
In case of an application form, include contact details of two valid supporters
Provide real-life examples of beneficiaries when applicable
For more information, visit WISE Awards