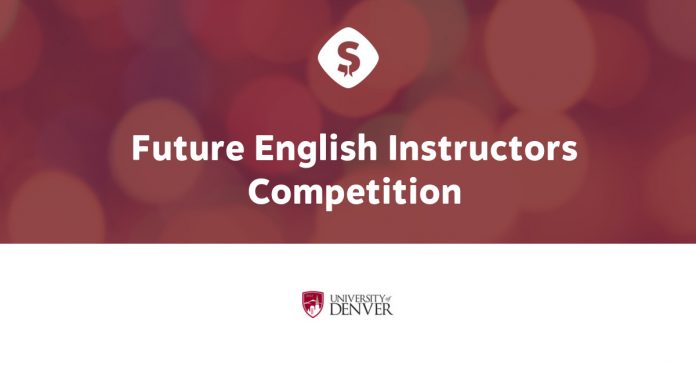 University of Denver Future English Instructors Competition 2017
Deadline: February 15, 2017
Enter the University of Denver Future English Instructors Competition. The English Language Center (ELC) at the University of Denver (DU) offers students a unique, supportive, and immersive educational experience with the benefits of a major metropolitan area and easy access to the outdoor adventures of the Rocky Mountains. The ELC has been preparing students for academic success in Bachelors, Masters, and PhD programs at DU and other institutions of higher education for over 40 years.
Benefits of being an ELC student include:
Cultural immersion and experiential activities;
Outstanding academic curriculum and professional instruction;
Small class size and individual attention;
Dedicated academic, immigration, and personal advising;
Access to DU campus facilities and services, including health center and sports complex;
Pass for public transportation (bus and train).
Opportunity Prize
The winner will receive a scholarship for tuition and fees as well as a housing stipend for up to 3 quarters of English language instruction at the ELC;
No prize alternatives or cash equivalents are offered;
Prizes are non-transferable;
The winner is solely responsible for all applicable taxes related to the acceptance of the prize.
Ambassador Opportunities
During the year, the winner will have the opportunity to:
Write a blog and/or record a vlog monthly to share your experience with the DU community;
Participate in a highlight video about their experience studying at the ELC;
Organize a community opportunity to share experience with other English learners in their home country post-program.
Eligibility
Winners must abide by the application requirements of the host organization;
All users must provide submissions that the user has created him/herself;
All users must provide personal information that is truthful and accurate;
Sqore reserves the right to exclude users at its sole discretion.
For more information and application, visit Future English Instructors Competition.