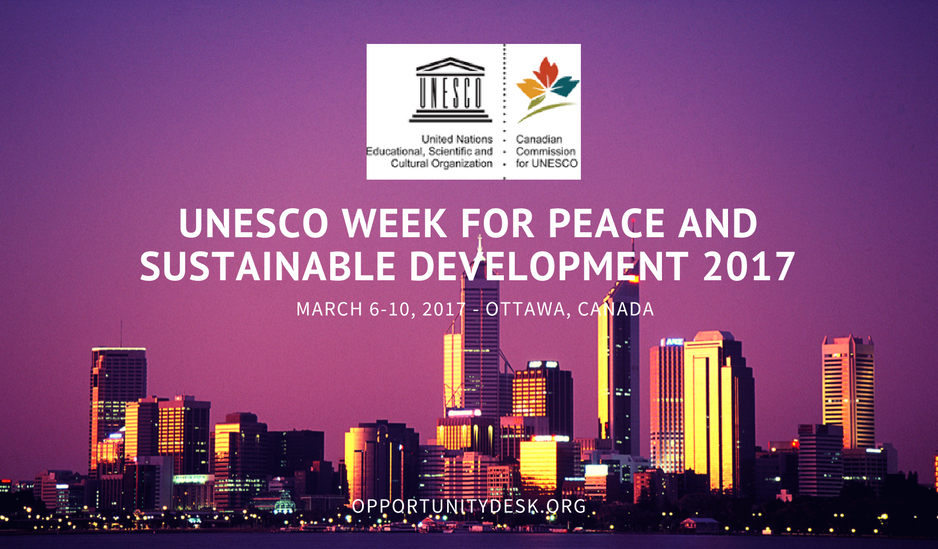 UNESCO Week for Peace and Sustainable Development 2017 in Ottawa, Canada
Deadline: January 6, 2017
UNESCO and the Canadian Commission for UNESCO are jointly organizing the "UNESCO Week for Peace and Sustainable Development: the Role of Education" in Ottawa, Canada (6-10 March 2017). The event presents a unique platform for discussion on two key programmes of UNESCO's Education Sector, namely Education for Sustainable Development (ESD) and Global Citizenship Education (GCED), and their practical contribution in achieving Target 4.7 of the Sustainable Development Goal 4 on Education. The Week will focus on the issue of teachers and teacher training, and highlight best practices in the field of ESD and GCED.
Eligibility
Targeted participants include teachers, teacher educators/trainers; policy makers in the field of teacher training and curriculum development; and representatives of governmental, intergovernmental and non-governmental organizations active in ESD/GCED.
Cost
UNESCO will review all submissions received considering among other things, the need to ensure geographic and gender balance, before issuing a formal invitation to participants. Please note that UNESCO may not be able to consider positively all expressions of interest. Invited participants are expected to cover their travel expenses. Limited financial resources from UNESCO will only be available for some participants from developing regions.
Application
Kindly note that participation in the UNESCO Week is by invitation only. Interested individuals/organizations are invited to complete the "Expression of Interest to Participate" form and to submit it by e-mail to: [email protected] by 6 January 2017.
For more information, Download the form and Download Conference Concept Note.