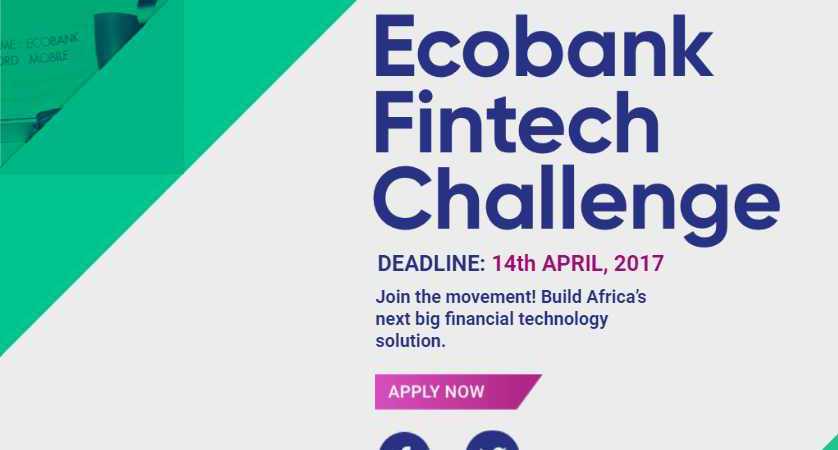 Ecobank Fintech Challenge 2017 for Tech Innovators and Entrepreneurs
Deadline: April 14, 2017
Join the movement! Build Africa's next big financial technology solution. Ecobank is challenging Africa's new generation of entrepreneurs to find lasting solutions to the continent's most pressing banking issues. Submit entries in one or more of the key areas of interest for a chance to win up to $500,000 funding.
Fintech Challenges
Developers and innovators are encouraged to submit applications addressing one or more of the following challenges:
Predictive analysis using big data
Agency banking
Secured client authentication
Apps to work without internet connectivity
KYC technology
Customer analytics
Credit scoring
Micro Loan System
User experience optimizing solutions using machine learning and AI
Blockchain technology/solutions within Banking
Cost
Ecobank will cover travel and accommodation costs for up to two participants from each team to attend the Ecobank Fintech Challenge event.
Other Benefits
Become a Fellow: Enjoying mentoring by leading experts;
Attract funding: Up to $500K for your Fintech solution;
Go multi-national: Partner with Ecobank to roll out to 36 countries:
Be a Service Partner: Access Africa's biggest banking ecosystem;
Maximise your reach: Give your start-up full Pan-African visibility;
Showcase your idea: At Ecobank's Innovation Fair.
Eligibility
Open to both teams and individuals. Teams can submit solutions for more than one challenge but are limited to only one entry per challenge. A total of 20 teams will be selected for the Ecobank Fintech Challenge event, which will be held at the global headquarters of Ecobank in Lomé in May, 2017;
Individuals are not allowed to participate in multiple teams. Switching teams after applying is not allowed;
To participate in the Event, teams must apply through the Challenge page at ecobankfintech.com before the deadline;
Ecobank reserves the right to disqualify any application if the application or team does not comply to these Terms.
Application Process
For more information, visit Ecobank Fintech Challenge.