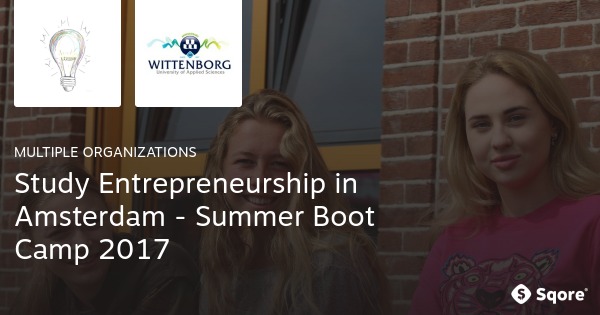 Study Entrepreneurship Abroad – Summer Boot Camp in Amsterdam 2017 (Win a Full Scholarship)
Deadline: June 28, 2017
Applications are now open for the 2017 Study Entrepreneurship in Amsterdam – Summer Boot Camp. Study in Amsterdam is offering you the chance to attend the Amsterdam Summer Bootcamp this summer! Three business schools in Amsterdam join forces to create the most dynamic summer opportunity ever offered to study entrepreneurship in the start-up heart and innovation capital of Europe. Spend 3 days learning about entrepreneurship and how to turn your dream into a thriving business. Learn while doing.
Team Academy University of Applied Science, InHolland University of Applied Science and Wittenborg-Amsterdam University of Applied Science offer this unique opportunity over a 10 day period. This is your chance to explore the three different business schools and learn about entrepreneurship in the heart of start-up scene in Europe.
You will spend one day at each of the participating institutions to really get to know the school, while developing your business idea. Spend a 4th visiting dynamic start-ups around town and then on Friday pitch your own business idea for the chance to win a scholarship of up to €5,000.
Prizes and Benefits
Compete for the grand prize which includes free accommodation as well as a €5,000 scholarship.
Get the best possible introduction to what studying entrepreneurship in Amsterdam, Netherlands would be like with the experience of a lifetime this summer.
The program is offered in English and will allow you to explore three of the top business schools in the Netherlands.
Eligibility
To be eligible for this opportunity you must meet the following criteria.
Proficient in English (the boot camp is delivered entirely in English)
Be 16 – 23 years of age
Application
All students with an interest in entrepreneurship and studying abroad are strongly encouraged to participate by simply answering one question – do you have the "E-Factor"?
To take the challenge, click here and find all the details!
For more information, visit Entrepreneurship Bootcamp in Amsterdam.