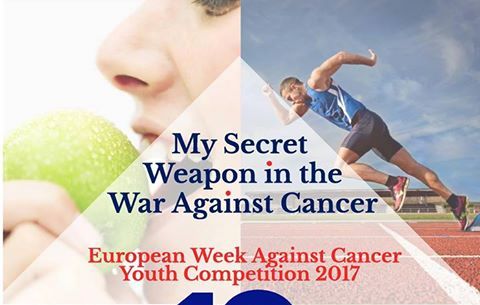 European Week Against Cancer Youth Competition 2017
Deadline: May 7, 2017
Are you a creative, active person? Would you like to do something fun and inspirational that can help promote healthy living and beat cancer? And would you also like the chance to win cool prizes? Then why not enter this competition to promote the European Code Against Cancer by posting creative picture that will help people understand how they can prevent cancer. Participants snap photos of themselves or others taking part in any type of healthy activity benefiting their health and share them for a chance to win a prize!
Through its 25 Member Societies – representing over 170 000 professionals – ECCO is the only multidisciplinary organisation that connects and responds to all stakeholders in oncology Europe-wide. The vision of Association of European Cancer Leagues (ECL) is for a Europe Free of Cancers. The role of ECL is to facilitate the collaboration between cancer leagues throughout Europe and to influence EU and pan-European policies. The mission of the Association of European Cancer Leagues is to influence and improve cancer control and cancer care in Europe through collaboration between its members in their fight against cancer, and to influence EU and pan-European policies.
Prizes
Special prizes for the top three entries in two age categories:
13-15: 1st place – Mini IPad
16-25: 1st place – AirSelfie
Eligibility
Entrants must be aged between 13-25 years old;
You can be any nationality, but must be living and studying in Europe;
Entries cannot contain any copyrighted material or images (such as famous celebrities or brand logos). Each entry must also be your own original work and not that of any older sibling, parent or friend.
Application Process
Entries must post max two pictures on Instagram or Facebook #Mysecretweapon2017 and mention @CancerCode
If you have any questions, please contact to Marial Beridze at [email protected]es.org
For more information, visit European Week Against Cancer Youth Competition.