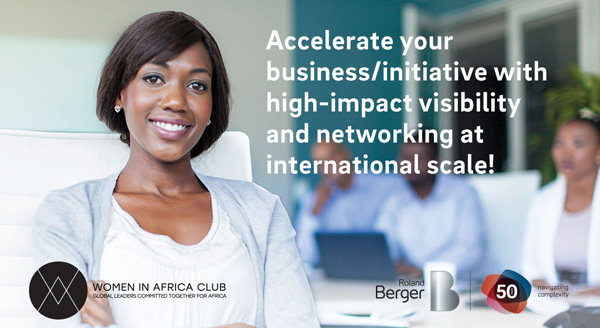 Women In Africa Entrepreneurs' Hub in Marrakesh 2017
Deadline: July 5, 2017
Applications are open to women entrepreneurs in Africa to join the Women In Africa Entrepreneurs' Hub 2017. The Entrepreneurs' Hub is an exhibition space dedicated to women entrepreneurs during the WIA Club Annual Meeting/Regional meetings. It provides 15 to 20 women entrepreneurs with great visibility and access to high-level decision-makers and investors' network. They will select and invite high potential African women entrepreneurs to pitch or have an exhibition space during the next Women In Africa Club Annual Meeting that will take place from September 25-27, 2017 in Marrakesh.
Women in Africa (WIA) CLUB PHILANTROPY is a non-profit structure aiming at supporting and funding businesses led or managed by African women, through two main projects: the Women in Africa Entrepreneurs Hub and the Women in Africa Revelations Night.
Eligibility
The companies or initiatives meeting the following criteria can apply to the Entrepreneurs' Hub:
Companies or initiatives based in one of the 54 African countries;
Created or managed by an African woman;
With a strong market traction (turnover, number of users, funds raised).
Selection Criteria
They will select the most innovative and high-growth potential companies or initiatives with already proven traction:
Innovative product, service or technology and/or a strong human impact;
With a first traction on the market (turnover, number of users, raised funds);
Proven business model, scalability;
Large growth potential (in own country, Africa and globally);
Ambitious team with deep execution skills.
Application Process
Complete the application form
For more information, visit Women In Africa Entrepreneurs' Hub.