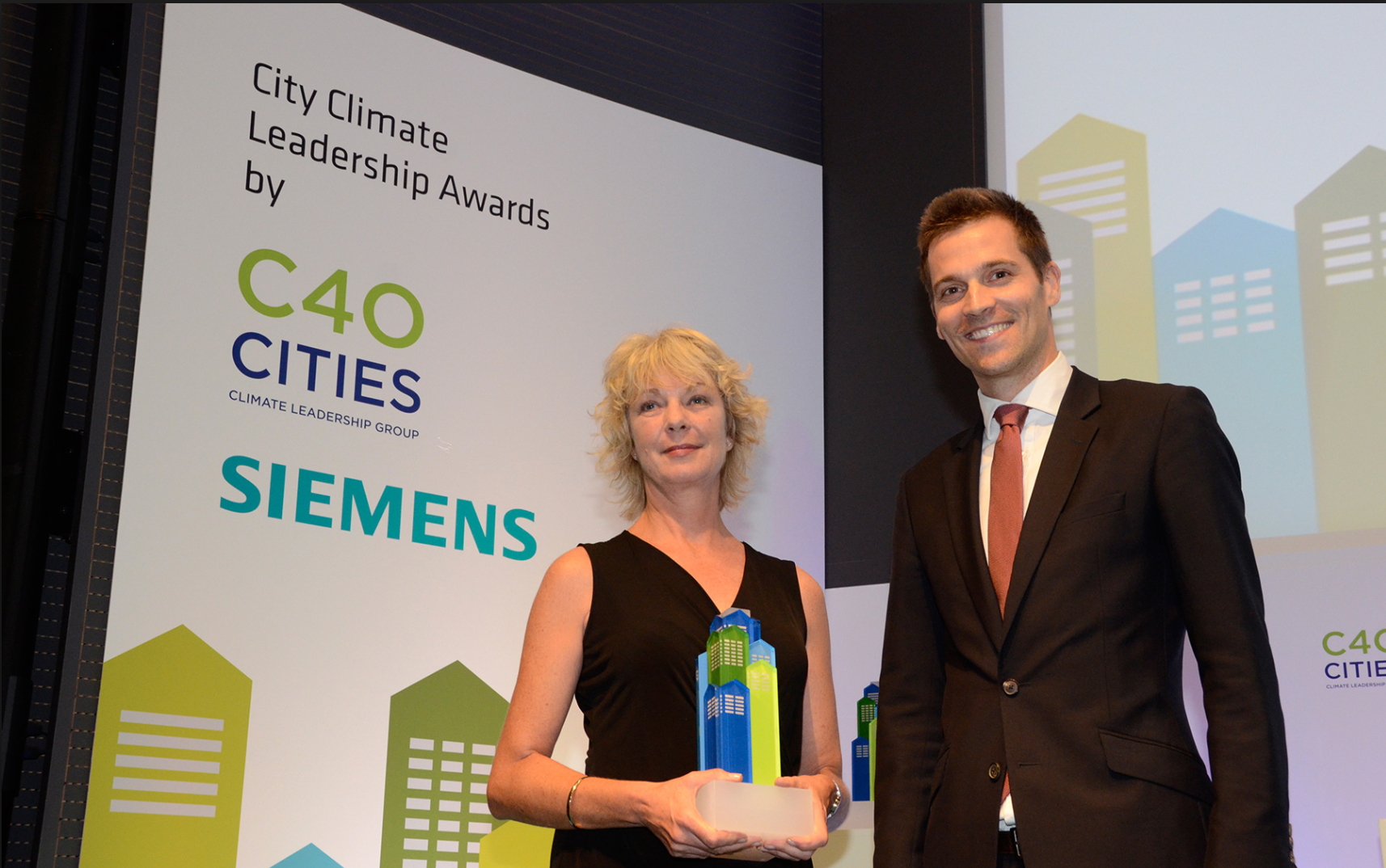 Job in New York: C40 Cities Climate Leadership Group seeks Events Manager ($57,200 per annum)
Deadline: August 13, 2017
C40 Cities Climate Leadership Group is seeking an Events Manager. C40 is a network of the world's megacities committed to addressing climate change.
Acting both locally and collaboratively, C40 cities are having a meaningful global impact in reducing both greenhouse gas emissions and climate risks. C40 brings together a unique set of assets and creates a shared sense of purpose. C40 offers cities an effective forum where they can collaborate, share knowledge and drive meaningful, measurable and sustainable action on climate change.
About C40's Communications & Events
C40's Communications team is responsible for strategically positioning the C40 as one of the most impactful global climate organisations and raising the profile of our member cities in this regard. Events serve as a cornerstone of how the C40 engages with, provides support to, and facilitates connections between C40 cities.
The C40 co-hosts a bi-annual C40 Summit with a selected C40 City that provides a global platform through which the work of C40 cities and Mayoral leadership are showcased and championed. C40 Summits are Mayoral-level events. In addition, C40 and its partner Bloomberg Philanthropies produce the Cities Awards, an event bringing together mayors and senior city officials to recognise successful climate action.
Additional events may include additional thought leadership opportunities for C40 throughout the year and launches of new C40 Initiatives, Networks, projects or reports through press conferences.
Position Details 
Position Title: Events Manager
Department: Communications & Events
Reporting To: Head of Events & Logistics
Location: New York
Salary: USD 57,200 per annum
Term: Indefinite Contract
The Events Manager will report to the Head of Events and be a key member of the Events Team in the execution of events that:
advance C40's global leadership and unique organizational approach;
showcase the work of C40 cities and mayoral leadership;
provide a platform for direct peer-to-peer exchange between C40 cities seeking to advance municipal-level GHG management, climate change mitigation, and climate risk reduction; and
gather C40's global staff for internal training opportunities.
Responsibilities
As directed by the Head of Events & Logistics, help to deliver C40's large-scale events, including the biennial C40 Summit and annual Cities Awards, ensuring the events are aligned with C40's mission;
Manage event logistics and production to ensure policy and budget compliance, including:

Support with the devising, establishing and managing the systems and processes required to deliver effective events for C40;
Identify and manage suppliers, acting as a conduit to key administrative/liaison contacts across C40 and with C40 partners;
Work with host cities to develop a plan for, and support the coordination of, all event air and ground travel logistics for C40 cities;
Work with host cities to prepare, send and monitor event invitations, registrations and event communications;

Liaise with speakers for briefings and requirements;
Lead post-event follow-up work including ensuring invoices are paid to vendors and suppliers, preparing wrap-up correspondence, including internal debriefs, evaluation, output reports, learning and summaries
Provide guidance to junior members of the team on varying projects, ensuring that deadlines are met and work is to a high stand standard;
Develop and manage event marketing and branding: objectives, plans and materials;
Managing the planning and delivery of other smaller events including C40 staff retreats or training sessions as required;
Additional duties as requested.
Eligibility
Significant experience in managing large scale events, ideally from a special events or corporate background, bringing expertise in logistics, production, content delivery, speaker liaison, attendee communication and end-to-end management;
Experience managing long-term projects with multiple, diverse elements requiring overarching strategic planning;
Ability to work on multiple event projects, in varying locations at any one time;
Experience of managing event agencies, including the procurement and contracting process, long-term event production development, and execution of complex production services on-site;
Strong problem-solving, project management and strategic thinking capabilities as well as a high level of accuracy and attention to detail;
Highly motivated and innovative with required determination to achieve results;
Ability to work within a team as well as on their own initiative;
Strong interpersonal skills and the ability to engage professionally with C40 cities;
Outstanding communication skills— written and verbal with an ability to brief clearly and concisely
Sound knowledge of the industry;
International experience, particularly working across different cultures, languages and time zones;
Must be fluent in Spanish and English;
Working knowledge of Microsoft Word, PowerPoint and Excel, as well as databases such as Salesforce;
Educated to a minimum of bachelors degree level in relevant field; Ideally, candidates will also possess:
Additional language skills;
City Diplomacy and Mayoral-level Protocol knowledge;
Project Management qualification.
Other Requirement
Applicants must already have the right to work in the United States of America. C40.SOP/HR/001 F2 3
Travel – The role will require significant travel. Travel and overnight stays approximately 9-11 times per year (at times consecutively) in a range of international locations in order to carry out the planning delivery of events.
Application Process
Interested applicants should submit a curriculum vitae and cover letter, stating the current salary to [email protected]. Closing date for receipt of applications is Sunday, 13 August 2017.
C40 is an equal opportunities employer.
For more information, visit C40 Cities hiring Events Manager.