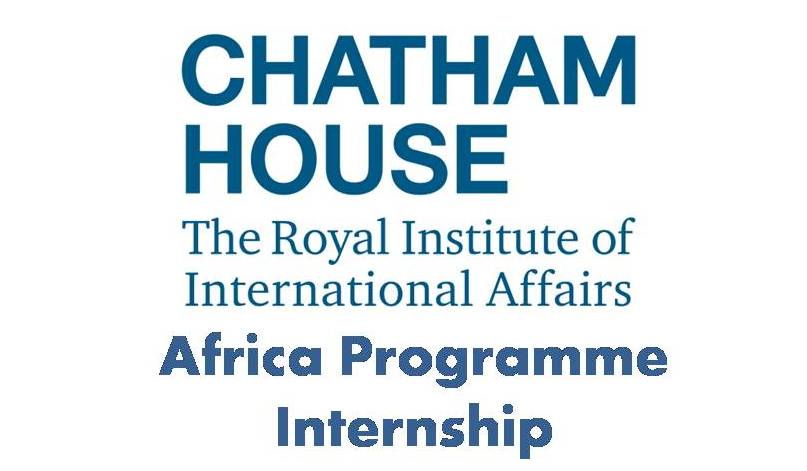 Chatham House Africa Programme Internship 2017 – London, UK
Deadline: August 27, 2017
Application is open for the Chatham House Africa Programme Internship 2017. The Africa Programme at Chatham House is looking for an individual with demonstrable interest in African affairs who would like to gain valuable work experience in a policy institute.
This internship is an opportunity to gain insight into one of the world's leading independent centres for practical policy research and debate on the politics and international relations of sub-Saharan African states. The successful applicant will be an integral part of the Chatham House Africa Programme team and gain valuable experience from supporting  its current projects and activities.
Remuneration
This is an unpaid internship. However, travel expenses to and from work within London (zones 1-6) will be reimbursed for the days worked. Lunch will also be provided in the staff canteen.
Eligbility
Candidates should have a bachelor's degree or higher in international relations, development studies, politics, or related field;
Show demonstrable interest in African affairs;
Have strong writing skills and excellent attention to detail;
Ability to work as part of a team as well as independently;
Strong administrative and organizational skills;
Strong interpersonal skills.
Application
To apply please send a CV, covering letter, a writing sample and the names of two referees to:
Eugénie McLachlan
Programme Administrator,  Africa Programme
[email protected]
Important Dates
September 11, 2017: Start Date
December 15, 2017: End Date
August 27, 2017: Closing date for applications
September 6-8, 2017: Interview Period
For more information, visit Chatham House Africa Programme Internship.