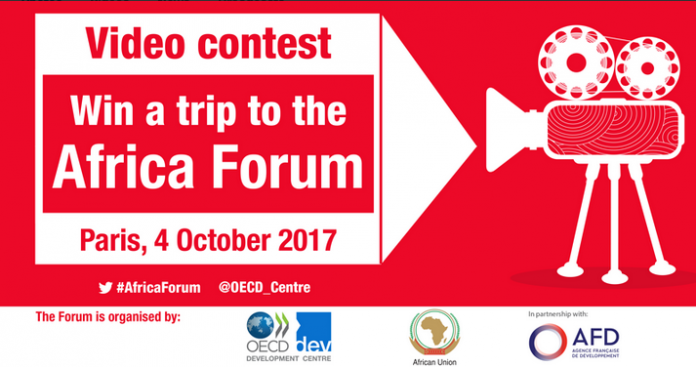 OECD Africa Forum Video Competition 2017 (Win an All Expense Paid Trip to Paris)
Deadline: September 4, 2017
Are you a young entrepreneur? Do you reside in Africa? Here's your chance to participate in the 2017 International Economic Forum on Africa. The 2017 International African Economic Forum will be held in Paris on October 4, 2017, gathering OECD officials and African policy makers, private sector, academia and civil society leaders.
Following this year's theme, "Entrepreneurs and industrialisation in Africa", young entrepreneurs from Africa are invited to take part in a video contest for the chance to win a trip to Paris, to participate in the Forum and to present their video.
The Challenge is to make a short video (3 minutes maximum), that addresses the theme Entrepreneurs in Africa: What does it mean to be an entrepreneur in Africa today? What are your views on the future of entrepreneurs in your country? What are the difficulties that you encounter and what policies would help your enterprise? What does your day-to-day life look like as an entrepreneur in your country?
Prize
The creator of the winning video will be invited to attend the Africa Forum in Paris, France. Flight and lodging for the duration of two days will be provided;
The winning video will be shown at the Africa Forum on October 4, 2017 and widely distributed through the OECD websites and social media channels.
Eligibility
Applicants must be between 18-35 years old, and a resident in Africa during the period of this competition (July 31, 2017 to October 4, 2017);
If you are a member of OECD staff (either permanent or temporary, current or former), intern, contractor, sponsor, or an immediate family member of any of the foregoing, you may participate, but are not eligible to win.
Video Requirements
Your video must be no more than 3 minutes long;
Any spoken language used in your video that is not English or French must be accompanied by the relevant subtitles in English or French;
Your video must not contain violence, profanity, sex or direct attacks on individuals or organizations. Any entries deemed offensive will be immediately disqualified;
Your video must be your own original creation – no copyrighted music, video, sounds or images may be used without prior, full permission from the author(s) of said copyrighted music, video, sounds or images that you wish to include;
Your video must not infringe on any third party rights;
Your video must not have been produced for compensation or posted previously on any OECD Web page.
Application
In order to send your video, you must complete and submit this electronic Registration Form (which will include a link to your video on YouTube).

The deadline is

September 4, 2017, at 00:00 

(Paris time). Any Registration Forms received after this date will not be considered for a prize, under any circumstances.
For more information, visit OECD Africa Forum Video Competition.