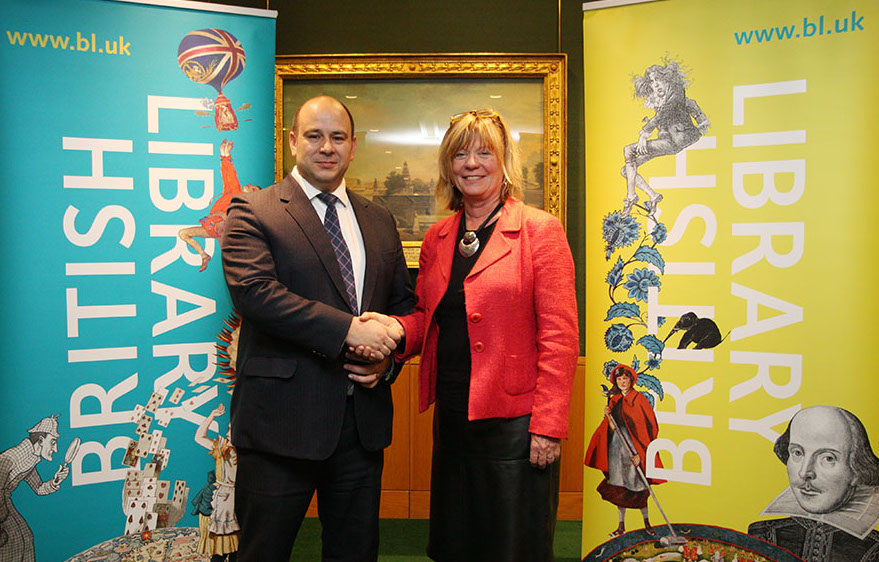 The Chevening British Library Fellowship 2018-19 for International Experts
Deadline: November 7, 2017
Applications are now open for the Chevening British Library Fellowship 2018-19. This is a collaboration between the UK Foreign and Commonwealth Office and the British Library, offering international experts a year-long professional project-based placement. Fellows will have the privilege of working with the extensive library's collections, and benefit from the broad range of professional expertise of library staff. The fellowship starts in September 2018 and is for a 12-month period of project-based activity at the British Library.
The British Library is the national library of the UK and one of the world's greatest research libraries. The British Library's collection encompasses all fields of knowledge in hundreds of languages, covering 3,500 years from some of the earliest written records to the digital collections of the present day, and range over all formats. As a public-facing, culturally-active research institute, Chevening is pleased to partner with the British Library to bring international experts to the UK to pursue a one-of-a-kind opportunity.
Fellowship Details
Fellows will undertake a period of professional project-based activity at the British Library, receiving support and supervision from library staff. Please note that this fellowship is not suitable for those wanting to pursue their own research. For the 2018-2019 academic year, three placements are on offer and will provide fellows with experience in strategic and policy work relevant to a national library.
There is one placement per theme:
Theme 1: Endangered Archives – North Africa or the Middle East. This fellowship is available in: Algeria, Egypt, Israel, Jordan, Lebanon, Libya, Mauritania, Morocco, Palestine, South Sudan, Sudan, Syria, Tunisia
Theme 2: Academy and society in the Balkans 1850-1950. This fellowship is available in: Albania, Bosnia and Herzegovina, Kosovo, Macedonia, Montenegro, Serbia, Turkey
Theme 3: Exploring and enhancing the British Library's Turkic-language collections. This fellowship is available in: Azerbaijan, China, Iran, Kazakhstan, Kyrgyzstan, Moldova, Turkey, Turkmenistan, Uzbekistan
As a public-facing, culturally-active, research institute, the Library is able to provide a broad range of professional development opportunities for fellows. Fellows will have a unique project-based placement involving research, consultation, and strategy development, coupled with stakeholder engagement and outreach opportunities.
Fellows will benefit from embedded working and hands-on training within a specific team, as well as having access to a range of organisational training and development opportunities, such as the British Library's Digital Scholarship programme. The library's postgraduate research manager will provide additional pastoral support and work with supervisors to monitor the progress and professional development. Each fellow will also be allocated up to £1,000 for approved project-related expenses.
Benefits
The fellowship includes:
12-month period of project-based activity at the British Library
Living expenses for the duration of the fellowship
Return economy airfare from their home country to the UK
Allowance package for fellowship-related activities
Up to £1,000 for approved project-related expenses
Eligibility
To be eligible for a Chevening/British Library Fellowship, you must:​
Demonstrate the potential to rise to positions of leadership and influence
Demonstrate that you possess the personal, intellectual, and interpersonal attributes reflecting this potential
Be a citizen of one of the above listed countries, who will return to your home country at the end of the period of fellowship
Have a postgraduate (PG) level qualification (or equivalent professional training or experience in a relevant area) at the time of application
Have significant professional and/or academic research experience (at least five years)
Be currently employed or a currently enrolled PhD candidate (PhD must not be with a UK/EU or USA university)
Provide evidence of meeting at least the minimum English language abilities for Chevening Awards
Not hold dual nationality where one nationality is British (other than for nationals exempt from this requirement).
Not be employees, employees' relatives (or former employees who have left employment less than two years before) of Her Majesty's Government including the FCO (including FCO Posts), the British Council, DFID, MOD, BIS, UKTI and UKBA, the Association of Commonwealth Universities, or the British Library or any of their wholly-owned subsidiaries.
Applicants who have previously received financial benefit from a HMG-funded scholarship or fellowship are eligible to apply after a period of five years following the completion of their first HMG funded award and are required to demonstrate their career progression from that point
Application
Apply to BL (Turkic Languages)
Apply to BL (Endangered Species)
If you are conditonally selected, please familiarise yourself with the placement timeline.
For more information, visit Chevening British Library Fellowship.