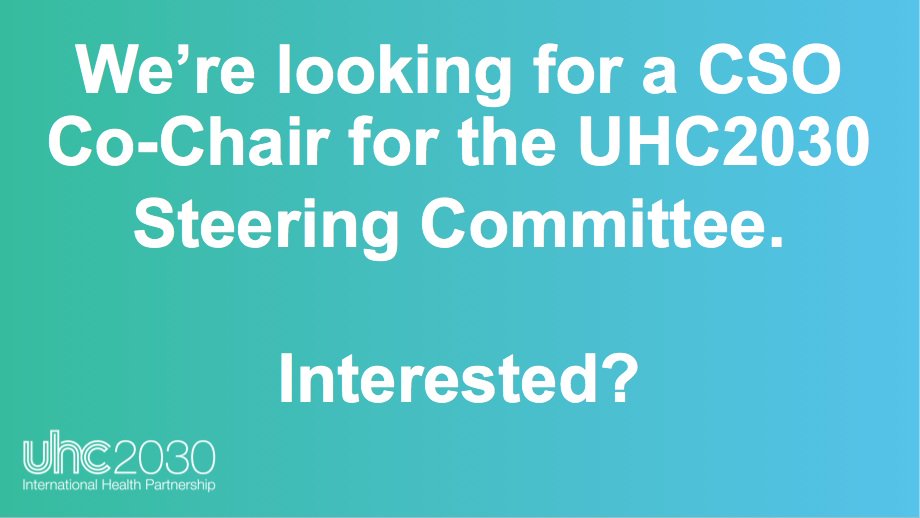 Call for CSO Co-Chair of the UHC2030 Steering Committee
Deadline: September 30, 2017
The UHC2030 Secretariat, in collaboration with the UHC2030 Civil Society Engagement Mechanism, is soliciting applications and nominations to undertake co-chairing responsibility of the UHC2030 Steering Committee. They are looking for a CSO person who could play the role of a Co-chair for the UHC2030 steering committee. If you are interested, apply now!
The governance arrangements for UHC2030 agreed in December 2016 provide for one co-chair from the country constituency and one co-chair from another constituency. The Steering Committee decided at its meeting held on 15-16 June 2017 that the second co-chair should be from civil society. They are looking for a charismatic individual with demonstrated institutional leadership and stature in global health who is committed to promote UHC.
Responsibilities
Together with the other co-chair from the country constituency, the co-chair will be expected to:
Preside over, and facilitating semi-annual  and ad hoc SC meetings
Advise on the planning of SC meetings and overall strategic direction, and periodically supporting the UHC2030 Core Team coordinators to consult with SC members on their roles as constituency representatives and contribution to discussion; and
Act as an ambassador for the partnership.
Eligibility
Priority will be given to candidates from civil society organisations from low- and middle-income countries
Executive leadership accomplishments in civil society organisations and citizen movements around health issues
Demonstrated influence as board member, chair or similar
Diplomatic skills and natural affinity for cultivating relationships and facilitating consensus.
Application
To apply, let them know your interest! Please write a letter to the UHC2030 Secretariat with a short bio by 30 September (email to [email protected]).
The confidentiality of all applicants and nominees will be maintained throughout the selection process.
For more information, visit UHC2030 Steering Committee.