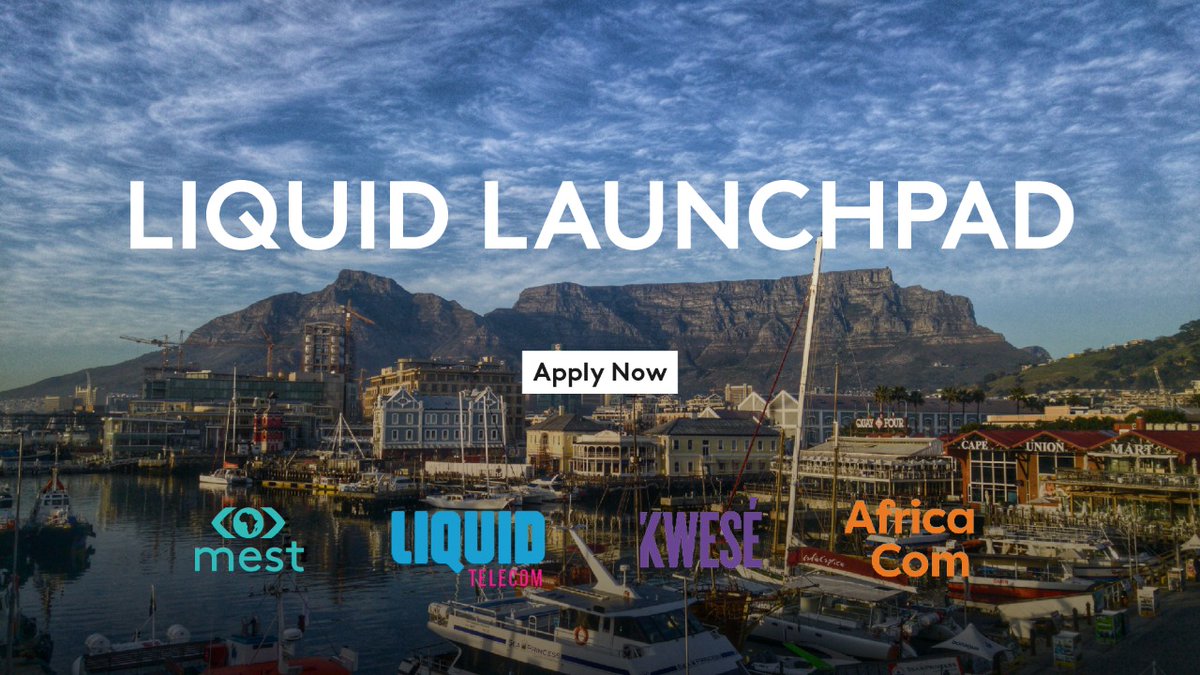 Liquid Launchpad 2017 for Entertainment Tech Startups in Africa
Deadline: November 1, 2017
Calling Entertainment Tech Startups! Liquid Telecom, in partnership with MEST and Kwese, are searching for the 5 best entertainment tech startups in Africa to move the continent forward in the way it consumes content. Empowered by significant leaps in support infrastructure, Africans have never been in a better position to access original content on a wide range of platforms.
Accepted startups will receive intensive market training and the chance to pitch their startup at AfricaCom – Africa's largest telecoms, media and technology event! ​So, have you got what it takes to gear up? Is your tech startup the next big thing?
Benefits
The winner receives:
6 months fixed membership at the MEST Incubator Cape Town
the opportunity to nurture and grow their start up in markets across Africa
Training Sessions
3 November, 10am – 2 pm
Training will take place at MEST Incubator Cape Town, (401a, Woodstock Exchange, Albert Rd, Woodstock, Cape Town, 7915) on 3 November 2017 between 10am and 2pm and will comprise:
Session with Ashwin Ravichandran, General Manager of MEST Incubator Accra, who will cover:

Opportunities and challenges for tech startups in a Pan-African context, specifically unique to Nigeria, Ghana, Kenya and South Africa
A pitch training session, including feedback

Corporate engagement session with Oswald Jumira, Head of Innovation Partnerships, at Liquid Telecom, inluding:

A discussion of the infrastructure Liquid Telecom is developing across the continent, including partnership opportunities with start-ups who have Pan-African ambitions
Analysis of startups' market expansion strategies and how Liquid Telecom can support them
AfricaCom Pitch
8 November, 2pm – 3.20 pm
The final pitch will take place on the AHUB stage at AfricaCom, on Wednesday 8 November, between 2pm – 3:20pm. The judging panel will comprise Ben Roberts, CTO of Liquid Telecom, Bradley Kirby, Head of Esports at Kwese and Aaron Fu, MD of MEST.
'LIVE PITCH SESSION' – The Future of African Entertainment
​The session will begin with a fireside chat between Ben Roberts, CTO of Liquid Telecom, Bradley Kirby, Head of Esports at Kwese and Aaron Fu, MD of MEST, who will discuss the growing appetite and opportunity for expansion of gaming companies across the continent. Pitch session by the 5 selected companies will follow.
Running order:
 – Video introduction of training session (5 minutes)
 – Fire side chat (Aaron, Brad and Ben) (20 minutes)
 – 5 company pitches (7 minutes each)
 – Judging (10 minutes)
 – Winner announcement
Eligibility
Sectors: Gaming, Gamification, Entertainment Technology, Music Technology, AR/VR
Ambition to scale into other African markets
Minimum Viable Product
Application
Complete the online application. Submit applications by 11.59pm, South African Standard Time (SAST) on 1 November.
Successful applicants will be notified my 12pm, SAST, on 2 November.
Got questions? Contact [email protected]​.
For more information, visit Liquid Launchpad.