Opportunity Desk (OD) is pleased to have Julia Yarbough accept to host a Facebook Live session for October 2017. Writing a smart cover letter can give you the chance of being more successful in an application, even if you have a weak CV/resume. Whether you are applying for a job, fellowship, grant or scholarship, a cover letter is typically a one-page document that explains why you are an ideal candidate.
This month, Julia Yarbough from the United States will join us to speak on "Crafting a Winning Cover/Motivation Letter." This session  will help you write the best letter possible. The #ODLive monthly series is part of our efforts to empower our users with the right knowledge and tips they need to grow and succeed in their businesses, projects and applications for global opportunities.
Event Details
Topic: Crafting a Winning Cover/Motivation Letter
Date: Friday, October 31, 2017
Time: 12:00pm EST or 4:00pm GMT
Venue: Opportunity Desk – facebook.com/opportunitydesk (LIKE and FOLLOW).
_________________________________________
MEET JULIA YARBOUGH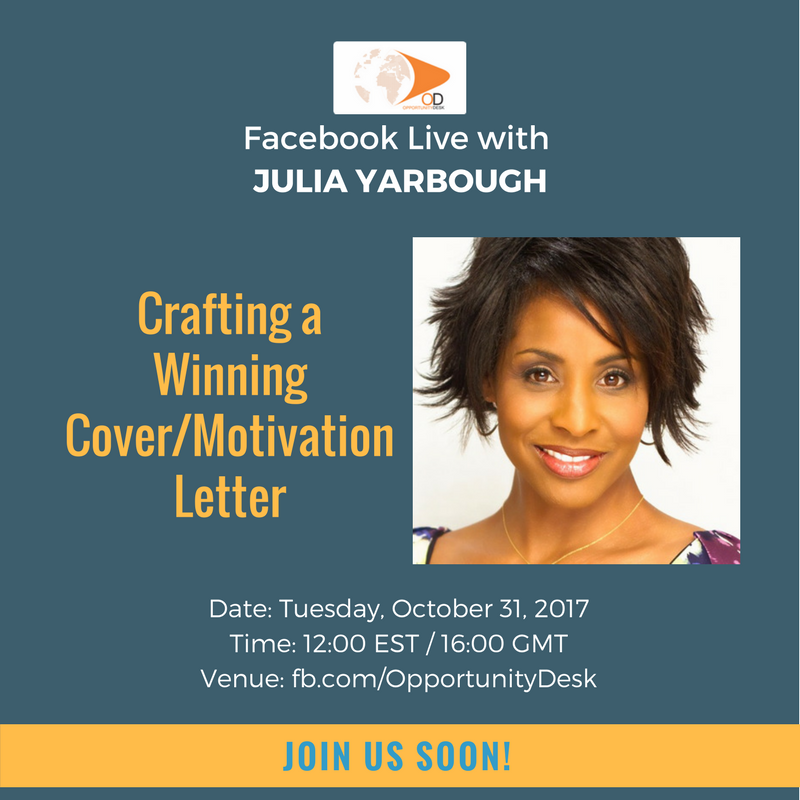 A multiple Emmy-Award winning broadcast and print journalist, Julia Yarbough's on-air television, public speaking and professional writing and production experience reaches across multiple platforms. She began her career chasing news in the field as well as bringing viewers daily and nightly reports from the anchor chair in the studios of NBC6-WTVJ, in Miami, KCBS2 in Los Angeles, WSVN, South Florida, WLKY, Louisville, Kentucky, WEAR, Pensacola, Florida and KEYT, in Santa Barbara.
Julia continually remains at the cutting edge of production styles, digital and on-line messaging and social-media trends. Most recently Julia serves as Media Ambassador for the internationally recognized City of Miami Beach, leading an in-house production team producing original programming for MBTV, the Miami Beach Police and Fire Departments and social media platforms.
She created the Julia Yarbough Media Group in order to bring her extensive storytelling experience to a broader market, professionally evolving in the fields of communications consulting, public speaking and video production. Since its inception Julia Yarbough Media Group has forged partnerships with organizations, corporations and individuals to identify and produce stories that have a positive impact on our society and world and secure media placement for select clients. In October, 2013 Julia was commissioned to co-produce a documentary for GE/Africa spending three weeks in Tanzania, Ethiopia and Kenya.
Julia has been featured on local and national television and radio programs speaking to issues of career reinvention, work-life balance and relationships. A graduate of The University of California, Santa Barbara with a B.A. in Economics, she began her journalism career as a print journalist for The Daily Nexus campus newspaper
__________________________________________
Opportunity Desk is an online platform that bridges the gap to education by sharing information on relevant learning and growth opportunities for disadvantaged youth around the world. These opportunities help to facilitate young people's efforts in exchanging ideas and preparing themselves for the future.
You don't want to miss this. Save the date! #ODRocks #ODLive