THE STORY OF STACY AND LAUREL
This is the story of two best friends who almost missed out on life-changing opportunities, not because they were not qualified but because they had no idea such opportunities exist! In their frustration, they met David! Guess what he did?
1: Here is a tale of two best friends Stacy and Laurel, who nearly missed out on life-changing opportunities, not because they were not qualified but because they had no idea such opportunities exist!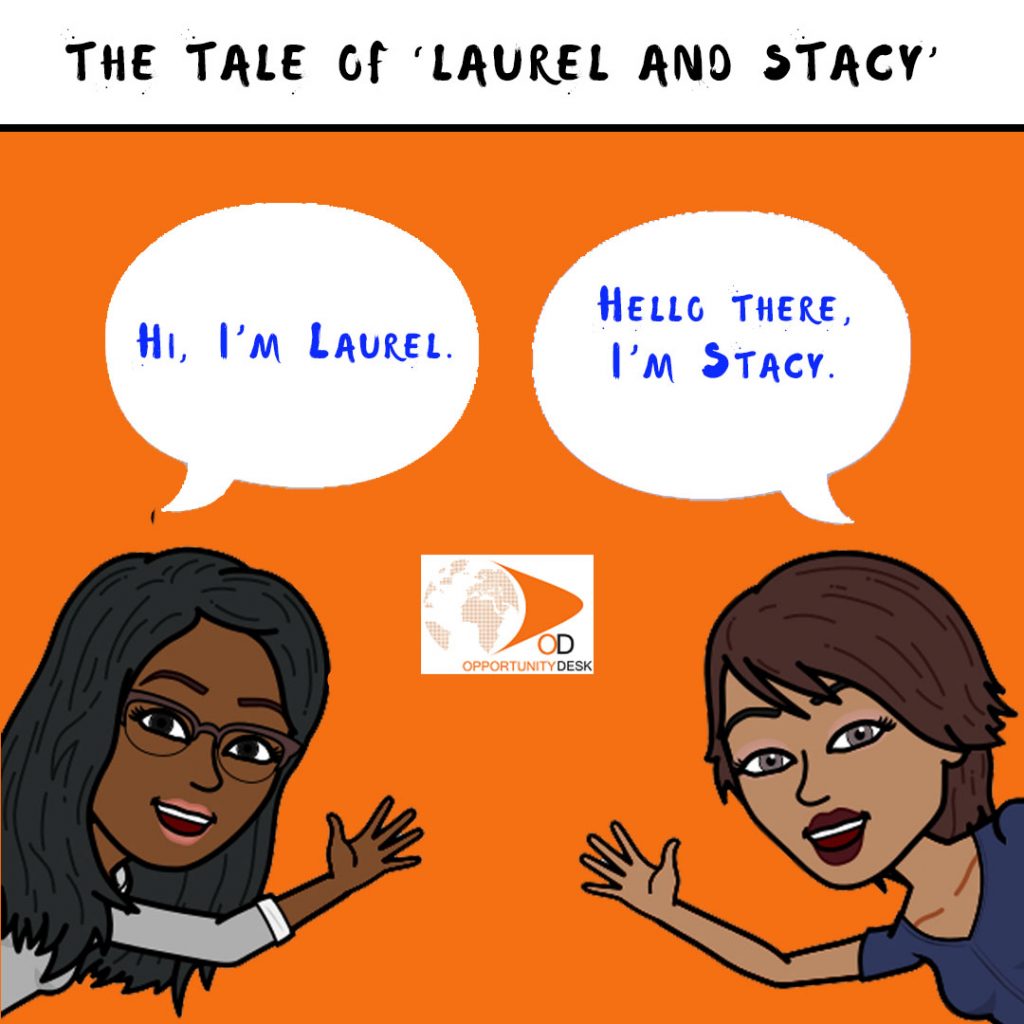 2: The two brilliant girls were doing all they could to create a promising future for themselves. Stacy had just graduated from an engineering school and she was earnestly searching for a job relevant to her field whereas Laurel was working towards getting a scholarship to undertake her master's degree abroad. Laurel had graduated a year prior because her course takes less years to complete compared to Stacy's.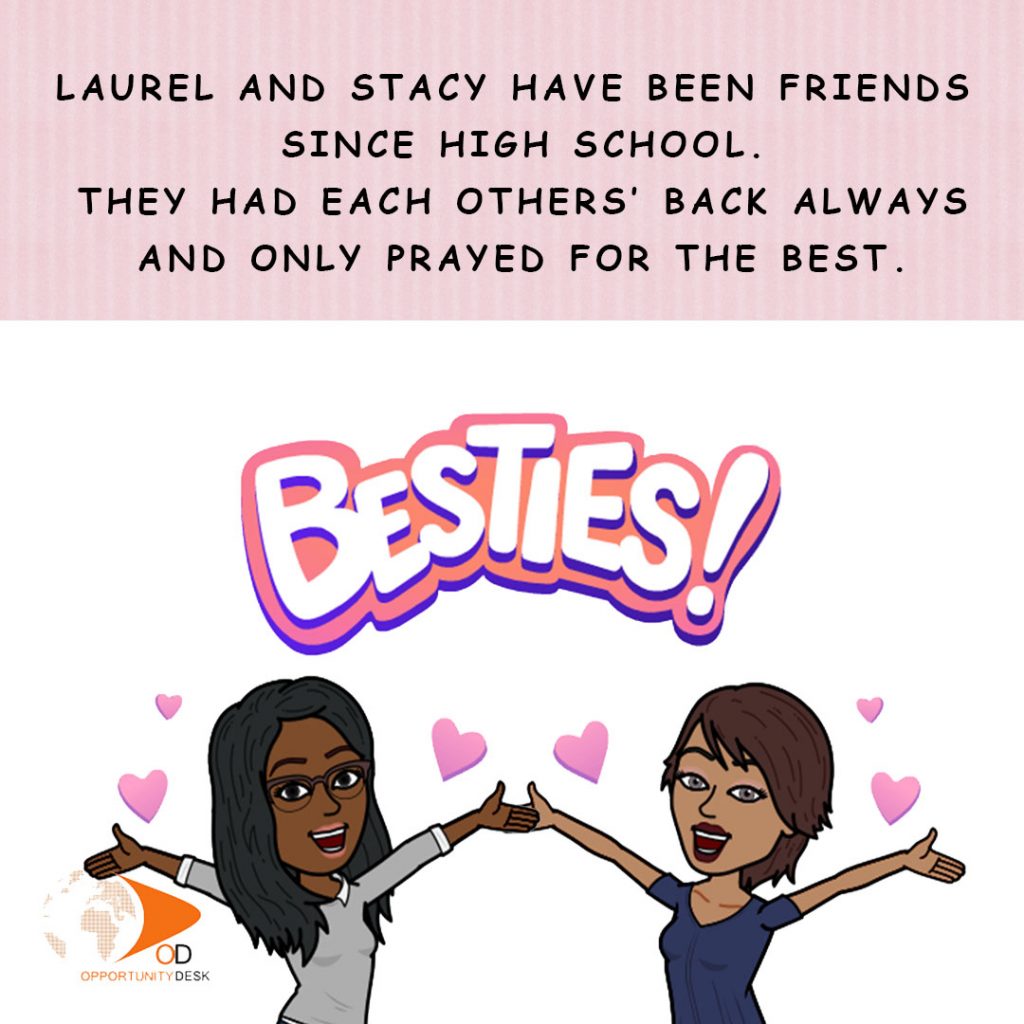 3: On this particular day, Stacy and Laurel were waiting to catch a bus to the city center to try their luck. They exchanged sympathetic looks, trying hard to forge a smile every now and then. Stacy was telling Laurel she is sick and tired of putting so much effort to secure a job in vain. She was thinking of quitting altogether and try her luck in entrepreneurship.
Laurel didn't know how comfort her friend. She too had tried a billion times to make applications to 'agents' in vain. They were both facing the same problem and each time they met, it was either Stacy narrating how she saw job applications late or it was Laurel narrating how she got scammed by people who promised to help her get admission to world-class universities. But on this day, they met David.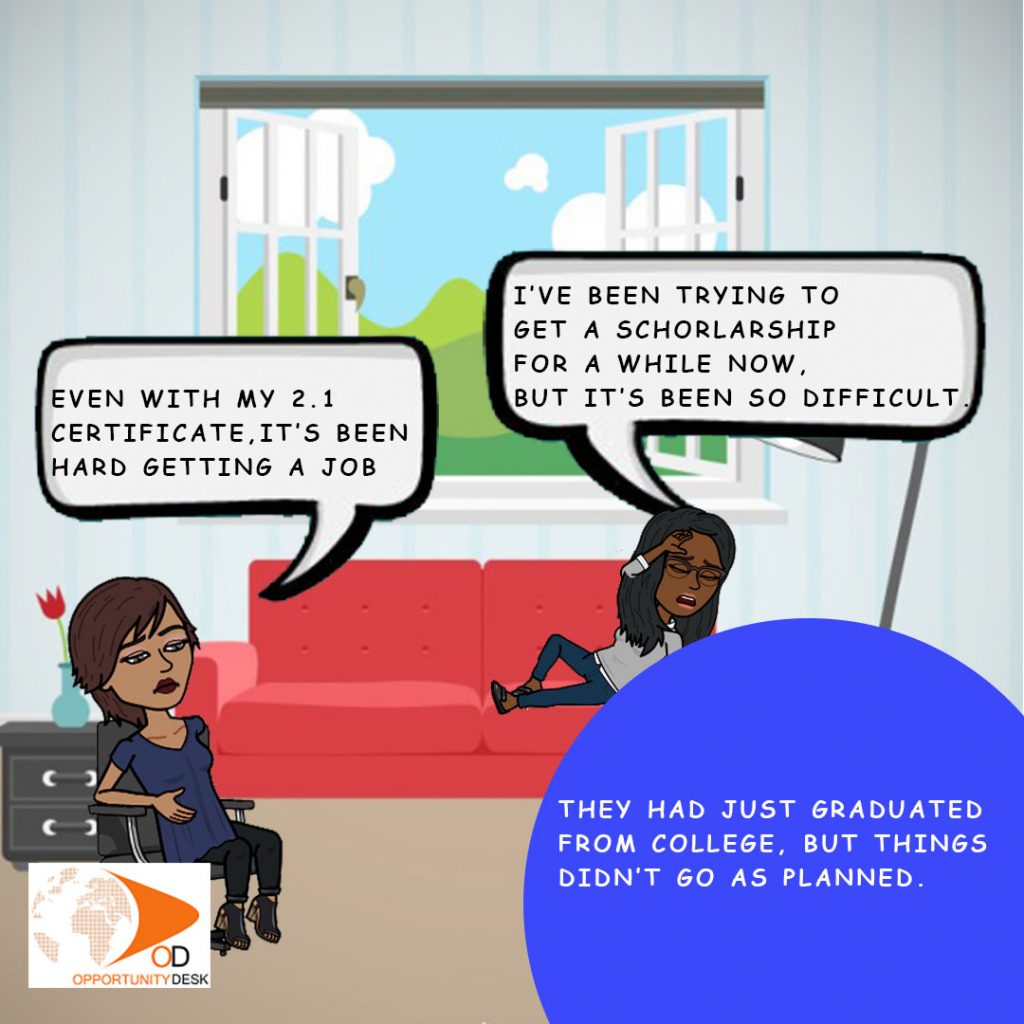 4. They hadn't noticed David's presence as they waited for their bus until David forced a cough just behind them.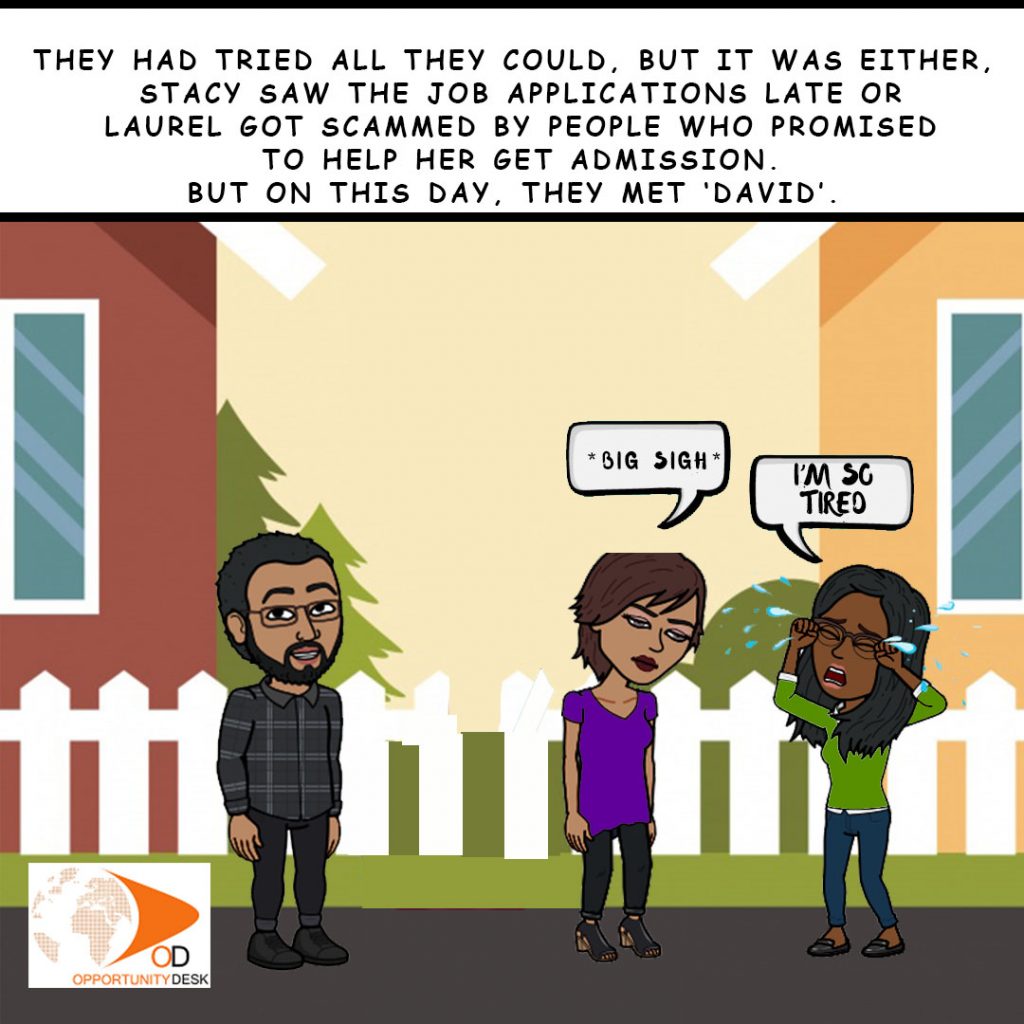 5. Aha! So he was eavesdropping! "Hello my name is David. I overheard your conversation. I couldn't help but come in. I have the perfect solution." He offered.
Stacy and Laurel found it peculiar to talk to a total stranger. But they thought listening doesn't hurt if he is going to offer the right solution at what they termed as their 'breaking point.' Who knows, maybe David could be the CEO of a blue chip company Stacy is trying to gain employment. Maybe David's brother could be a registrar in Harvard or in the University of British Columbia or worse he could be one of the many conmen Laurel had come across in her attempt to secure a scholarship.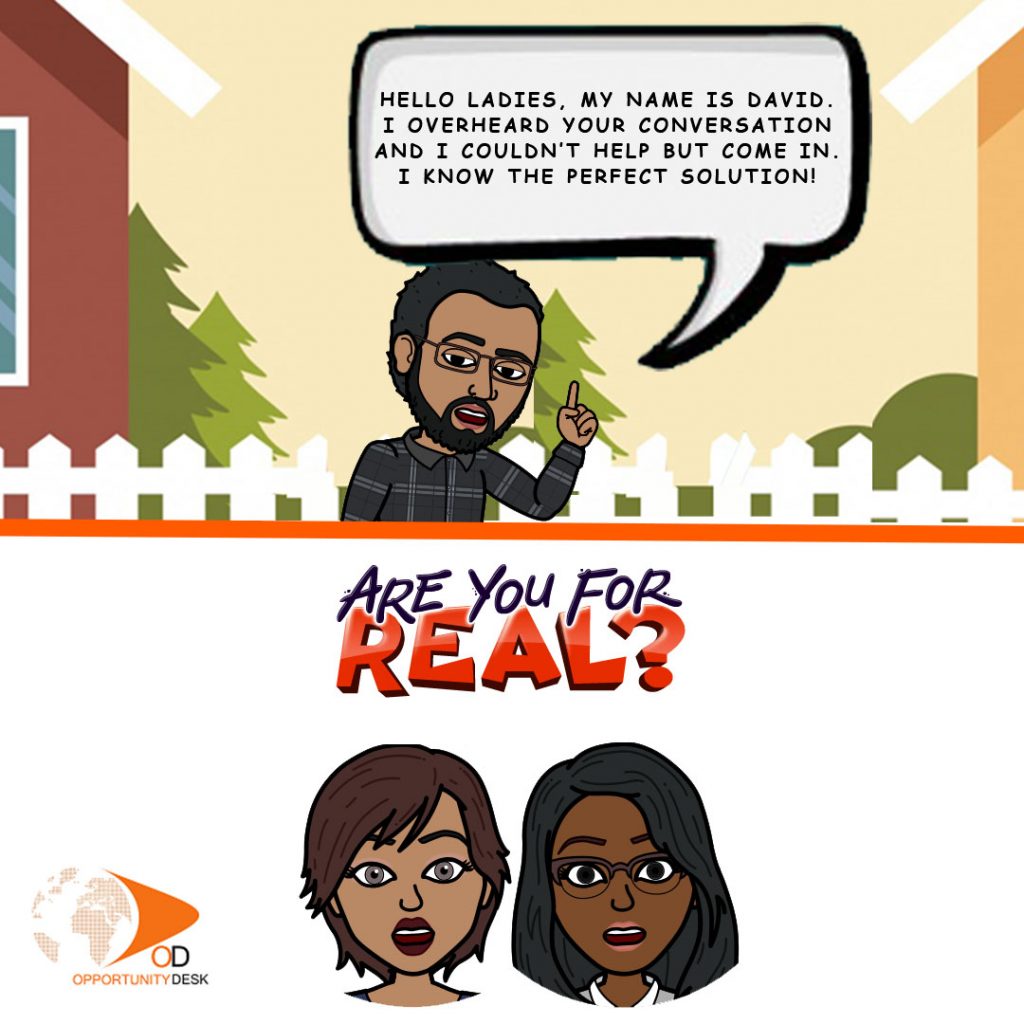 6. "Have you heard about opportunitydesk.org? The online site that showcases timely and relevant global opportunities for people like you and me?" David asked.
Stacy and Laurel stole a quick glance at each other and said they hadn't. David went on and on to explain how opportunity desk works, how well organized the website was, the kind of opportunities available and much more.
"Are you for real?!" Stacy and Laurel asked almost at the same time. They couldn't believe such an innovative solution is available. Laurel brought out her phone and asked David to show her the website. He did and smiled sheepishly.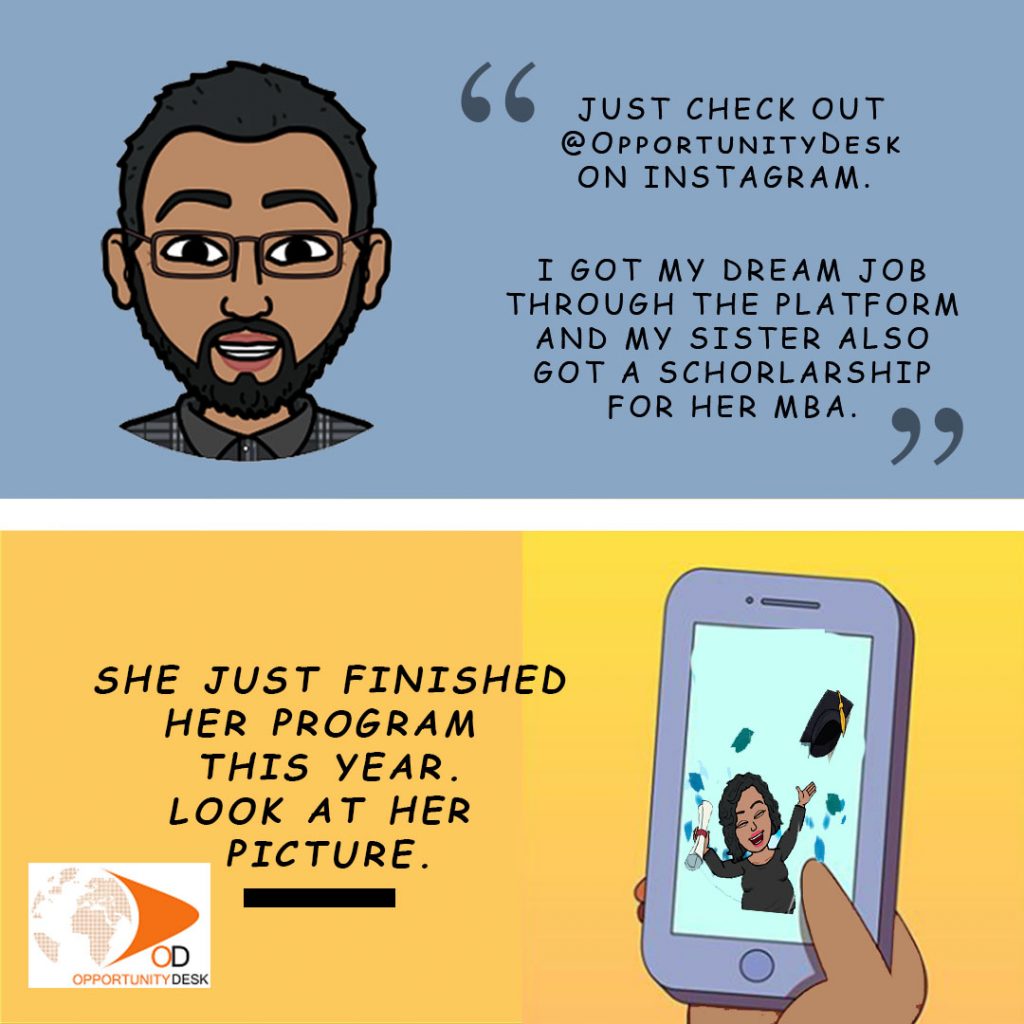 7. He went ahead to narrate the tale of a friend of a friend who benefitted from Opportunity Desk.
"Through Opportunity Desk, my friend won a fully funded trip to Sweden for a conference last summer."
"Did you just say FULLY FUNDED?" Laurel asked, her eyes wide open in amazement.
"You heard me right," David grinned.
"Oh my goodness! Laurel come look at this! They are looking for an electrical engineer in Singapore and I think I have all the qualifications! Oh my goodness!" Stacy shouted as she scrolled down Laurel's phone.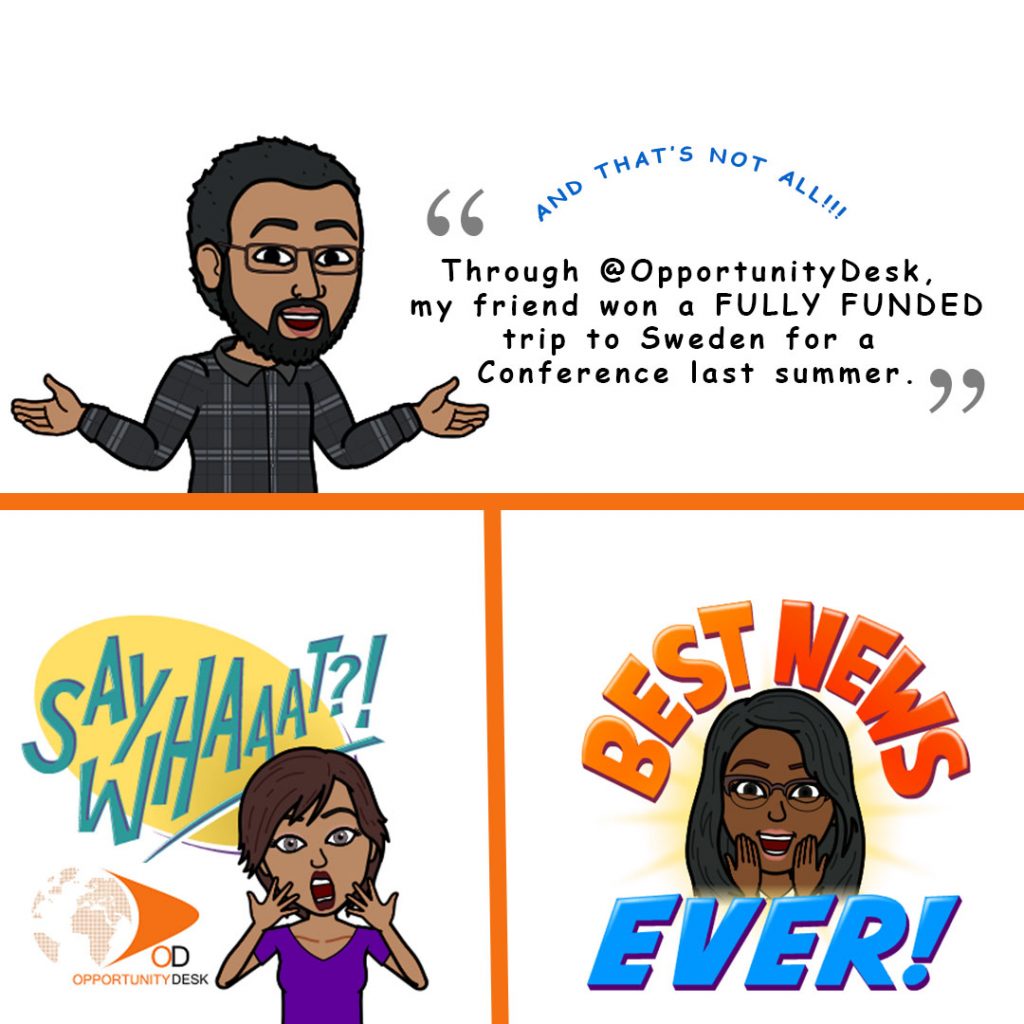 8. "You can try apply for that one. If you don't know how to go about it, Opportunity Desk is generous enough to assign you a global mentor to assist you. They will walk with you every step of the way and it's absolutely free of charge!" David added.
The two friends still couldn't believe what they were hearing. They jumped high in the air, high fived each other and gave the kind 'stranger' a hug. They made numerous promises to David and he just laughed.
"I am glad I helped. Remember when you get accepted into these opportunities and you want to give back to others, the platform is open for you to become an opportunity desk mentor. "David explained.
Just then, they heard the hooting of a bus. Stacy and Laurel gave David a hug, exchanged contacts and off they went!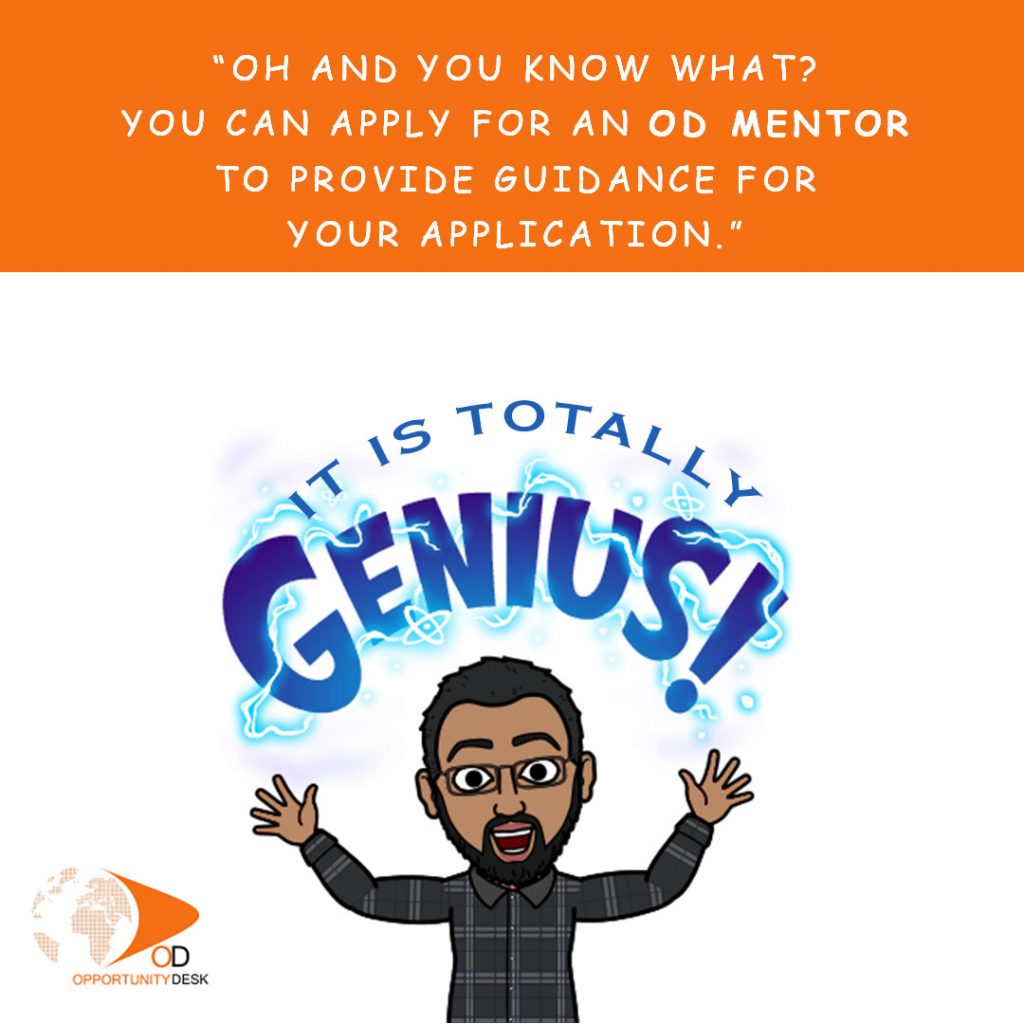 9. David felt fulfilled because he had touched the lives of the two best friends by just sharing the information.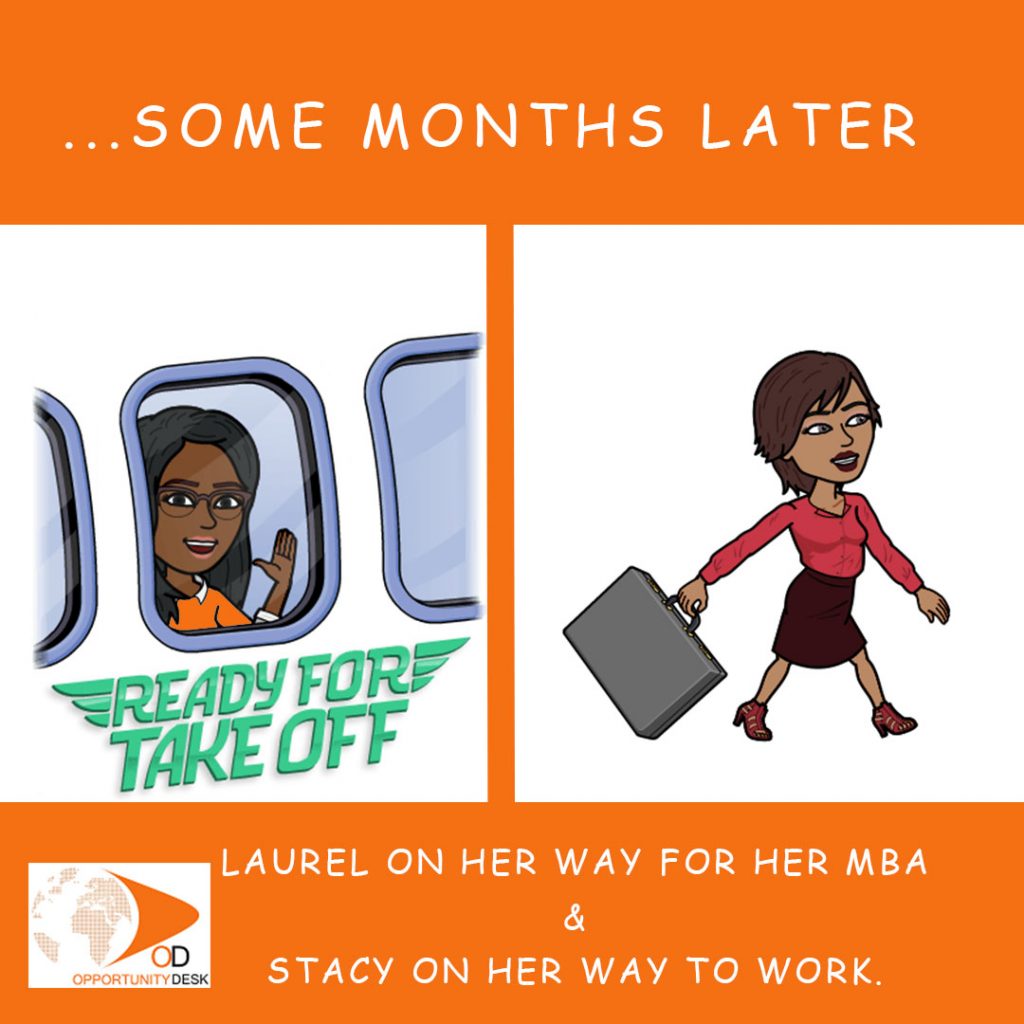 10. What are you waiting for? Be like David!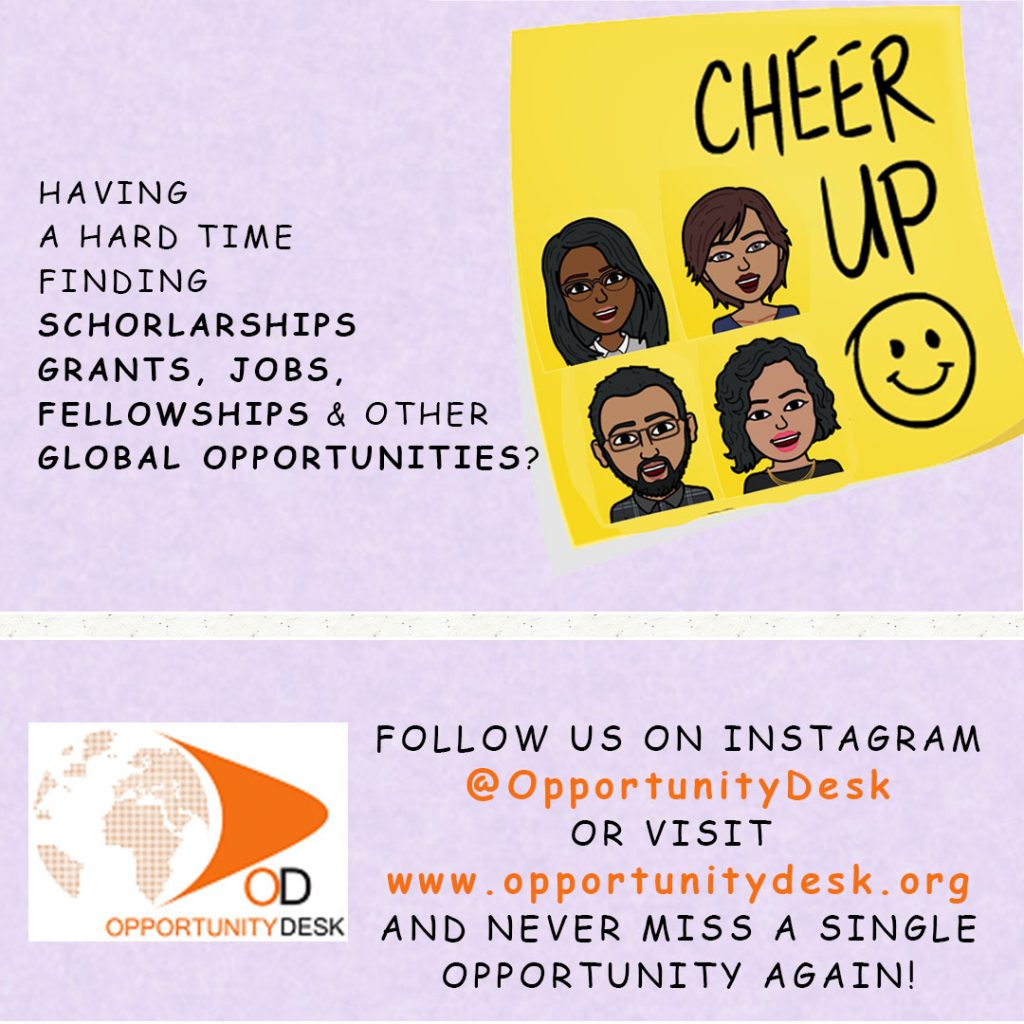 What are you waiting for? Be like David!
For useful articles, visit http://opportunitydesk.org/category/blog/.