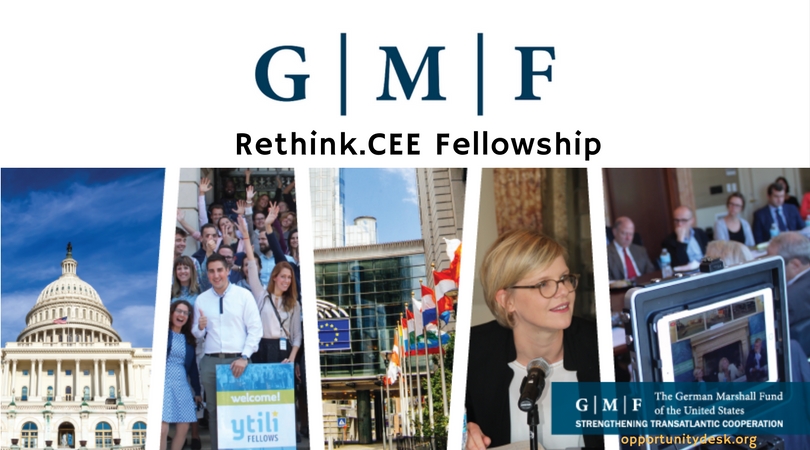 GMF's Rethink.CEE Fellowship 2018 for Young Policy Experts from Central & Eastern Europe (fully-funded)
Deadline: January 21, 2018
The German Marshall Fund of the United States, a premier transatlantic think tank, through its Black Sea Trust for Regional Cooperation, is now accepting applications for the 2018 Rethink.CEE Fellowship Program. The fellowship program is aimed at the next-generation policy experts and analysts from Central and Eastern Europe.
Benefits
Affiliation with The German Marshall Fund of the United States, a premier transatlantic think tank
Access to our network of policy professionals and tailor-made support in undertaking policy research
A three-month stay at our offices in Berlin, Bucharest, and/or Warsaw (other GMF offices can be considered)
Full coverage of travel, board and lodging for the purposes of the fellowship
A monthly stipend
Eligibility
Young Policy experts and analysts from Central Europe (Bulgaria, Czech Republic, Hungary, Poland, Romania, Slovakia) and the Eastern Partnership countries (Armenia, Azerbaijan, Belarus, Georgia, Moldova, Ukraine)
Maximum age: 35 years
Proven track record of innovative policy analysis at a national, regional or international think tank, university, business, governmental institution, or nongovernmental organization
Concrete projects for policy research that address the current and coming challenges for Central and Eastern Europe from a regional rather than country perspective
Application
A letter of intent outlining your research project
Your CV
A recent publication (policy paper, article, op-ed) in English authored by you
Applications should be submitted to [email protected]. Please mention "Policy Fellowship" as subject. The deadline for applications is January 21, 2018.
For more information, visit Rethink.CEE Fellowship.