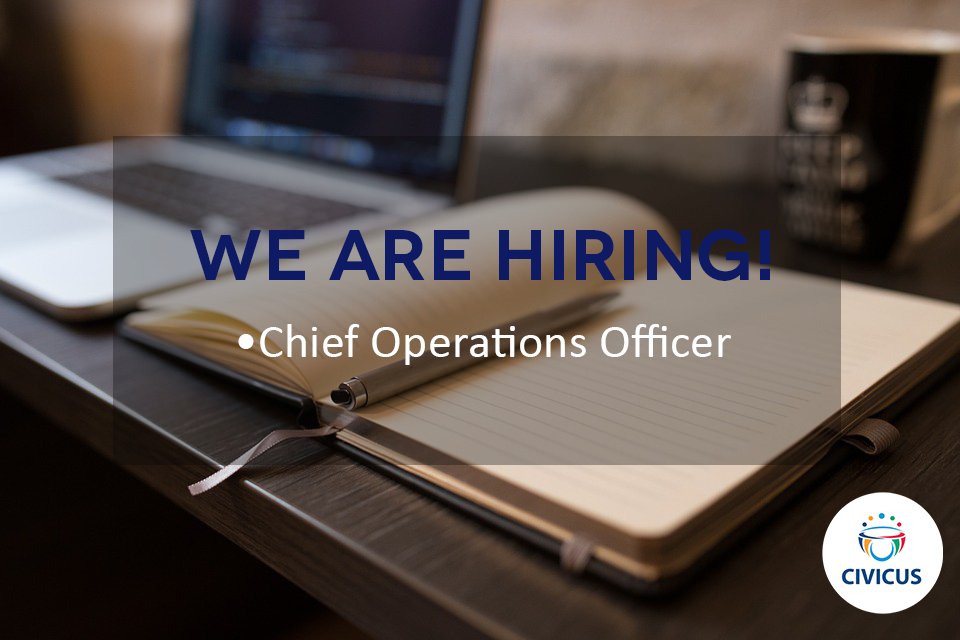 CIVICUS Alliance is hiring a Chief Operating Officer – Johannesburg, South Africa
Deadline: January 15, 2018
CIVICUS, the global civil society alliance is looking to for a Chief Operating Officer who will help us build a truly world-class organisation!
CIVICUS is now a mid-sized international Civil Society Organisation – registered in the US and South Africa, have offices in several places, have a staff team of c.75 and an income that has tripled in recent years to c.$12m a year. More importantly, CIVICUS plays an out-sized role in supporting and strengthening civil society at a critical moment in world history.
They are the world's largest alliance of their kind, they have important initiatives to support the rest of civil society and they play a thought-leadership role. They have a bold new Strategic Plan, a healthy funding book, and reasonably efficient systems and processes. But there is always room to improve, and they are looking for a COO who will help us build a truly world-class organisation, one that is not just efficient and effective, but also stays true to its unique sensibilities and approaches.
Job Location
At CIVICUS Headquarters in Johannesburg, South Africa. In exceptional circumstances, they may be willing to consider someone based anywhere else in the world, who is prepared to spend considerable periods of time (circa 3-4 months a year) in Johannesburg.
Salary/Benefits
This is a full time, permanent role, paying circa US$120,000 per annum plus benefits.
For non-South African citizens who will be moving to Johannesburg, they will cover relocation costs for the successful candidate and any immediate family members.
They are prepared to help with securing (tax-free) accommodation and willing to contribute towards private education costs in Johannesburg for children under 18 years age.
Responsibilities
The responsibilities of the role include the following:
Oversee and coordinate financial and organisational planning, including annual budgets, consistent with CIVICUS' strategic directions and values.
Ensure that all regulatory and donor requirements are met, and that CIVICUS leads by example on transparency and accountability.
Design and implement business strategies, plans and procedures.
Oversee design and implementation of organisation-wide policies and processes.
Support Secretary General with organisational management, organisational development initiatives, and organisational cohesion, and ensure that day-to-day operations of the organisation runs smoothly.
Design and maintain risk register, ensuring that CIVICUS makes informed decisions across the various elements of organisational risk and providing support to colleagues on managing risk.
Coordinate our audits in the two countries (South Africa and USA) where CIVICUS is registered, including working with Board and colleagues on selection of auditors and responding to audit recommendations.
Be an active participant in the Senior Leadership Team (SLT), championing our strategic goal of building a world-class civil society organisation.
Coordinate reporting to Board and its committees, particularly the Operations Committee.
Work with other members of the SLT to ensure high quality delivery of key internal services such as Human Resources, IT, and donor/grant reporting.
Oversee organisational investments, assets and facilities, managing expansion activities and relationships with partners/vendors.
Ensure efficient use of all CIVICUS resources and undertaking regular cost-benefit analysis to inform planning.
Promote a cohesive and productive workplace.
Eligibility
They are looking for an experienced pair of hands, who has a commitment to their mission and values, and who can help guide us through this exciting time in CIVICUS' history.
They need someone with at least 10 years' experience of working in and leading finance and operations (including human resources, informational technology, and facilities).
They need someone who is great at strategy but also cares for detail; someone who can make sure their house is in order but is also looking for ways to improve systems and processes.
They want someone who has the highest levels of professionalism and integrity, who will enjoy working closely with their Secretary General and fellow members of the Senior Leadership Team.
They would ideally like someone who is familiar with civil society (having worked or volunteered in civil society organisations) and the legal, regulatory and funding environment that organisations like theirs operate in.
They would like someone who has experience of working in several countries or at least within organisations that have international operations.
Experience of working in South Africa would be a bonus.
Application
Please send an up-to-date curriculum vitae and a short letter explaining why you are interested in and suitable for this post to [email protected]. Applications are due by 0900 SAST, Monday, 15 January 2018.
Phone interviews will be held in late January, with the possibility of second-round, in-person interviews and assessments required subsequently. We hope that the successful candidate may be able to take up this post by May 2018, though we are prepared to delay this for an exceptional candidate with good reasons.
For more information,
Visit CIVICUS Johannesburg.