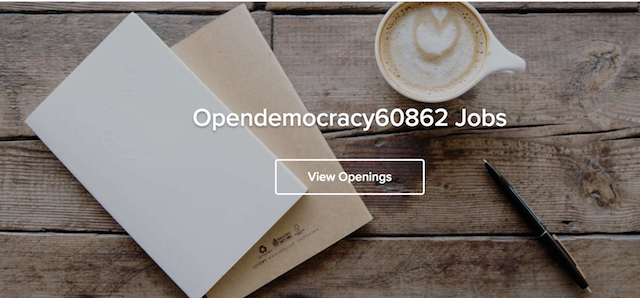 Apply for 50.50 Feminist Investigative Journalism Fellowship 2018
Deadline: February 15, 2018
openDemocracy is accepting applications for the inaugural 50.50 feminist investigative journalism fellowship. 50.50 is the section of the independent media platform openDemocracy.net covering women's rights, gender and sexuality. They are looking for two part-time feminist investigative journalism fellows to work with editors Claire Provost and Lara Whyte on in-depth and investigative reports for the series tracking the backlash against sexual and reproductive rights.
openDemocracy is an independent global media platform covering world affairs, ideas and culture which seeks to challenge power and encourage democratic debate across the world. Fellows will help to track the backlash against sexual and reproductive rights.
Fellowships will run for three months, and can begin in March or June 2018. Each fellow will be expected to work with editors on 2-3 reports, and to prepare for and attend weekly (virtual) editorial meetings.
Benefits
Fellows will be paid per story – up to £330 ($450) per report.
They will also receive ongoing mentorship and practical training.
Workshops will be arranged, where possible, on specific topics such as Freedom of Information requests, interview skills, and feature writing, depending on projects and fellows' needs.
Eligibility
Fellows may be based anywhere in the world.
Previous experience in journalism, research, and multimedia storytelling is welcome.
Most importantly, you are a creative, critical thinker and collaborative team player.
They're looking for young women and trans writers, from anywhere in the world, with ideas and enthusiasm for original, feminist investigative journalism.
Applicants between the ages of 20 and 30 years old, living in sub-Saharan Africa and Latin America, are particularly encouraged to apply.
Requirements
These are not full-time positions, and can run alongside other responsibilities. They may suit freelancers or researchers wishing to pivot towards investigations.
You should be able to dedicate approximately 7-8 hours to this fellowship each week.
You must be comfortable researching and writing in English (with other language skills of course welcome).
You must have reliable internet access and be able to join virtual meetings (for example via Skype).
Application
Email [email protected] with questions, including "feminist investigative journalism fellowship" in the subject line.
For more information, visit 50.50 Feminist Journalism Fellowship.