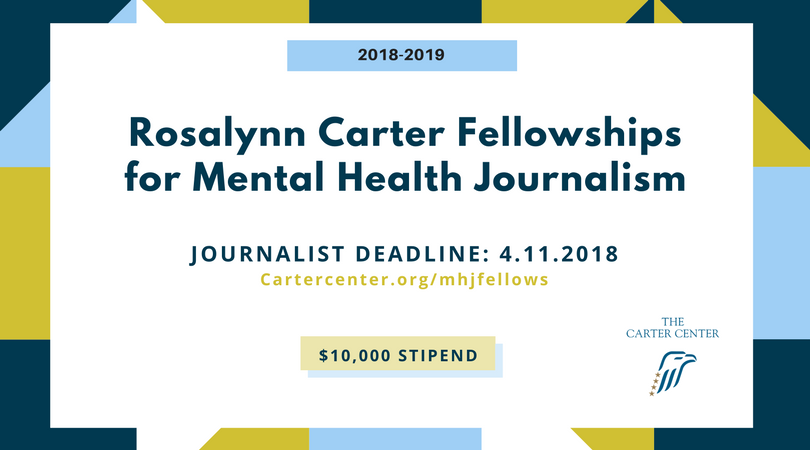 Rosalynn Carter Fellowships for Mental Health Journalism 2018/2019 (Up to $10,000 stipend)
Deadline: April 11, 2018
Applications are now being accepted for the Rosalynn Carter Fellowships for Mental Health Journalism 2018/2019. These fellowships aim to enhance public understanding of mental health and substance use conditions and reduce stigma and discrimination against people living with these illnesses through balanced and accurate reporting. The 2018-2019 fellowship year begins in September 2018.
Throughout the history of the program, fellows have produced a considerable amount of content, including books, television mini-or full-length documentaries, hundreds of newspaper, magazine, and online pieces, hundreds of minutes of radio and television airtime, as well as creative and innovative uses of multimedia.
On several occasions, fellowship projects have been nominated for the Pulitzer Prize. Fellowship projects also have received regional Emmy Awards, a Peabody Award, the Edward R. Murrow Award, and awards from the Association of Health Care Journalists and American Psychiatric Association. Other recognitions have been from mental health consumer advocacy organizations such as Mental Health America and the National Alliance for Mental Illness.
Fellowship
Each U.S. fellow is awarded a $10,000 stipend and provided with two required expense-paid trips to The Carter Center in September 2018, and again in fall 2019, to meet with program staff and advisers. Fellows join a cadre of nearly 200 current and former fellows awarded over the past two decades.
Eligibility
Open to active professional journalists who are U.S. citizens or residents working in all media forms with a minimum of three years of media experience;
Projects are tailored to the experience and interests of the fellows and should be relevant to the dynamic mental health and substance use landscape in the U.S. Fellows are not required to leave their current employment;
Preference is given to journalists who are currently employed with a media outlet that provides support for or commitment to publishing or broadcasting fellowship projects.
Application
Interested applicants should submit the following:
Resume: Resumes should include: a list of representative publications; membership in professional organizations; major journalism prizes; and/or awards and year awarded.
Objectives for Fellowship and Project Description: An informal essay not to exceed 1,000 words describing the applicant's professional reasons for applying and how the fellowship would benefit the applicant's body of work.
Samples of Professional Work: Up to three examples of the applicant's work may be submitted. At least one of the samples should be in the media form proposed.
Letters of Recommendation: Two letters of recommendation from people familiar with the applicant's work should comment on the applicant's abilities and potential as a journalist. Recommenders will be asked to submit their letters online once the applicant has completed the application process, no later than April 20, 2018.
Letter of Support: If the applicant has a full-time employer, one letter from the applicant's publisher, editor, producer, manager, or director, supporting the application is required. If the applicant is self-employed, the third letter must come from an individual familiar with his or her work. Preference will be given to those applicants with letters from editors or publishers that indicate a clear interest and strong likelihood to publish or broadcast the fellowship project. This individual will be asked to submit his or her letter online once the applicant has completed the application process, no later than April 20, 2018.
All application materials, other than the letters of reference or support, must be submitted online here.
For more information, visit Rosalynn Carter Fellowships.