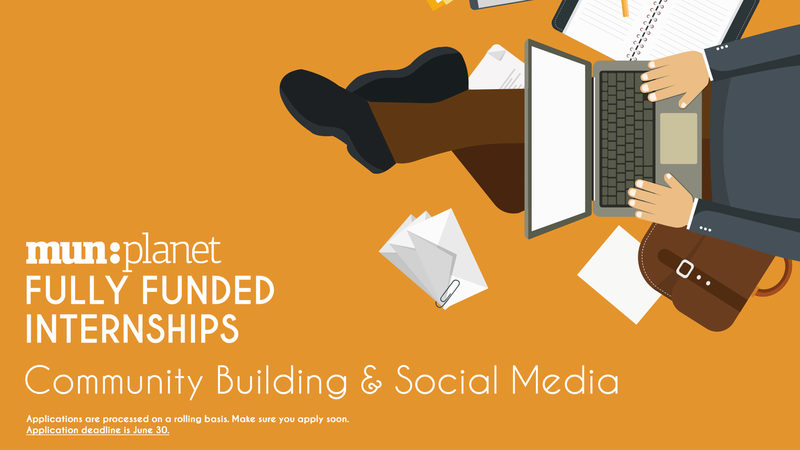 MUNPlanet Internships 2018: Community Building & Social Media (Fully Funded to Serbia, Belgrade)
Deadline: June 30, 2018
Applications are open for the MUNPlanet Internships 2018: Community Building & Social Media. This fall, MUNPlanet is organizing a three-week long fully funded internship and you are invited! At their HQ in Belgrade, Serbia, their interns manage projects that deal with contemporary business challenges in today's hi-tech marketing industry.
Does working in one of the most happening cities in Europe sound tempting? With its rapidly growing tech startup scene and all of its exuberance, the capital of Serbia, Belgrade just might be the place for you.
MUNPlanet is a youth community with members from all around the world. Working on a community of this size is no easy feat, but MUNPlanet team has been doing it for years now. As an intern, you will be tasked with staying in touch and engaging the existing members of MUNPlanet, as well as inviting the new ones to join. It will be your task to manage the things that members see, like, reply to, etc. Considering that MUNPlanet communicates with members through many channels, part of your duties will include managing the social media channels of the community.
Internship position offered:
Community Building & Social Media
Responsibilities
Your exact responsibilities and projects will be assigned according to your educational backgrounds, skills and interests.
Say that you are interested in community building, tasks related to community engagement will be assigned to you, or if you lean more towards social media management, you will be working with their digital team.
Benefits
MUNPlanet will provide one fully funded scholarship for selected candidate.
The scholarship covesr:
A return flight ticket to Belgrade
Accommodation
Health/Travel Insurance for the duration of stay
An MUNPlanet Certificate of Completion
Not only will you be getting invaluable working experience, but you will receive a competitive compensation during your stay in Belgrade and the opportunity to live and breathe this dynamic European city.
Eligibility
Current university student or recent graduate (high school students who are 18 years old and above are eligible as well)
Active MUNPlanet member
Able to visit the Republic of Serbia
Able to complete 3 weeks online internship tasks prior to the summer months
Able to complete 3 week internship in their Belgrade office in the autumn of 2018
Strong interest in the Internet and online marketing
Good understanding of Social Media and Online community experience (Twitter, Facebook, Instagram, LinkedIn)
Demonstrated ability to be a self-starter and independent thinker
Ability to speak and write English fluently
Must be 18+ years of age
Model United Nations experience is an asset.
NOTE: In agreement with MUNPlanet, selected candidates will be able to select time slots for their internship in the period between September 1 and November 1.
Application
Applications are due by June 30, 2018 at 23:59 GMT+1. They will be reviewed on a rolling basis and their team will be contacting the applicants on a first-come first-served basis. They will accommodate your school responsibilities when coming up with the start date of the internship.
Submit the application form
Complete a short challenge
The best candidates are selected for the online internship and receive certificates upon its completion.
The best online internship candidates are invited for a three-week paid internship at MUNPlanet's Belgrade office
What are you waiting for? Start filling in the application form and embark on a new summer adventure.
To apply, fill in the form: MUNPlanet Internship Application.
For more information, visit MUNPlanet Internships. They also offer Internship in Marketing and PR.