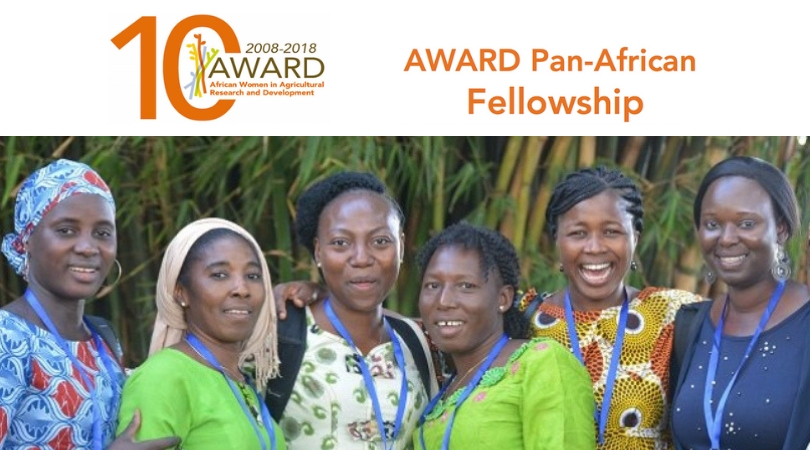 AWARD Pan African Fellowship Program 2019 for Women Scientists (Fully-funded)
Deadline: October 8, 2018
The call for applications for the second round of the AWARD Pan-African Fellowship, which will commence in February 2019, is now open. The AWARD Fellowship is a career-development program that equips top women agricultural scientists across sub-Saharan Africa to accelerate agricultural gains by strengthening their science and leadership skills.
The AWARD Pan-African Fellowship was initiated in 2017 with support from the Agropolis Foundation, the Bill & Melinda Gates Foundation (BMGF) and the United States Agency for International Development (USAID) country missions. AWARD is a catalyst for innovations with high potential to contribute to the prosperity and well-being of African smallholder farmers.
African Women in Agricultural Research and Development (AWARD) is committed to working towards inclusive, agriculture-driven prosperity for the African continent by strengthening the production and dissemination of more gender-responsive agricultural research and innovation. We invest in African scientists, research institutions, and agribusinesses so that they can deliver agricultural innovations that better respond to the needs and priorities of a diversity of women and men across Africa's agricultural value chains.
Benefits
WARD Fellows benefit from a two-year fellowship focused on fostering mentoring partnerships, building science skills, and developing leadership capacity.
During the two-year fellowship, AWARD Fellows remain in their institutions, continue their research, and travel to AWARD training courses held in various locations across Africa.
Eligibility
Candidates for the fellowship must:
Be aged 40 and below at the time of application
Be a citizen of Benin, Burkina Faso, Burundi, Cameroon, Central African Republic, Chad, Congo, Côte d'Ivoire, Democratic Republic of Congo, Ethiopia, Gabon, Ghana, Guinea, Kenya, Madagascar, Mali, Mauritania, Niger, Rwanda, Senegal, Tanzania, and Togo
Have attained a minimum education level of a bachelor's degree
Reside in Africa and doing research in agricultural related fields including but not limited to agricultural economics, agricultural engineering, agronomy, food science and nutrition, extension education, ecology; molecular biology, plant/animal breeding, crop science, animal and livestock sciences, entomology, natural resource management; virology; soil science; aquatic resources/fisheries, forestry and agroforestry, biodiversity conservation, horticulture; water/irrigation management
NOT be a previous fellow/mentor in the AWARD Fellowship Initiative
Particular attention will be accorded to applicants working on sustainable agricultural value chains; sustainable food system; agro-ecology and resilient seed systems
Criteria
Following a highly competitive process, the fellowship is awarded on the basis of intellectual merit, leadership capacity and the potential impact of the scientist's research to improve the livelihoods of small holder farmers.
Application
The application period for the 2019 AWARD Pan-African Fellowship Program begins on September 05, 2018 and closes October 08, 2018, 23:59 East Africa Time (EAT)
Only applicants whose applications are complete will be considered. Please note, each section of the application part should be accurately completed
Applications and information submitted through email or any other means will not be considered
Only one application is allowed per applicant
Find the application form here and for answers to frequently asked questions, please visit: FAQ page
For more information, visit AWARD.