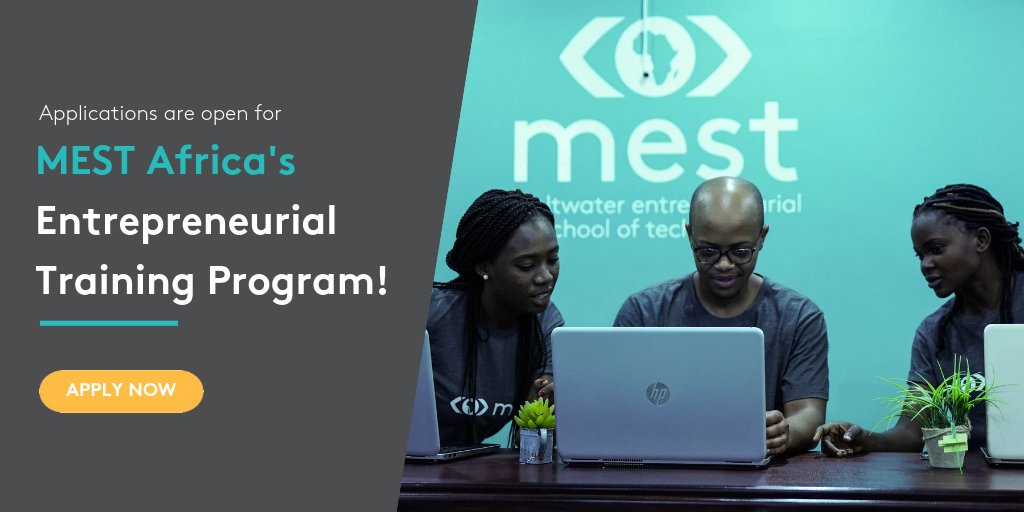 MEST Africa Entrepreneurial Training Program 2019 for Pan-African Tech Entrepreneurs (fully sponsored)
Deadline: February 8, 2019
The MEST Africa Entrepreneurial Training Program 2019 is open for applications. Apply to join the next cohort of aspiring Pan-African tech entrepreneurs for a 1-year training program, access to global mentors, and the chance to receive seed funding.
MEST offers a fully sponsored 12-month graduate-level entrepreneurial training in business, communications and software development, including extensive hands-on project work, culminating in a final pitch and the chance to receive seed funding.
The year-long training programme provides Entrepreneurs-in-Training (EITs) with MBA-level entrepreneurship training in business, software development and communications. While diving deep into fundamental business and technology concepts, EITs complete 3 Capstones per year – they form teams, come up with an idea, build and validate a product, attain customers and pitch the idea in front of our board. The year culminates in a final exam in the form of an investor pitch, after which some companies will receive seed funding and enter the MEST Incubator.
Eligibility
Successful applicants have the following:
A deep passion for starting a software company
Entrepreneurial or corporate work experience
A degree from a top University or Technical College (or equivalent experience)
They're looking for ambitious, driven entrepreneurs looking to build the next generation of globally successful software companies.
People who have:

An entrepreneurial spirit and strong desire to start a company
Demonstrated personal drive, stamina, and self-motivation
Ability to meet goals and deadlines
Ability to work well in teams
Ability to communicate candidly and persuasively
Confidence and independent thinking
Demonstrated leadership abilities
Proven academic excellence
Excellent people skills
They're looking for business-oriented applicants who are interested in learning how to start a software company.
While it's not a requirement to have previous coding experience, a strong interest in learning about technology is a must.
They've designed the MEST programme to give you the business and technical skills you'll need to start a successful company.
Application
Do you have what it takes to launch your own globally successful software company? Go ahead to start your application!
For more information, visit MEST Africa.