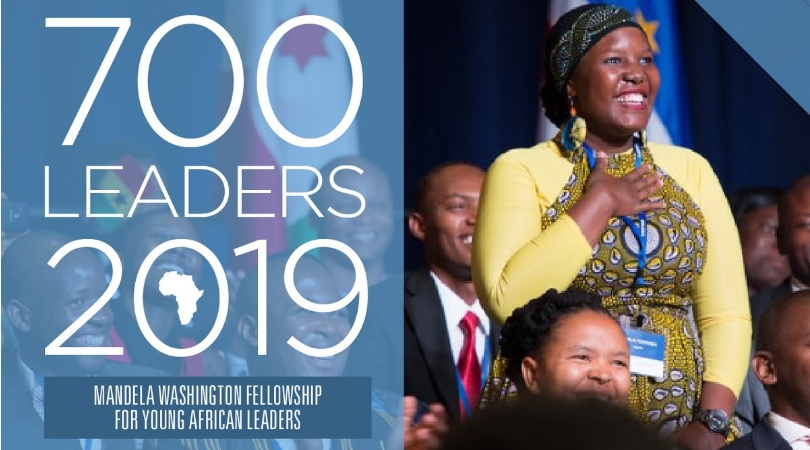 Apply: Mandela Washington Fellowship 2019 for Young African Leaders (Fully-funded to the United States)
Deadline: October 10, 2018
Applications are now open for the 2019 Mandela Washington Fellowship for Young African Leaders. The Mandela Washington Fellowship for Young African Leaders, begun in 2014, is the flagship program of the Young African Leaders Initiative (YALI) that empowers young people through academic coursework, leadership training, and networking. In 2018, the Fellowship will provide 700 outstanding young leaders from Sub-Saharan Africa with the opportunity to hone their skills at a U.S. college or university with support for professional development after they return home.
The Fellows, who are between the ages of 25 and 35, have established records of accomplishment in promoting innovation and positive impact in their organizations, institutions, communities, and countries. In 2017, Fellows represented a diverse group of leaders from 48 countries across Sub-Saharan Africa. Fifty-one Fellows identified as having a disability, and 50 percent of Fellows were women.
Fellowship Structure
U.S.-based activities:
Leadership Institutes: Each Mandela Washington Fellow takes part in a six-week Leadership Institute at a U.S. college or university in one of three tracks: Business, Civic Engagement, or Public Management. The intensive model includes linkages between academic sessions, site visits, professional networking opportunities, leadership training, community service, and organized cultural activities.
Mandela Washington Fellowship Summit: Following the academic component of the Fellowship, the Fellows visit Washington, D.C., for a Summit featuring networking and panel discussions with U.S. leaders from the public, private, and non-profit sectors.
Professional Development Experience: Seventy selected Fellows remain in the United States to participate in a four-week Professional Development Experience with U.S. non-governmental organizations, private companies, and governmental agencies that relate to their professional interests and goals. The PDE is designed to give Fellows practical training and the opportunity to learn transferable skills, expand their professional networks, and apply concepts learned at their Institutes to real-world situations in the U.S. context.
Africa-based activities:
Upon returning to their home countries, Fellows continue to build the skills they have developed during their time in the United States through support from U.S. embassies, four Regional Leadership Centers, the YALI Network, and customized programming from USAID, the Department of State, and affiliated partners.
Through these experiences, select Mandela Washington Fellows have access to ongoing professional development opportunities, mentoring, networking and training, and support for their ideas, businesses, and organizations.
Fellows may also apply for their American partners to travel to Africa to continue project-based collaboration through the Reciprocal Exchange Component.
Benefits
There is no fee to apply to the Mandela Washington Fellowship. If you are selected for the Fellowship, the U.S. government will cover all participant costs. Financial provisions provided by the U.S. government will include:
J-1 visa support;
Round-trip travel from Fellow's home city to the U.S. and domestic U.S. travel as required by the program;
A six-week Academic and Leadership Institute;
Concluding Summit in Washington, DC;
Accident and sickness benefit plan;
Housing and meals during the program; and
An optional six-week Professional Development Experience (for up to 100 Fellows).
Please note: the Fellowship will not cover salary while Fellows are away from work or funds for personal purchases such as gifts.
Apply now to become one of 700 Young African Leaders to participate in this fully-funded program.
Eligibility
Applicants will not be discriminated against on the basis of race, color, gender, religion, socio-economic status, disability, sexual orientation, or gender identity. The Mandela Washington Fellowship is open to young African leaders who meet the following criteria:
Are between the ages of 25 and 35 at the time of application submission, although exceptional applicants ages 21-24 will be considered.
Are not U.S. citizens or permanent residents of the United States.
Are eligible to receive a United States J-1 visa.
Are not employees or immediate family members of employees of the U.S. Government (including a U.S. Embassy or Consulate, USAID, and other U.S. Government entities).
Are proficient in reading, writing, and speaking English. Applicants who are deaf should consult the Application Instructions for more information.
Are citizens and residents of one of the following countries: Angola, Benin, Botswana, Burkina Faso, Burundi, Cameroon, Cabo Verde, Central African Republic, Chad, Comoros, Democratic Republic of the Congo (DRC), Republic of the Congo, Cote d'Ivoire, Djibouti, Equatorial Guinea, Eritrea, Eswatini, Ethiopia, Gabon, The Gambia, Ghana, Guinea, Guinea-Bissau, Kenya, Lesotho, Liberia, Madagascar, Malawi, Mali, Mauritania, Mauritius, Mozambique, Namibia, Niger, Nigeria, Rwanda, Sao Tome and Principe, Senegal, Seychelles, Sierra Leone, Somalia, South Africa, South Sudan, Sudan, Tanzania, Togo, Uganda, Zambia, and Zimbabwe.
Selection Criteria
Selection panels will use the following criteria to evaluate applications (not in order of importance):
A proven record of leadership and accomplishment in public service, business, or civic engagement.
A demonstrated commitment to public or community service, volunteerism, or mentorship.
The ability to work cooperatively in diverse groups and respect the opinions of others.
Strong social and communication skills.
An energetic, positive attitude.
Demonstrated knowledge of, interest in, and professional experience in the preferred sector/track.
A commitment to return to Africa and apply leadership skills and training to benefit the applicant's country and/or community after they return home.
The Mandela Washington Fellowship is conducted as a merit-based open competition. After the deadline, all eligible applications will be reviewed by a selection panel. Chosen semifinalists will be interviewed by the U.S. embassies or consulates in their home countries. If selected for an interview, applicants must provide a copy of their passport (if available) or other government-issued photo identification to verify eligibility.
Application
September 12, 2018 | Application opens

October 10, 2018 | Application closes

December 2018 – February 2019 | Semifinalists interviewed by local U.S. embassies and consulates

Late March 2019 | Applicants are notified of their status

May 2019 | Visa processing and Pre-Departure Orientations for finalists

Mid-June 2019 | Fellowship begins in the United States
Read the Application Instruction and see the Frequently Asked Questions.
To apply, complete the online application.
For more information, visit Mandela Washington Fellowship.