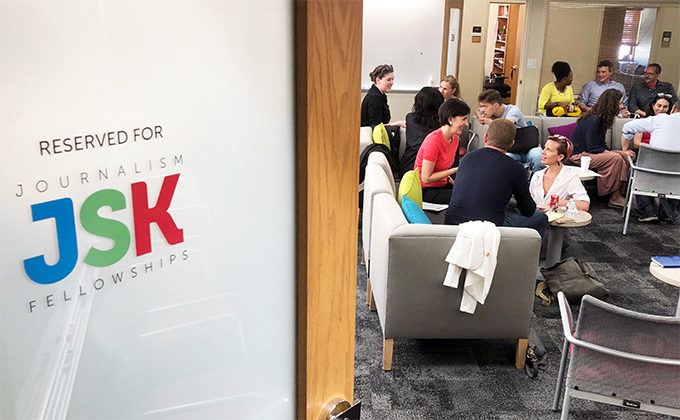 John S. Knight Journalism Fellowships at Stanford 2019-2020 (Stipend of $85,000)
Deadline: December 4, 2018 (for International Applicants)/January 31, 2019 (US Applicants)
Applications are invited for the John S. Knight Journalism Fellowships at Stanford 2019-2020. The Fellowships foster journalistic innovation, entrepreneurship and leadership. Each year, they give up to twenty outstanding individuals from around the world the resources to pursue and test their ideas for improving the quality of news and information reaching the public.
JSK Fellows spend their time at Stanford University exploring solutions to the most urgent challenges facing journalism. They sit in on classes, attend events on campus, connect with experts in the university's many research institutes and consult innovative thinkers and doers throughout Silicon Valley.
A JSK Fellow's job during their 10 months at Stanford is to meet a few expectations of the fellowship program and to make the most of the opportunity. The most successful fellows take initiative and seek out people who can help them explore their questions and make connections, even before they arrive at Stanford.
Benefits
JSK Fellows receive several financial benefits, including a stipend of $85,000. In addition to this stipend, they provide an additional supplement for fellows with children. They also cover the cost of Stanford tuition and Stanford health care for fellows, spouses and children. They also help fellows find housing.
Other benefits of a JSK Fellowship:
Access to some of the world's most innovative thinkers and organizations, from technology giants to hot new startups to Stanford's 100-plus special institutes and centers.
Opportunities to join classes taught by top Stanford professors and instructors in a wide range of specialties. It is common for classes to be taught by people who also work in the vanguard of their fields in the private sector.
A rich intellectual and cultural campus life, including live theater, music and dance performances and special lectures and events.
Fellowship social events where everyone can get to know one another.
Spouses and partners are eligible to take some classes and attend many fellowship seminars. Fellows' children attend excellent Palo Alto-area schools and are included in some fellowship social activities.
Exposure to the incredible diversity of world views, experiences and cultural traditions that fellows from all over the world bring to the program.
New friendships, professional connections and entrepreneurial skills that will continue beyond the 10 months fellows spend at Stanford.
Eligibility
Open to journalists from the US and other parts of the world;
U.S. applicants typically have at least seven years of full-time professional experience; international applicants typically have at least five years of experience. They will consider less experienced applicants who have outstanding achievements. They do not require applicants to have a college degree;
They consider applicants in these categories:

Journalists employed by a news organization or freelance journalists.
Journalism entrepreneurs and innovators.
Journalism business and management executives.

Applications are not accepted from people working in public information or public relations jobs, for trade and house newsletters or magazines, for government agencies, or in academic positions.
Application
For more information, visit John S. Knight Journalism Fellowships.