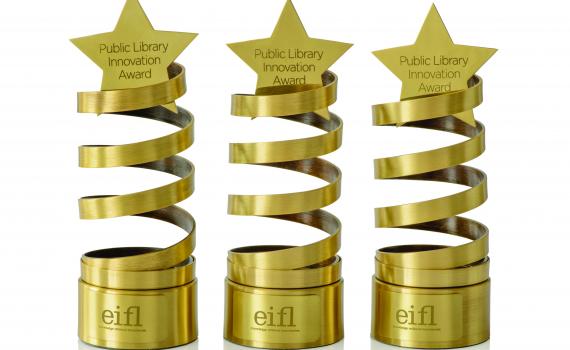 EIFL Public Library Innovation Award 2018 (USD$1,500 prize)
Deadline: December 5, 2018
Applications are open for the EIFL Public Library Innovation Award 2018. The EIFL Public Library Innovation Award is for public library services that improve lives.
The award is given to public and community libraries in developing and transition countries that use information and communication technology (ICT) to improve lives in their communities by addressing any of the following issues, which are included in the United Nations 2030 Agenda for Sustainable Development:
Economic wellbeing and employment
Farming and sustainable agriculture
Health and hygiene
Digital inclusion
Gender equality and empowerment of women and girls
Education for all
Climate change and other issues affecting the environment
Prize
The prize includes US$1,500 and wide publicity through EIFL's global communication channels and networks.
Eligibility
You must be a public or community library;
The library must be in a transition or developing economy country;
The service you are submitting must use digital information and communication technology (ICT);
The service should have started after January 2016;
The service must be operational at the time of application;
You must provide evidence of positive results of the service or impact in the community;
Only one service can be presented in the application. Other services or projects presented in the application will not be considered;
Application may be submitted either in writing, or in video (film) format.
Application
For more information, visit EIFL Public Library Innovation Award.