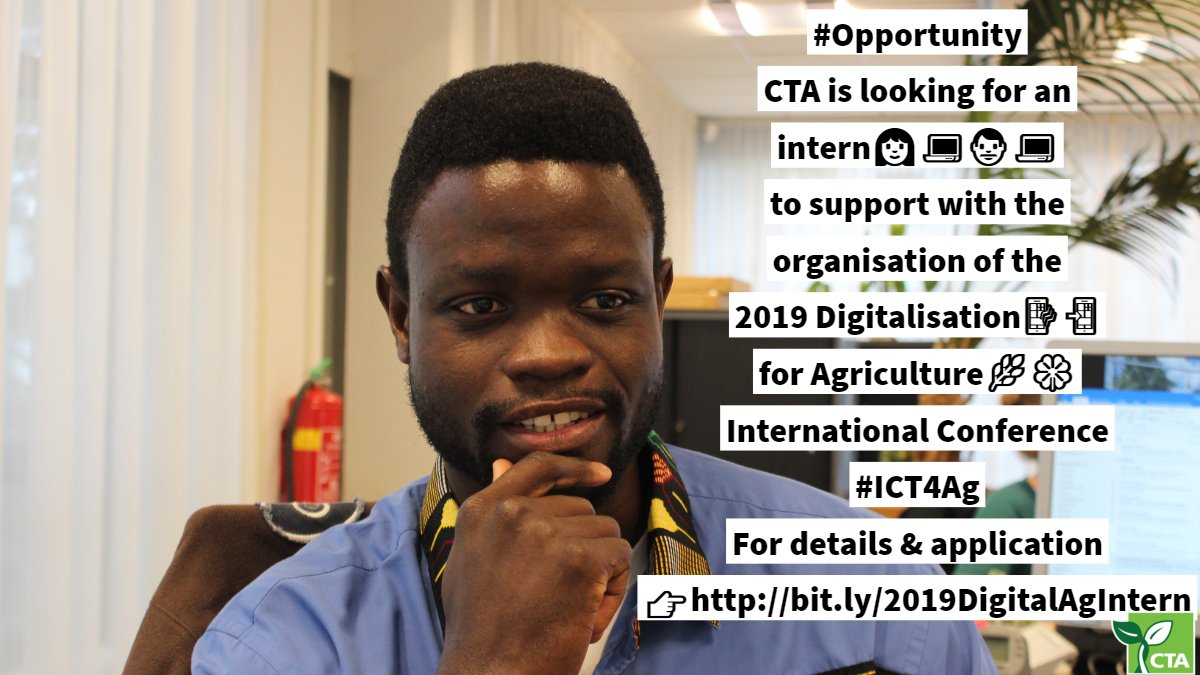 CTA Internship to organize the 2019 Digitalisation for Agriculture (D4Ag) International Conference (Fully-funded)
Deadline: November 15, 2018
Applications are open for the CTA Internship for D4Ag International Conference 2019. CTA has an opening for an intern within the ICT for Agriculture programme. They are looking for a highly motivated and result-oriented intern to support the organisation of the upcoming Digitalisation for agriculture conference to be held in 2019.
The Technical Centre for Agricultural and Rural Cooperation (CTA) is a joint international institution of the African, Caribbean and Pacific (ACP) Group of States and the European Union (EU). Its mission is to advance food security, resilience and inclusive economic growth in Africa, the Caribbean and the Pacific through innovations in sustainable agriculture. CTA envisions agriculture in ACP countries as a vibrant, modern and sustainable business that creates value for smallholder farmers, entrepreneurs, youth and women, and produces affordable, nutritious and healthy food for all.
Duties & responsibilities
Under the guidance of the ICT4Ag team leader and direct supervision of the senior programme coordinator in charge of the conference, the intern will assist in the following activities:
Assist in the organisation of the Digitalisation for agriculture international conference by taking lead on a number of tasks;
Assist in the gathering and processing of data for M&E purposes (project impact);
Monitor the planned occurrence of international events in the domain of ICTs for development and maintain an updated calendar of events;
Monitor, screen, summarise and share news relevant to the conference themes;
Animate one or more electronic communities related to the themes of the conference;
Liaise with partners, participants, speakers and other stakeholders;
Draft weekly reports, monthly newsletters, and other communication materials;
Support data collection and compilation (conference website, Who-Is-Who Directory, programme book);
Support participants' selection, categorisation and registration;
Liaise with conference management agencies, host organisations, consultants and beneficiaries on logistics and be able to interact and collaborate remotely using cutting edge technologies;
Assist in the management of submissions by potential speakers and presenters;
Perform other tasks as requested by the team.
Benefits
Participation in CTA activities will give you an invaluable experience at international level.
Internship stipend (€ 800 per month for holder of a Bachelor's degree, € 1.000 per month for holder of a Master's degree).
Payment of travel costs when joining and leaving the Centre.
Medical coverage for emergency cases of sickness and accident, for the duration of the internship.
Eligibility
Recent graduate, between 21 and 29 years old (maximum).
National of one of the ACP or EU States signatory to the Cotonou Agreement (79 African, Caribbean and Pacific States and the European Union Member States).
University (or similar institution of higher education) degree in agriculture, information and communication or other discipline relevant to the duties to perform.
Experience in online network animation and knowledge of key ICT4D issues.
Skills and experience with the development of innovative communication tools such as animations, infographics, etc.
Experience in the organisation of large international conferences will be an advantage.
Excellent communication, interpersonal and organisational skills.
Strong computer skills (Microsoft Office suite).
Excellent knowledge of English or French and satisfactory command of the other language.
Keen interest in agricultural and rural development issues in developing countries is an advantage.
CTA is an equal opportunity employer. Women are particularly encouraged to apply.
Application
Applications should include:
A letter of motivation (maximum one page) explaining why the candidate considers that he/she is in a position to contribute to CTA's activities and what he/she expects to gain from the internship. The date of earliest availability should be specified as well;
An up-to-date curriculum vitae, preferably in EUROPASS format), highlighting qualifications, experience and skills with regards to the position;
A copy of the highest diploma/degree, as well as training certificates related to the position. Original documents are to be presented once a candidate is selected.
Two letters of recommendation and/or references.
Only shortlisted candidates will be contacted for an interview.
Interested candidates are required to send their application via email or mail to Christèle Coutureau, Human Resources Officer. Email address: [email protected].
Please indicate in the 'Subject' of the email the title 'Internship D4Ag 2019 Conference'.
For more information, visit CTA Internship.