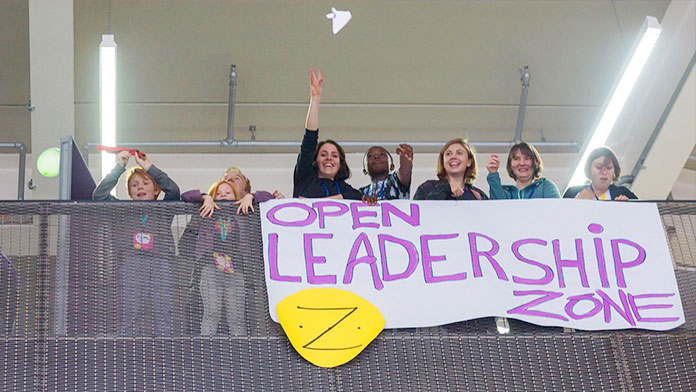 Apply to Mozilla Open Leaders 2019 for Open Web Advocates
Deadline: November 30, 2018
The seventh cohort of Mozilla Open Leaders starts in January 2019! They're looking for Open Leaders to fuel the Internet Health movement by designing and building projects that empower others to collaborate within inclusive communities. Mozilla is a global non-profit dedicated to putting you in control of your online experience and shaping the future of the web for the public good.
If you (or your team) are running or starting an open project and want to grow as an open leader this is for you! Your open project doesn't have to be technical — it can be curriculum (open educational resource), an open data project or report, an open source software project, or anything else that:
has something to work on (a feature, module, or minimum viable product) during the program,
allows and welcomes contributions by others, and
supports the open web and a healthy Internet
Duration
14 weeks (January—April 2019)
Tracks
There are two tracks in Mozilla Open Leaders 7. Both tracks follow the same 14 week schedule, but meet at separate cohort times.
Project Track: The Project Track focuses on setting up a specific open project alongside people doing similar work. (Cohorts A-D, Tuesday and Wednesday meetings)
Culture Track: The Culture Track focuses on building an open culture in any community, organization, or project with people from a variety of projects. (Cohorts E-F, Thursday meetings)
It might be especially useful to you if you:
Work day to day within your community to promote openness.
Lead cultural change in your community, organization, or project.
Serve in a particular outreach role to help people make change on a peer-to-peer basis.
Benefits
Join a cohort of open leaders fueling the Internet Health movement. Receive mentorship and training through Mozilla in this 14-week online program on working open.
A Mozilla Open Leader is someone running or starting an open project that supports a healthy Internet. Over the course of the program, they will:
receive ongoing 1:1 project help from Mozilla staff and mentors
have access to a community of mentors, technologists and more
complete modules and provide feedback on Open Leadership Training exploring best practices for project setup and communication, tools for collaboration, community building, and running events
get practical experience empowering others to collaborate on their project.
Eligibility
Passionate and ready to learn and apply open practices to your project or community, supporting the Internet Health movement
Available to commit at least 3h/week for 14 weeks for attending weekly online meetings and completing open leadership assignments.
Additionally, participants must demonstrate practical experience at the Mozilla Global Sprint (2 days, March 29-30, remotely or at a local site). If you are participating in our pilot culture track, you'll be expected to present a case-study of your learning to your cohort instead.
Application
For more information, visit Mozilla.