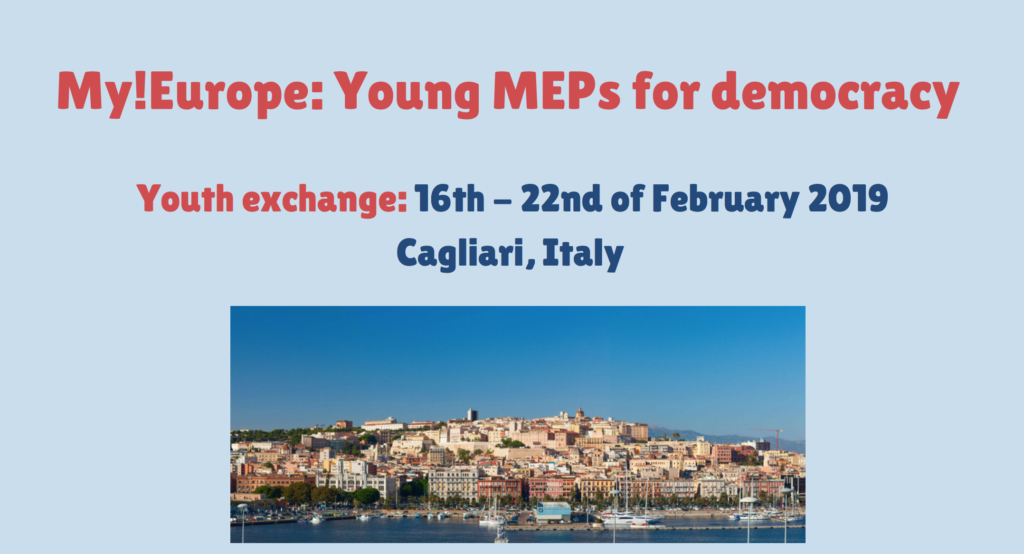 CfEP My!Europe – Young MEPs for Democracy Program 2019 (Fully-funded)
Deadline: December 3, 2018
Applications are open for the My!Europe – Young MEPs for Democracy Program 2019. The Centre for European Progression is looking for young people interested in European affairs to participate in a week-long My!Europe – Young MEPs for Democracy Erasmus+ youth exchange program.
The exchange program is organised as a simulation of real working sessions of the European Parliament and intended for young Europeans. The aim of the exchange is to foster the participants' understanding of EU policy-making and to encourage active democratic participation. The opportunity is particularly timely considering the upcoming European Parliament Elections in May 2019. The program will take place from February 16-22, 2019 at Caglari, Italy.
Purpose of the Program
The program is organised to:
Explain, clarify and help understand the main functions and competencies of the European Parliament;
Stimulate citizen participation in the 2019 European elections;
Familiarise young Europeans with social inclusion in the EU member states;
Promote the values of democracy and active participation; and
Encourage interaction between young Europeans and the EU institutions promoting grassroots participation.
Cost
Travel costs, accommodation (Hostel Marina) and catering (breakfast, lunch, dinner and two coffee breaks a day) are covered for the participants.
Eligibility
Open to Belgian citizens, as well as EU nationals and non-EU citizens legally residing in Belgium;
Applicants should be aged 20-24 (flexible).
Application
To apply for the exchange program, send a short motivation letter introducing yourself in English (max. 200 words) to [email protected] by Monday 3 December. Please use the subtitle "My!Europe youth exchange application" in your email.
For more information, visit c4ep.