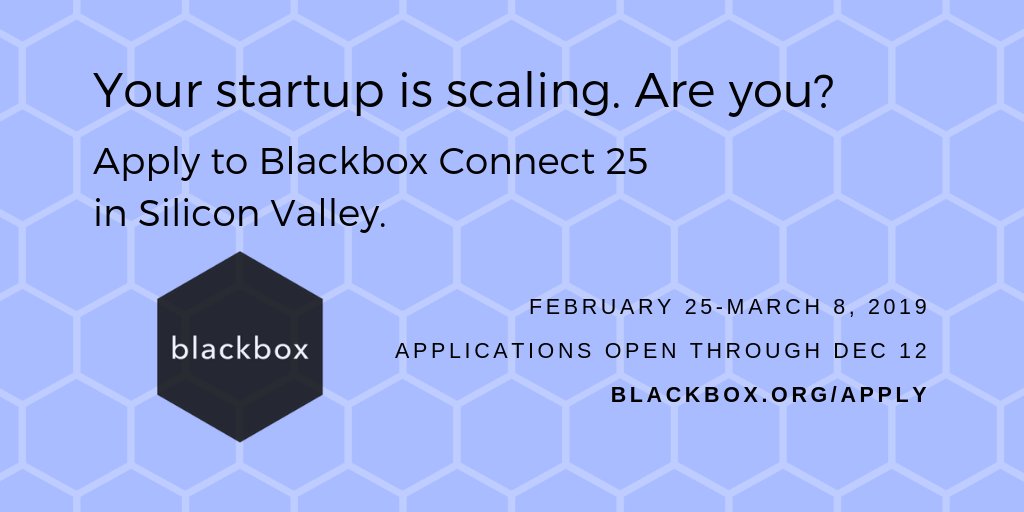 Blackbox Connect 25 Program 2019 for Global Startup Founders (Google for Startups Scholarships Available)
Deadline: December 12, 2018
Applications are now OPEN for Blackbox Connect 25, the global founder accelerator taking place Spring 2019 in Silicon Valley. Blackbox Connect is open to global startup founders seeking to hone their craft of entrepreneurship, amplify their drive, and fortify their company's foundation. Together with a hand-picked cohort of fellow founders from across the globe, Blackboxers are immersed in an intensive, residential experience in the heart of San Francisco.
Google for Startups scholarship
This scholarship opportunity is limited to those nominated by a member of the Google for Entrepreneurs partner network. Be sure to confirm you're affiliated with a member of the network in order to be eligible.
Eligibility
Founders who have launched a product in the market, have seen promising traction, and are now facing a key inflection point in their startup journey.
Because the program places a focus on the founder and the critical role they play in shaping, leading, and growing their company, strong candidates should welcome self-reflection and be eager to explore their most vexing personal and professional challenges.
Their curriculum is optimized for CEOs and we give preference to those applications, but it is not a requirement.
To be eligible for the Blackbox Connect program, you must:
Be the original founder/cofounder of your startup
Commit to full participation in the two week residential program
Have a product launched in market
Be proficient in English
Have not had extensive prior exposure to the Silicon Valley ecosystem
Application
For more information, visit Blackbox Connect.