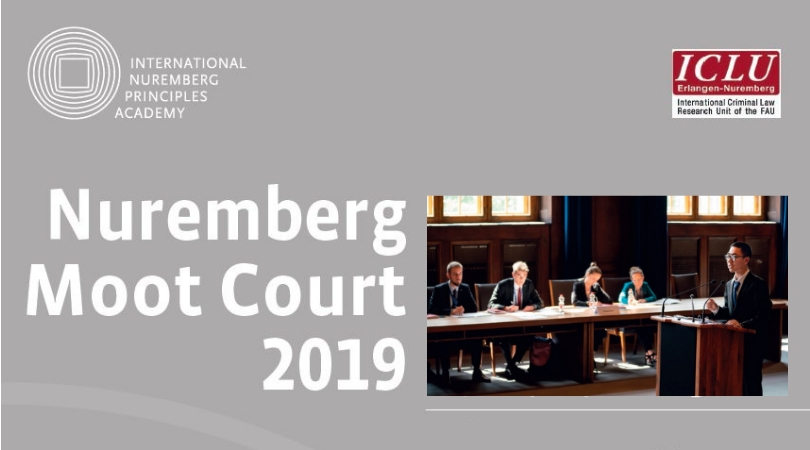 Nuremberg Moot Court 2019 for Law Students – Nuremberg, Germany (Funding Available)
Deadline: February 17, 2019.
Application for the Nuremberg Moot Court 2019 is now open. The Nuremberg Moot Court (NMC) aims to encourage law students to become familiar with international criminal law by arguing a fictitious case before the "International Criminal Court". At the same time, it promotes the fundamental heritage of the Nuremberg Trials: criminal accountability within armed conflicts in keeping with the spirit of human rights and governed by the principle of fair trial.
The NMC aims at enabling students to improve their public speaking and practical legal skills. Students will come to understand the practices of the International Criminal Court (ICC) through active participation in the NMC. The NMC seeks to advance knowledge about the ICC's mandate, functions and jurisprudence.
The NMC is organized by the International Nuremberg Principles Academy and the International Criminal Law Research Unit of the Friedrich-Alexander University ErlangenNuremberg. The competition will take place from 24 to 27 July 2019 in Nuremberg, Germany.
Benefits
No application fee or participation fee is required.
The organizers are offering funding (travel expenses, accommodations and per diem) for three teams (3 Team Members + 1 Coach) from situation countries of the ICC or other conflict or post-conflict countries.
Eligibility
Any law student at a bachelor's or master's level or equivalent from a law school, law faculty or institution with an international law-related degree program is eligible to participate in the NMC as a member of a team.
Teams may be composed of three to five team members.
Each team needs to nominate an official team coordinator. The team coordinator is the contact person for the organizers throughout the NMC.
Each institution is allowed to send only one team.
The substitution of team members is not permitted after the application deadline as given in the official timetable; however, exceptions may be granted by the organizers in the event of exceptional circumstances.
Application
Teams may apply through their team coordinator by submitting the online application form on the Nuremberg Moot Court official website. The application must contain the following information:

a. Personal information about all team members
b. Passport details in case the team needs visa to travel to Germany
c. Information about the team coach
d. The name of the institution represented by the team
e. Motivation letter
f. Information as to whether the team is applying for funding to participate in the NMC 5

The motivation letter should include a minimum of 750 and a maximum of 1300 words. If the team applies for funding it can use up to 250 words to explain the reasons why funding is necessary to participate in the NMC. The motivation letter must include the reasons of applying, the relevance of participation in the NMC for the studies and professional future of the team members and their interest in the field.
Read the rules.
For more information, visit Nuremberg Moot Court.