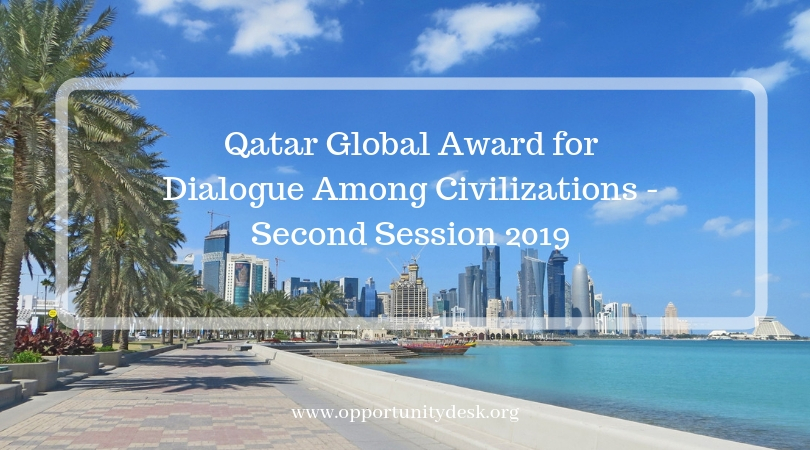 Qatar Global Award for Dialogue Among Civilizations – Second Session 2019
Deadline: January 1, 2019
The Qatar Committee for the Alliance of Civilizations at the Ministry of Foreign Affairs and the ISESCO Chair for the Alliance of Civilizations of the Faculty of Sharia and Islamic Studies at the University of Qatar are introducing the Second Session for the Global Award for Dialogue among Civilizations – 2019 under the subject/title " Migration within the Context of Culture Dialogue".
The subject falls into in six themes, hoping that researchers shall contribute to look into them extensively and in depth with original ideas and practical plans to be added to the efforts made in this significant cultural problem.
The Themes are:
Migration between the Legal and Cultural Paradoxes: Determinants and Concepts
The Role of Migration in Acquainting with Civilizations, Achieving Closeness among Nations and Easing of Cultural Tensions
The Islamic Perspective of Migration; and Examples from Islamic History and Heritage, and their status in the Contemporary Context
Protection of Immigrants' Rights and their Impact on the Cultural Approximation (Religious Freedom and Practice of Rituals – Education – and Political and Social Rights)
Immigrants between incorporation, Integration and Dissolution: Means to Enhance Common Cultural Factors, and Enriching Social and Cultural Diversification
Global Partnership, Contribution of Countries and Institutions in the Migration Issues, and the Impact on international peace and Security.
Prizes
First Prize/Award: QR 80000 (Eighty thousand Qatari Riyals)
Second Prize/Award: QR 45000 (Forty-Five Qatari Riyals)
Third Prize/Award: QR 25000 (Twenty-Five thousand Qatari Riyals)
Award may be withheld if the scientific, methodologic or authentic winning conditions are not met.
Eligibility
Applicants must adhere to one of the Award Themes;
Deep and Methodological Presentation of Research;
Research shall not be less than 200 pages (70000 words( and in accordance with the required specifications of production and printing.);
Research shall be in Arabic, English or French;
Research shall be original, uncopied and authenticated with sources and references; and not an extract from academic thesis, or published before;
Research shall be printed according to the standard specifications of printing, provided that the text font shall be 16 and footnotes 14 in simplified Arabic. This is for researches presented in the Arabic language. Researches in English and French languages shall be presented in times new roman. Reference shall be mentioned in full for first time in the margin. Sources and references shall be in alphabetical order at the end of the Research. The conclusion shall include a summary ideas and most important results of the Research.
Application
The participation letter shall include the following:
Submit your booking request via Diae.events
A complete CV of the participant with highly clear colored photo
Participation letter of intent, with a summary of the Research before 1 January 2019
A final copy of the Research in Word and PDF to be received before 1 June 2019
Presentation of a letter where the Participants undertakes that the Research is not extracted from an academic thesis, and that it has not been published before
For more information, visit Qatar Global Award.