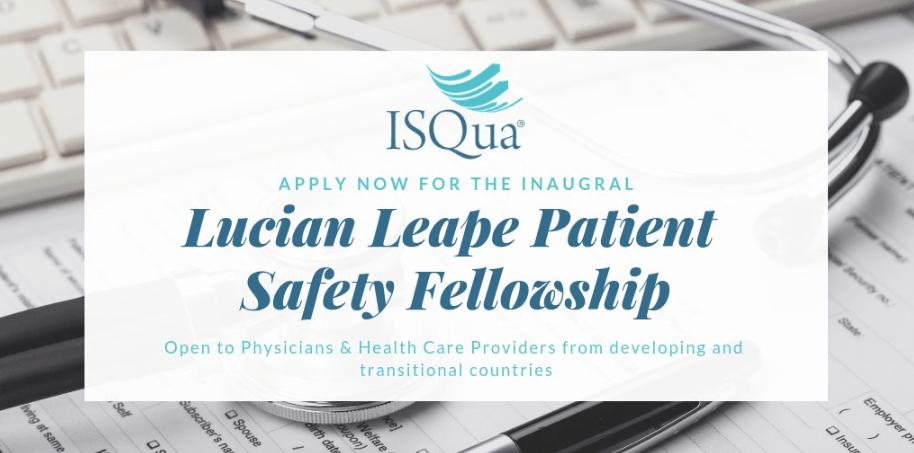 ISQua Lucian Leape Patient Safety Fellowship Program 2019
Deadline: February 15, 2019
Apply for the ISQua Lucian Leape Patient Safety Fellowship Program 2019. The objective of this Fellowship award is to fund physicians and health care leaders in developing countries to advance and expand their expertise in patient safety.
The program is clinically oriented, designed to provide the Leape Fellow with additional training in the theory of Patient Safety Science and interventions to improve patient safety. This will include training to identify and analyze adverse events and to develop interventions to address these events at a system level.
The Fellow will be linked to a mentor at the start of the program. Mentors may be ISQua Experts or members of the International Academy of Quality and Safety in Health Care (IAQS). In collaboration with the mentor, the Leape Fellow will design a curriculum designed to ensure learning on theories of Patient Safety with a focus on measurement and interventions to decrease adverse events and harm.
Eligibility
Applicants are physicians who have completed their clinical training (speciality residency or equivalent) or
Are Health Care Providers who have completed the equivalent training to a residency in their field of practice
Will commit to include patient safety as a core value of their future work in health care
Have a commitment from their home institution to provide them with a role in the organisation's patient safety programme on completion of their Fellowship
Have completed either the first year of the ISQua Fellowship Program requirement, or the HPM-affiliated Master's degree program at the Harvard Chan School or an equivalent
Were born in and work or intend to return to work in Africa, Latin America or any Low or Middle Income Country, as identified by the World Bank
Have not been previously awarded an ISQua Education or Conference Fellowship
Key Skills and Attributes:
Fluency in written and spoken English
Be from a low or lower-middle income country
Be of good character with strong ethical integrity
Experience in designing/implementing a quality improvement program
Dedication and motivation to quality improvement in healthcare
Application
The following should accompany applications:
An up to date CV outlining your education and career to date (2 pages maximum)
2 referees to be current or recent employers (please include email addresses)
The completed application form with personal statement
Commitment from your home institution to provide you with a role in the organisation's patient safety program on completion of Fellowship
Letter of support from your employer, allowing you to retain employment whilst taking part in the program.
Please complete the application form and submit all the required  documentation by email to Caitríona Curran at [email protected] no later than February 15, 2019.
Click here to apply and click here to nominate someone
For more information, visit Lucian Leape Patient Safety Fellowship.