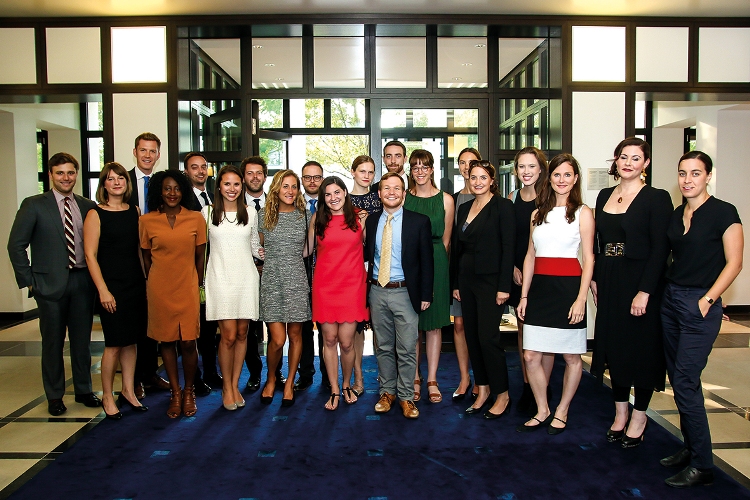 ICFJ Arthur F. Burns Fellowship Program 2019 for US Journalists (Funded)
Deadline: March 1, 2019
Applications are open for the ICFJ Arthur F. Burns Fellowship Program 2019 for US Journalists. The ICFJ's longest-running program, the Arthur F. Burns Fellowship provides talented young U.S., German and Canadian journalists the opportunity to live and work in each other's country. This highly personalized and practical program improves the quality of news coverage in each country and strengthens the transatlantic relationship.
As fellows learn firsthand about their host country and media outlet, they write stories and produce broadcast programs for both host and home audiences. When they return home, they share their experiences with colleagues and continue to cover current events, using their new skills, contacts and a deeper understanding of international relations.
Before individual fellowships begin, all participants attend a one-week orientation in Washington, D.C., during the last week of July. Fellows attend meetings with prominent media and government representatives and discuss professional issues. The orientation fosters a spirit of community among the participants and gives a foundation for understanding transatlantic relations.
Benefits
Each North American fellow receives a $4,000 stipend to cover living expenses during the 9-week-long fellowship in Germany;
Participants also receive $1,200 for travel expenses or a travel voucher, and the program also pays living expenses during the orientation in Washington, D.C.
Eligibility
Open to US journalists between the age of 21-40, who are employed by a newspaper, news magazine, broadcast station, news agency or who work freelance and/or online;
Applicants must have demonstrated journalistic talent and a strong interest in North American-European affairs;
Applicants should have two years of professional, full-time journalism experience;
German language proficiency is not required, but it is encouraged.
Application
Please upload the following application materials:
A letter explaining why you should be selected for this fellowship. If applying for the traditional fellowship, please describe at least three story ideas that you will work on during your time in Germany. If applying for the shorter fellowship, please describe your major story idea or project
An up-to-date curriculum vitae
Three samples of recent work as they appeared in print or were broadcast
A letter of recommendation from your direct supervisor
Freelancers must include letters from media outlets committed to publishing your stories from Germany
If applying for the shorter Fellowship, please include a letter from your home media stating that they agree to publish your major story or project
For more information, visit ICFJ Arthur F. Burns Fellowship.