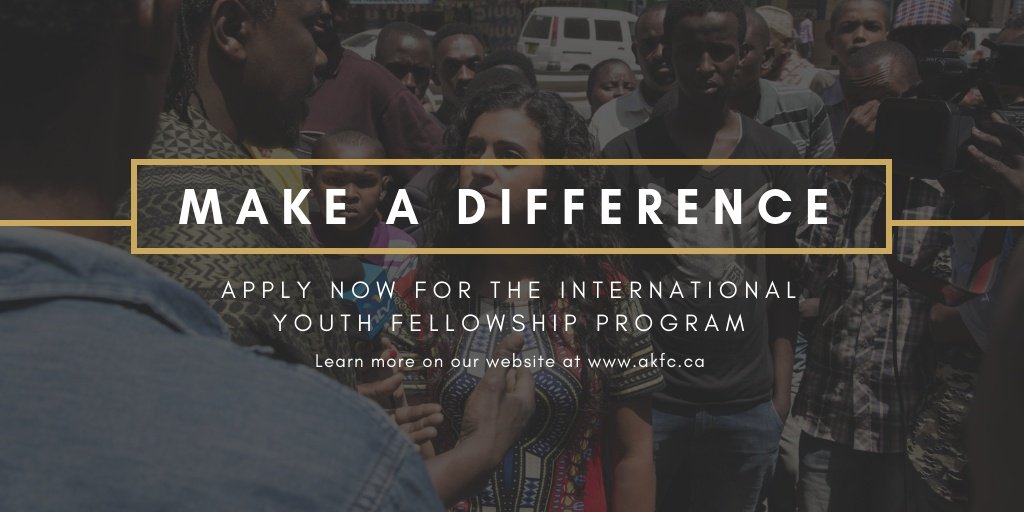 Aga Khan Foundation Canada's International Youth Fellowship Program 2019
Deadline: February 1, 2019
Apply for Aga Khan Foundation Canada's International Youth Fellowship Program 2019. AKFC is searching for individuals who can demonstrate a commitment to international development, are driven by the desire to make a meaningful change in the world, and are ready to apply their skills and experience to a challenging overseas internship.
This prestigious Fellowship is a launching pad for diverse careers in the government, non-profit, media and finance sectors. It offers a training program and an eight-month overseas placement to recent university graduates and young professionals under 30.
In the last 28 years, over 500 young Canadians have participated in AKFC's International Youth Fellowship Program – an extraordinary opportunity to become a leader in global development.
About
The Fellowship program is nine months in duration, and consists of:
a 3 week management training seminar in Ottawa (June)
an 8 month overseas placement (July to February)
The Fellowship offers an international development training program and an eight-month overseas placement to recent university graduates and young professionals who are 30 years of age or younger. Each Fellow spends eight months in Africa or Asia working with agencies and partners of the Aga Khan Development Network (AKDN), one of the world's largest and most respected international development agencies.
Before Fellows depart for their eight-month overseas placement, they attend a month-long seminar in Ottawa, which provides a thorough grounding in the skills and knowledge required to contribute effectively to their host organizations. Workshops are facilitated by leading international development professionals, based in Canada and overseas.
Streams
The International Youth Fellowship Program builds the skills of young Canadians and supports the work of AKFC's partner organizations overseas. Participants can apply for one of three streams that best match their backgrounds and interests:
International Development Management (IDM) Fellows benefit from placements in a variety of organizations, working in fields such as health, education, rural development, and civil society strengthening. Placements include positions in research, project management, communications, and monitoring and evaluation.
International Microfinance and Microenterprise (IMM) Fellows gain experience with an organization involved in microfinance or market development, to develop skills in the day-to-day operations and evaluation of these programs.
Young Professionals in Media (YPM) Fellows work as journalists for Nation Media Group, a leading media outlet in East Africa. With opportunities to report in print, broadcast, and digital media, Fellows gain the skills to work effectively in today's global media environment. Please note: in 2018-19, no placements with Nation Media Group are available. AKFC invites young media professionals to apply for a communications position under the IDM stream.
Eligibility
All Fellows must meet the following application criteria:
Hold, at minimum, a bachelor's degree from a recognized institution by April 30th, 2019, with a record of strong academic performance
Will not be enrolled in any educational program for the duration of the Fellowship program (June 2019 – February 2020)
Demonstrated a commitment to international development through related volunteer, professional or academic experience
Be 30 year of age or under on or before February 1st 2019
Be a Canadian citizen or a permanent resident
Be fluent in English
Present all appropriate documentation (CVs, degrees, transcripts, references, etc.)
There is no flexibility on the eligibility criteria, and any applications not meeting the requirements will automatically be disqualified.
Application
For more information, visit Aga Khan Foundation Canada.