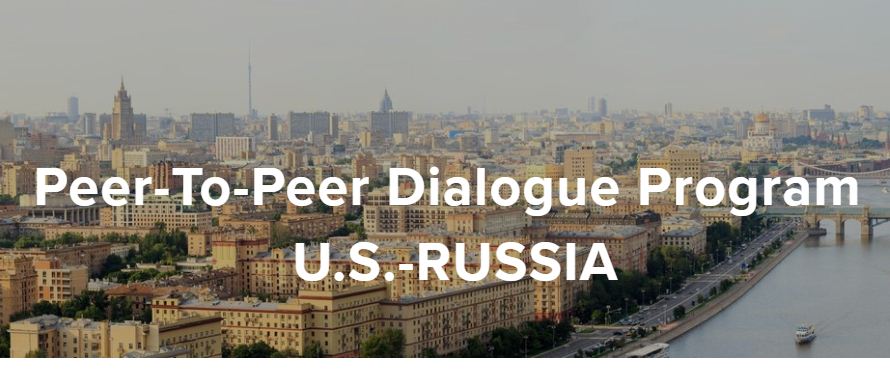 U.S.-Russia Peer-to-Peer (P2P) Dialogue Program 2019-2020 (up to $75,000)
Deadline: February 15, 2019
Apply for the U.S.-Russia Peer-to-Peer (P2P) Dialogue Program 2019-2020. The Peer-to-Peer Dialogue program (known as P2P) provides both financial and non-financial support to organizations in the U.S. and Russia to jointly implement projects. P2P is funded by U.S. Embassy in Moscow and administered by Eurasia Foundation.
The Eurasia Foundation will fund innovative projects promoting U.S.-Russian collaboration in professional and cultural areas of mutual interest to the United States and Russia, including but not limited to entrepreneurship, social inclusion, public health, community service, volunteerism, science and technology, and the arts. P2P projects spark conversations between international experts and professionals in areas of mutual interest and need. These initiatives result in new events and deliverables that bring people together for productive international collaboration.
Funding and Cost Share
Applicants may request up to $75,000 per project. Use of funds throughout the project must be consistent with the implementers' application budget. Furthermore, project funding may only be used for activities directly connected with the implementation of the project, such as:
Direct costs of project-related events (e.g., organizing meetings, rental of conference facilities, translation services);
Communication between partner organizations (e.g., phone, email, web conferencing);
Travel expenses associated with the project (e.g., transportation, accommodation, per diem, health insurance, visa fees, interpretation, and other related expenses);
Funds used to conduct outreach and marketing activities, and dissemination of project deliverables (e.g., publications, email marketing, social media promotion, website maintenance costs);
Prorated portion of salaries for project team members;
Modest honoraria for key project experts;
Other expenses, including indirect costs, directly related to project implementation.
Eligibility
All public and private organizations registered in the U.S. at the time of application are eligible for funding. This includes nonprofit and for-profit organizations, higher education institutions, schools, and other entities. Experience working directly with Russian partners in the past is not required for this funding opportunity;
Russian NGOs registered in Russia at the time of application are also eligible to apply for funding. Russian federal, regional, state, and local government bodies; government-funded social institutions (e.g., orphanages, nature preserves); NGOs receiving funding from Russian government; as well as federal academic and research institutions are not eligible to serve as project partners or apply for funding. Student groups at Russian public institutions may still apply and serve as project partners.
Evaluation Criteria
The following criteria will be used to evaluate project applications:
Quality of the Project Idea: Need for the project must be clearly annunciated and well supported. All goals and activities must be concrete, relevant, realistic, and non-political in nature.
Project Planning: Partners, project participants, beneficiaries must all be clearly defined. The project timeline must be realistic and allow for sufficient project monitoring.
Institutional Capacity: Implementers experience should be clearly linked to the topic of their proposed project. Implementers must also demonstrate a clear capacity to successfully administer the funding and achieve all proposed objectives.
Cost Effectiveness: All budgeted funds are reasonable and efficient. Overhead and administrative components of the proposal, including salaries and honorarium, should be kept as low as possible.
Application
Organizations must submit all application documents using EF's online funding management system.
If this is the first time that an applicant has applied to an EF funding opportunity using the online funding management system, a staff member from the applicant organization must create an account on the funding management system. If an applicant already has an account, they may simply log in without creating a new account.
For more information, visit P2P Dialogue Program.