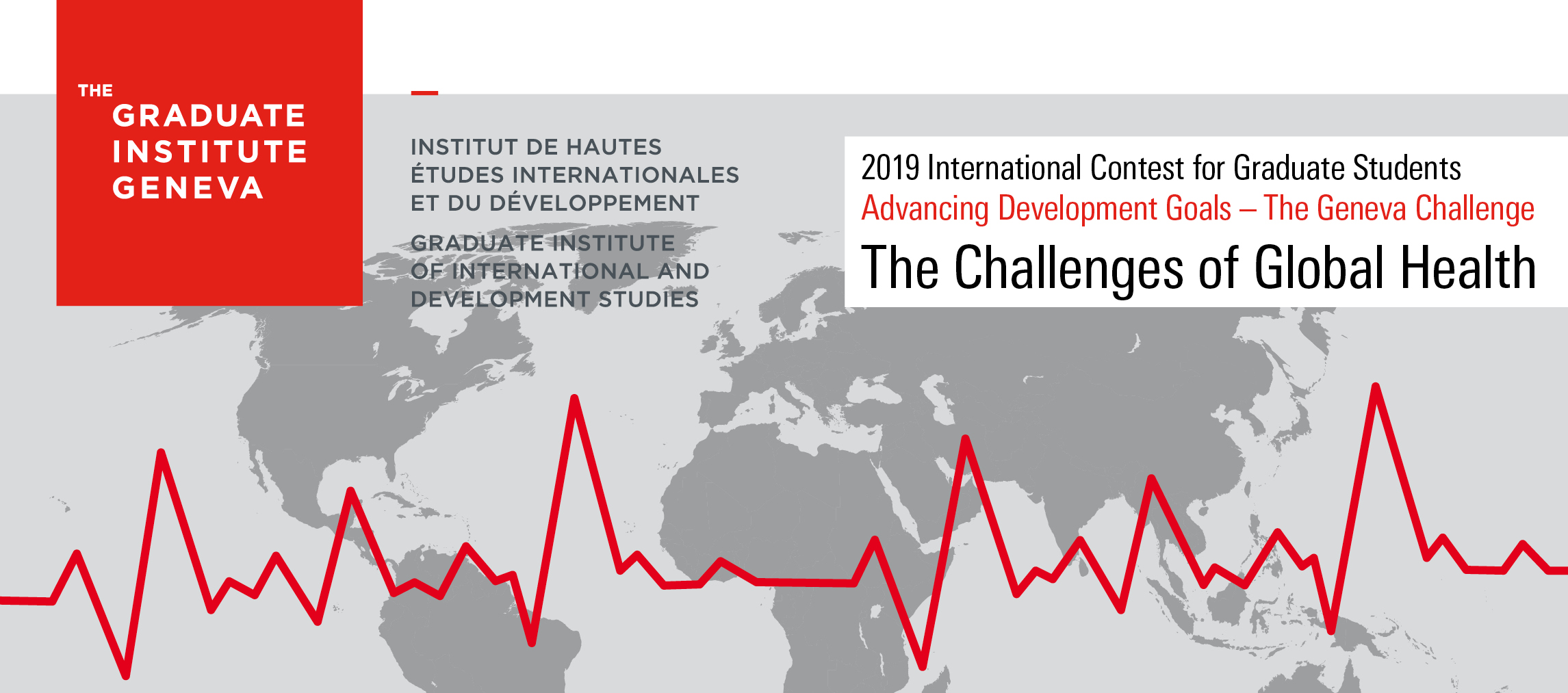 The Geneva Challenge 2019: Advancing Development Goals International Contest for Graduate Students (Up to CHF 25'000 in prizes)
Deadline: April 15, 2019
The Graduate Institute of International and Development Studies is pleased to announce the 2019 edition of the Geneva Challenge – Advancing Development Goals International Contest for graduate students. This contest aims to present innovative and pragmatic solutions to address the main challenges of today's world. This year, master students are invited to develop analysis-based proposals on "The Challenges of Global Health".
Global Health is a defining challenge of tomorrow's world and is a critical concern for both developing and developed countries. As the key to this issue is an interdisciplinary solution, crossing traditional boundaries between academic disciplines, they are inviting master students from all academic programmes and from anywhere in the world to provide helpful strategic recommendations. Five prizes, one per continent, they will be distributed.
The 2019 Advancing Development Goals International Students Contest invites teams of Master students from all academic programmes to devise innovative and pragmatic solutions to the Challenges of Global Health.
Benefits
The Geneva Challenge 2019 will distribute CHF 25'000 in monetary prizes and the five finalist teams, one team per continent, will be invited to publicly present their work in Geneva before a panel of high-level experts.
Networking opportunities are also envisioned as part of the prize package.
Eligibility
Participants must be enrolled as master students at the time of their registration for the contest.
They consider "graduate students" to be anyone enrolled in a post bachelor level university programme with a maximum duration of 2 (two) years, or anyone who can prove to be studying towards acquiring a masters level degree.
Participants must gather in teams of 3 to 5 graduate students. In the submitted analysis, they should contribute with an interdisciplinary approach or from at least 2 different disciplinary perspectives.
Application
Registration deadline : 24 March 2019
Submission deadline : 15 July 2019
The registration deadline is simply the date by which they need you to fill in the application form below, and send them your proof of enrolment that confirms your status as master students. The documents (enrolment certificates or student cards) should contain your name, your graduate programme and a recent issuance date.
Following which you have entire 4 months to prepare you proposals, which are due by the submission deadline.
For more information, visit The Geneva Challenge 2019.