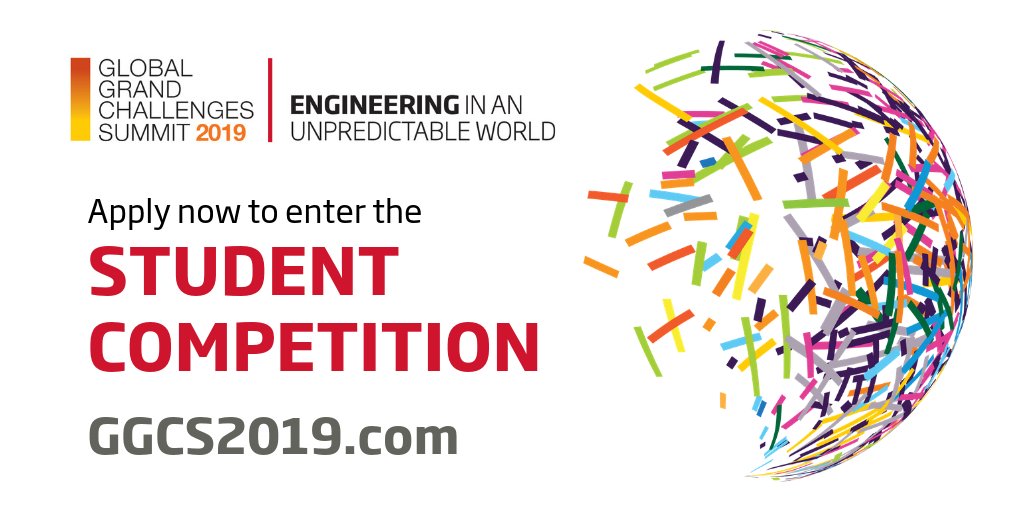 Royal Academy of Engineering UK Global Grand Challenges Summit Competition 2019
Deadline: March 8, 2019
The Royal Academy of Engineering invites university teams to participate in the Global Grand Challenges Summit Competition 2019. This is a programme of challenge-led innovation, design and business development, culminating in the opportunity for teams to attend a Collaboration Lab event and the Global Grand Challenges Summit in London, UK.
University teams are invited to propose an innovation or novel approach to address global challenges associated with the sub-themes of the Summit.
As the themes are broad, we expect the teams to tackle one or more element of a challenge rather than the entire subject. For example, this could include:
How do we feed 10 billion?
Is continued urbanisation inevitable and desirable?
How can we achieve globally equitable access to technology?
How do we stop the world being water short?
How do we make innovation circular?
While this does not need to be a fully-fledged start-up business, we are looking for a rigorous entrepreneurial and design approach which shows that the teams have moved beyond an initial idea or technology concept. The innovation must be viable with a clear route to growth and sustained impact, though does not need to be a profit-making entity.
Prizes and Benefits
Five champion teams from each country – UK, US, and China – will be selected to attend a Collaboration Lab event and the Global Grand Challenges Summit in London, UK, 12-18 September 2019.
On the first day of the Collaboration Lab event (see below), these five winning teams from each country will compete against each other, presenting a 3-5-minute pitch of their proposals to a selection of senior judges and all Collaboration Lab event participants.
Winning teams will be awarded a small cash prize, and publicised via appropriate media channels.
All five champion teams will then participate in the Collaboration Lab and Global Grand Challenges Summit, as outlined below, alongside other students from the UK, China, and USA.
Eligibility
Each team must comprise between four and six undergraduate student members (including final year students)
All teams must designate a team leader who is required to be from an engineering programme, but students from other disciplines are strongly encouraged to be part of the team
Each team must have at least one mentor who is willing to travel to London for the Summit with their team
Application
UK Competition: The Royal Academy of Engineering will shortlist twenty teams to take part in a two-day interactive workshop in April, facilitated by a delivery partner. On this occasion, students will acquire the knowledge and tools to work independently and develop focused design solutions to global challenges – related to the Global Grand Challenges Summit 2019 theme – leading to a competition showcase hosted by the Academy in June 2019, when five winning teams will be appointed.
They will have the chance to further develop their projects and pitch them on the first day of the Collaboration Lab preceding the Summit, competing against an equal number of teams from China and the US
Further details on the UK Competition and how to apply are available here.
For more information, visit GGCS 2019.