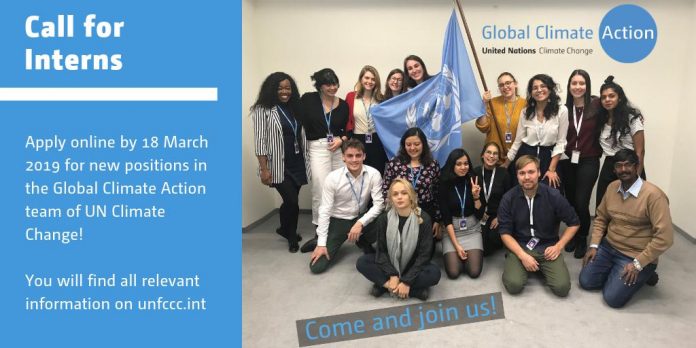 UNFCCC Global Climate Action Communications Internships 2019 in Bonn, Germany
Deadline: March 18, 2019
The United Nations Framework Convention on Climate Change (UNFCCC) invites applications for the UNFCCC Global Climate Action Communications Internships 2019 in Bonn, Germany. This internship position is located within the communications team of the Global Climate Action division, supporting activities related to strategy, events, digital work and public information.
Under the direct supervision of the Programme Officer in the Communications Team, the intern will work on a variety of communications-related activities for Global Climate Action. The internship is for a period of minimum three to maximum six months. The exact period will be determined based on the availability of the intern, the needs of the programme, and the intern's ongoing university enrolment and performance.
Responsibilities
During this internship, you will be responsible for:
Undertaking detailed media reviews in target regions on climate action to assess tone, public opinion, and range of coverage
Conducting research and analysis on climate action globally, identifying current and potential stakeholders
Contributing to strategic discussions, both on communications plans and digital strategies
Drafting social media products, including posts, images and video scripts
Drafting content and editing the Global Climate Action website
Providing input, or background briefings, to written products such as press releases, media advisories and speeches
Working closely with the Global Climate Action team to ensure that messaging is aligned and communicated effectively with internal and external stakeholders
Internship Conditions
UNFCCC secretariat internships are not remunerated and the selected intern will be responsible for all costs before, during and after the internship assignment. Interns of the UNFCCC secretariat are not considered to be staff members. The selected intern will work on a full-time basis (40 hours per week) at the UNFCCC premises in Bonn, Germany.
Eligibility
Applicants must have completed first level university degree, and currently enrolled in a postgraduate degree at a recognized university at the time of application and for the duration of the internship. Preferred fields of studies include communications, journalism, digital communications, public information, political science, public relations, graphic design or a related field;
Fluency in both written and verbal English is essential;
General requirements: Proficiency in MS Office (Word, Excel, PowerPoint) required; strong writing, analysis and research skills. Familiarity with primary social media channels and internet websites (including drafting content). Literacy in Graphic Design and video production and associated design softwares (e.g. Adobe Suite) are an advantage.
Application
Applicants must use the online application system and include a cover letter.
For more information, visit UNFCCC Internship.